I'm a little sad that the 12 Days of Christmas is coming to an end because it means that the Christmas season is drawing to a close…but, it's ok because tomorrow is Christmas!!  I have been having such a good time with my family and friends here in California.  It was almost 80 degrees today!  For this last day, my Dad and I decided to make another one of Grandma Fannye's specialties…Scandinavians!  I think these are very similar to thumbprint cookies.  It is basically a shortbread cookie with walnuts and a dab of currant jelly; a little bit of tart and a little bit of sweet. 

Here's the original recipe that we used…in my Grandma Fannye's handwriting and all.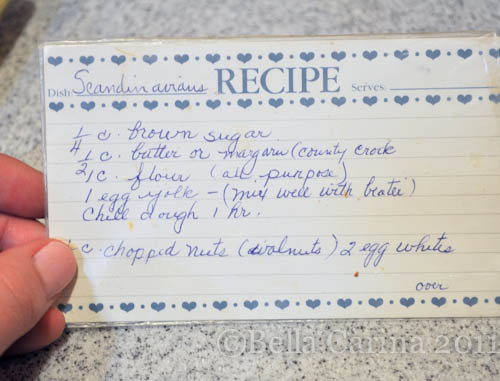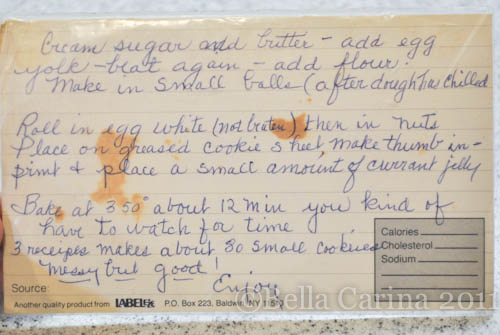 My favorite part is the end, "Messy, but good!  Enjoy". 

  This is a small recipe…it only makes around 20 cookies or so depending on how big you roll your balls.
Ingredients:
1/4 cup packed brown sugar
1/2 cup butter or margarine at room temperature (we used butter)
1 cup flour
1 egg, separated (yolk for batter, white for topping)
about 1/2 cup of chopped walnuts
red currant jelly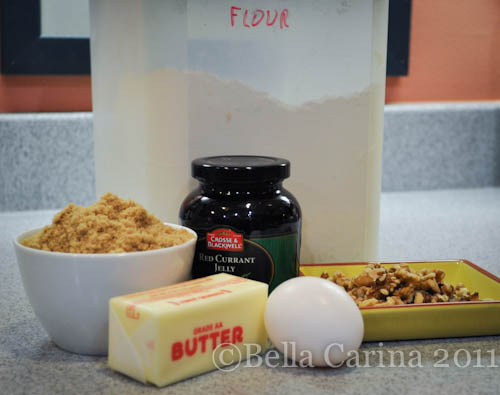 First, cream the butter and the sugar.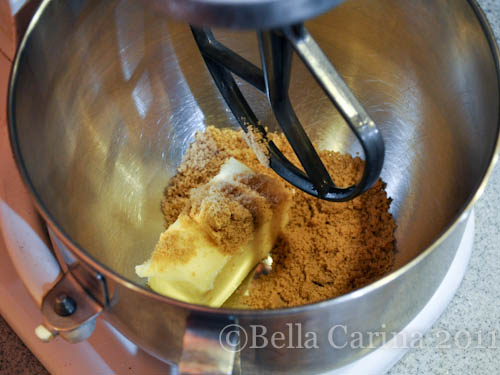 Then add the egg yolk.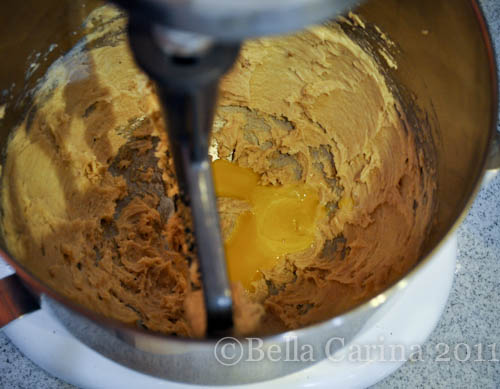 Beat well until the egg yolk is totally combined.  Then, add the cup of flour and mix well.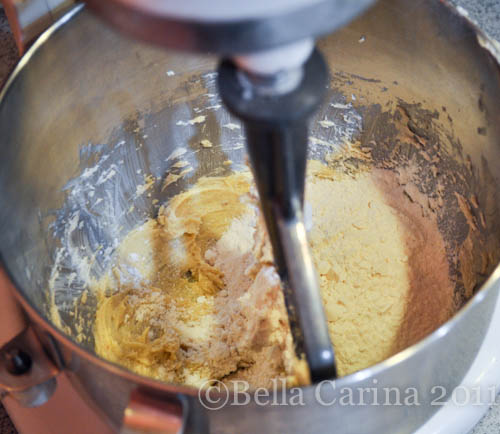 Wrap the dough in plastic wrap and refrigerate for one hour.  Here's what it looks like all chilled.  The brown specks are just brown sugar that didn't mix in all the way. 😉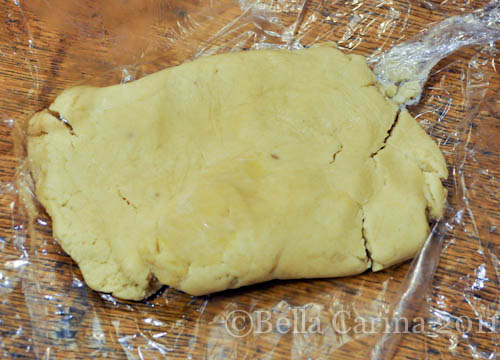 While the dough is chillin' like a villain, you can chop the walnuts.  My mom has this nifty contraption that was given to her by my Grandma Dot (her mom), which is the one that she used to use while my mom was growing up.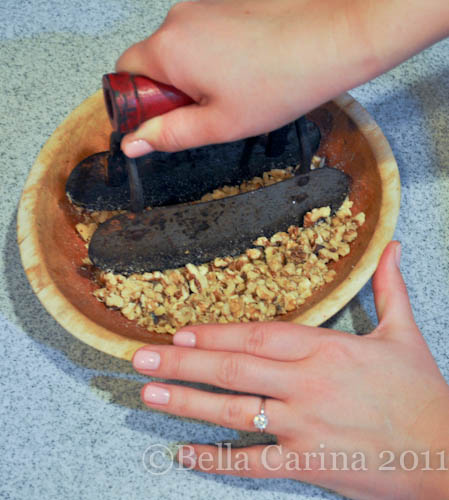 My dad and I created a little set up on the dining table so we had enough room to work and could spread out.  You'll want a bowl with the egg white and a plate with the crushed walnuts along with the chilled dough and cookie sheet ready.  To make the cookies, first grease a baking sheet and roll dough into a one inch ball.  (Don't forget to preheat your oven to 350 degrees!)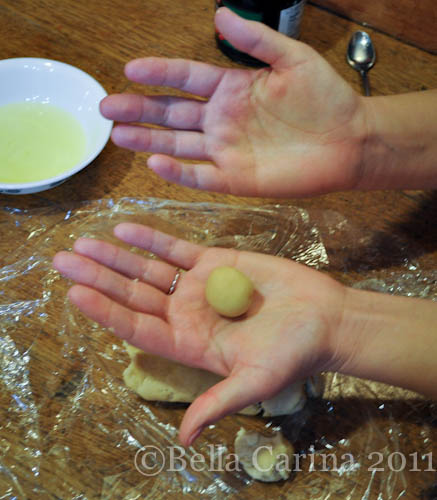 Then, roll the ball in the egg white (that you remembered to save, right?).  Don't beat the egg white…just use as is.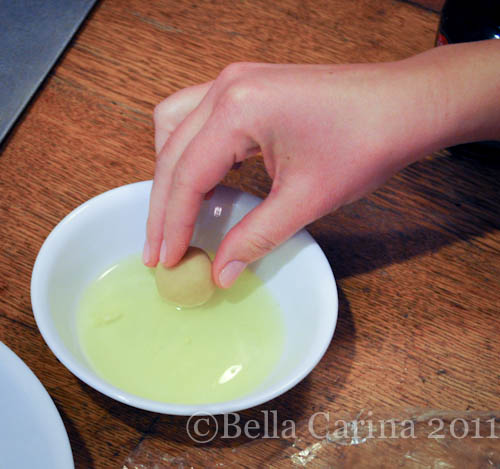 Then roll in the chopped walnuts.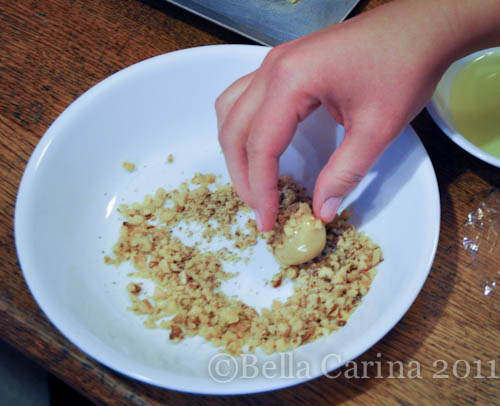 Place on the greased cookie sheet and press a little bowl in the middle of the cookie using your thumb.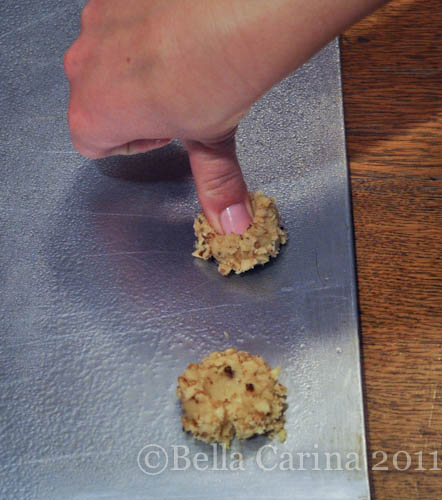 Add a small dollop of currant jelly to the center of each.  (Note…save the jelly part for last.  We just took the photos early for demonstration purposes.)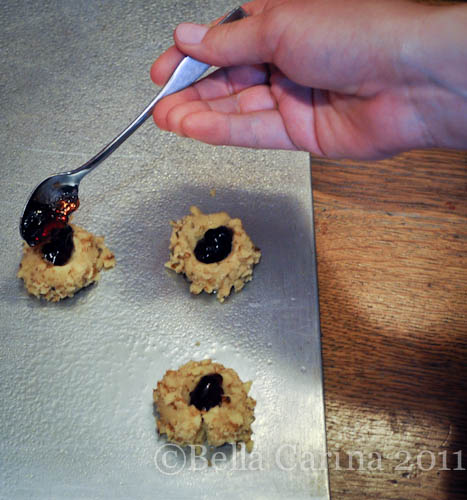 When they are all done, pop them in the preheated oven for about 12 minutes.  Grandma Fannye says to keep an eye on them though, so they don't burn.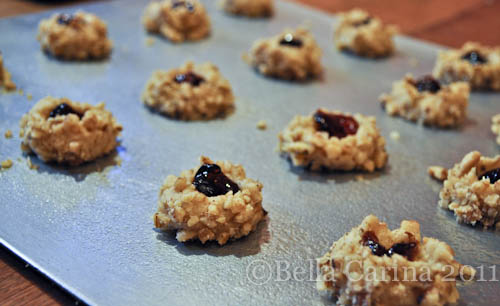 When they are baked, place them on a wire rack to cool.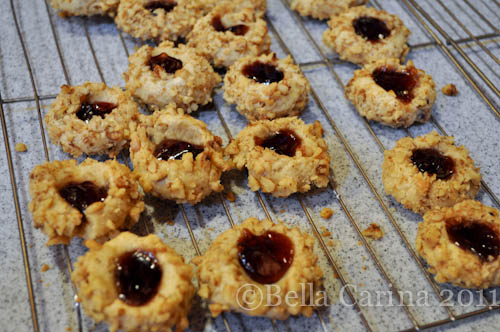 These cookies are so cute…almost bite-sized.  And the little bit of red currant adds just enough Christmas flair.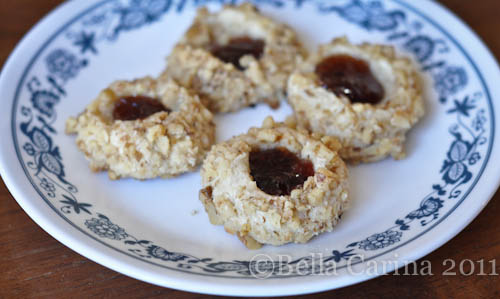 These are delicious with a nice cup of coffee.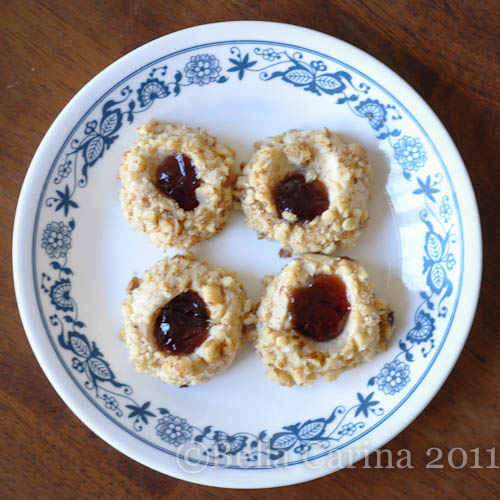 Thanks so much for joining me for the 12 Days of Christmas Cookies & Candies!  I wish everyone a very Merry Christmas!
If you missed the first eleven days of Christmas Cookies & Candies here's some quick links!