Pizzelles are Italian Christmas cookies that are made using a Pizzelle Baker
.  It basically looks like a flat waffle iron.  It has rather ornate designs, which makes these cookies quite pretty.  I've eaten these every Christmas for as long as I can remember.  Although they are cookies, they are not at all like a traditional cookie and not not as sweet as most desserts.  Let's just say I've eaten these for breakfast on several occasions throughout my life. 

Here's what my mom's pizzelle iron (baker) looks like.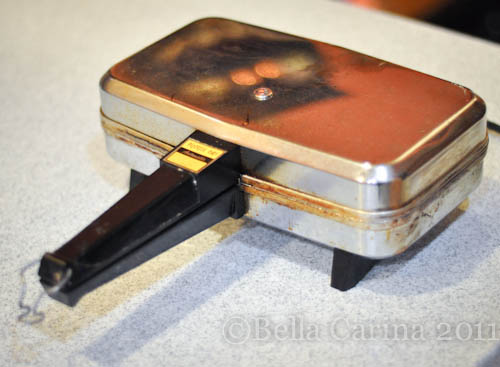 This one was given to my mom by her mother-in-law soon after my parents were married.  It's probably around 30 years old.
Usually, my family makes two flavors of pizzelles (we pronounce them pit-sels).  Anise flavored (which is black liquorice flavor and very popular in Italian Christmas cookies in general) and chocolate.  I'll let you guess what my favorite is.  😉  You're right!  Chocolate!  And that is the one I'll be making for this post!  Unfortunately, I don't really know how you would make these cookies without the pizzelle baker…maybe try a regular ol' waffle iron?  I don't actually posess my own pizzelle baker…yet… so I had to wait until I was back home at my parents' to make these.
I made these using the original recipe card that my mom has had for years.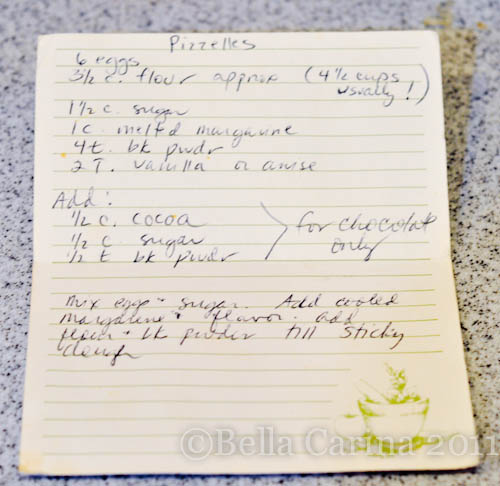 In true Grandma Fannye style, the measurements for flour are not exact.  The recipe calls for approximately 3 1/2 cups of flour…I ended up using almost 5 cups!
Ingredients for Chocolate Pizzelles:
6 large eggs
3 1/2 to 5 cups flour (usually around 4 1/2 cups)
2 cups white sugar
1 cup melted margarine (cooled to room temperature) don't use butter or oil
1/2 cup cocoa powder
4 1/2 teaspoons baking powder
2 tablespoons vanilla extract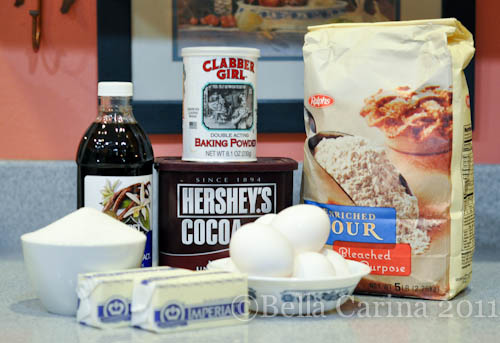 First, melt the two cubes of margarine in the microwave.  This only took about 45 seconds for me.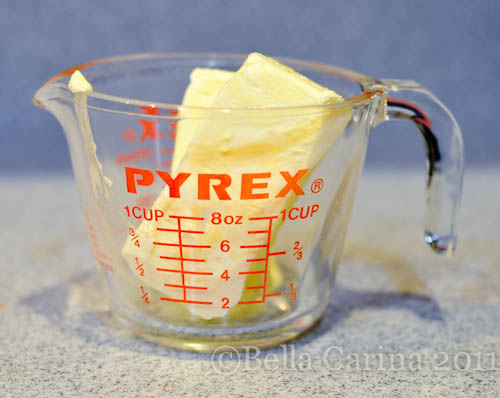 Let the melted margarine cool to room temperature on the counter.  (If it's too warm you'll end up making scrambled eggs!  yuck!)
Next, in a stand up mixer, mix all 6 eggs with the 2 cups of sugar.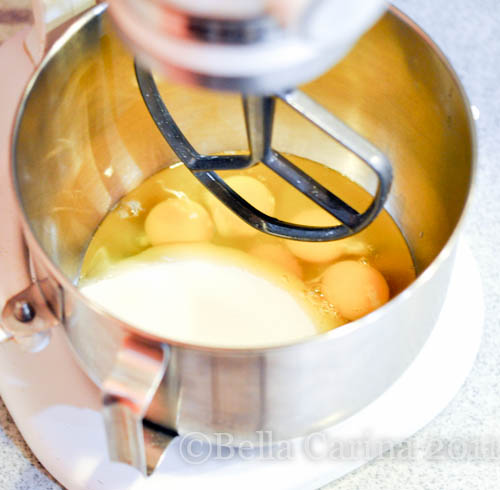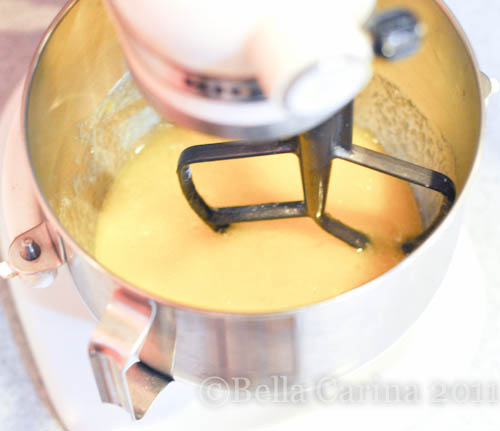 Then add the cooled margarine.  It should look separated like this (I know…not that appealing, but I swear these cookies taste great!).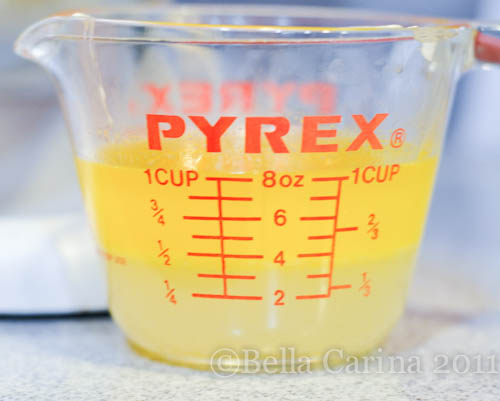 Also add the vanilla extract and mix.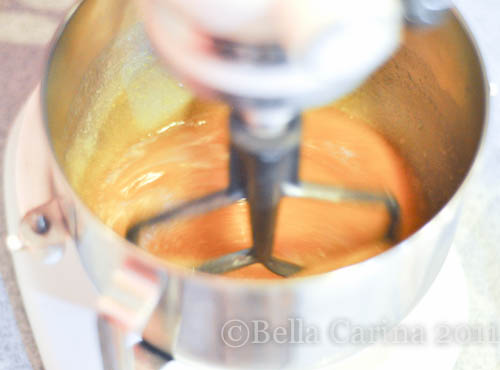 Next, add the cocoa powder, baking powder, and one cup of the flour.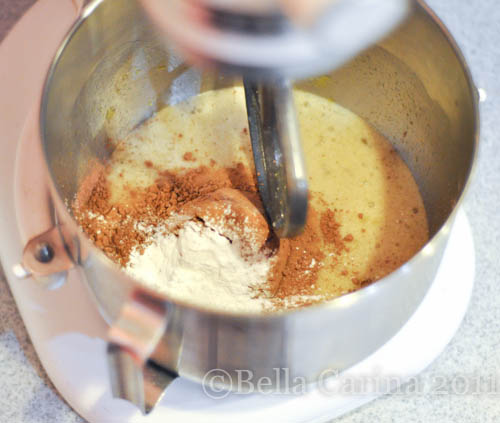 This is where there is the potential to get a little messy.  Mix at a slow speed until the ingredients are combined.  The flour will likely fly out of the bowl a little, so be sure to mix at a slow speed at first.  Mix until the flour is combined, adding about a half a cup at a time until the dough is thick enough.  I used close to 5 cups of flour.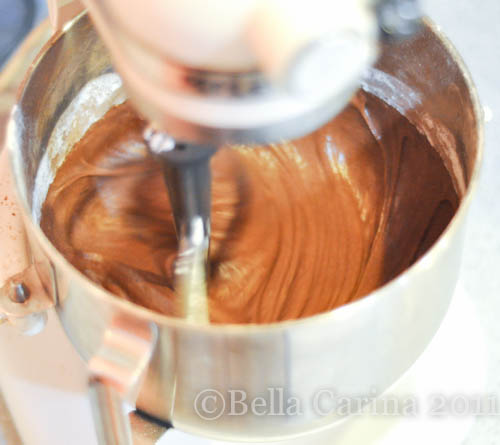 "Thick enough" is the kind of thing Grandma Fannye would have in her recipes.  I would say it should be about the consistency of a very thick pancake batter.  It should be "sticky."  This is what my dough looked like.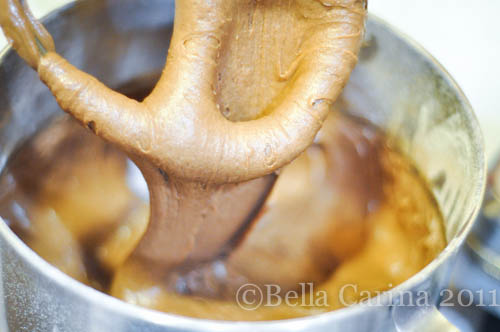 Once the dough is mixed, put it in the fridge to cool it while you plug in your iron.  I love that it's so ornate.  The designs are very snowflake-like…perfect for Christmas.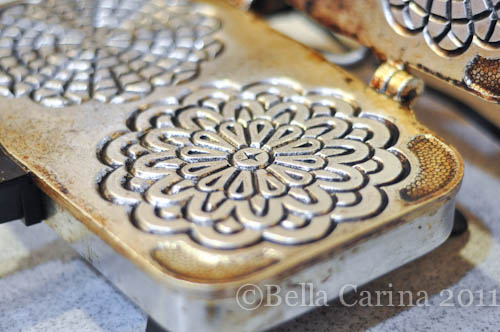 For the first batch of cookies, be sure to give it a good spray of non-stick cooking spray, especially if you don't have a non-stick iron.  You only need to do this on the first set.  I use a cookie scoop (just like the one I used to make the Red and Green m&m cookies) to scoop the dough onto the iron.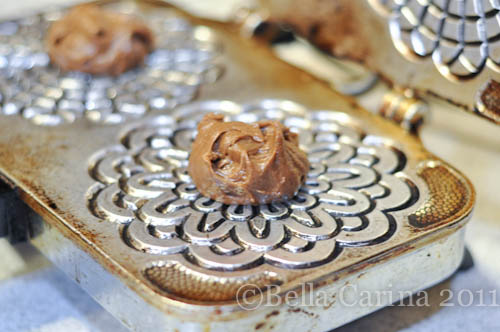 Then close the iron and lock it down to cook.  My dad says to cook them until it stops steaming, plus a little bit longer…I know, that doesn't help much.  I timed it, and the best cook time was between 1 1/2 and 2 minutes.  Then open it up.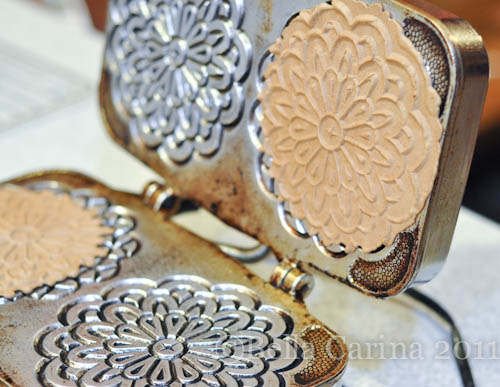 Use a metal spatula or fork to take the cookies off the iron and place them on a wire cookie rack to set and cool (they are still soft when you remove them from the iron, but they are actually crispy cookies).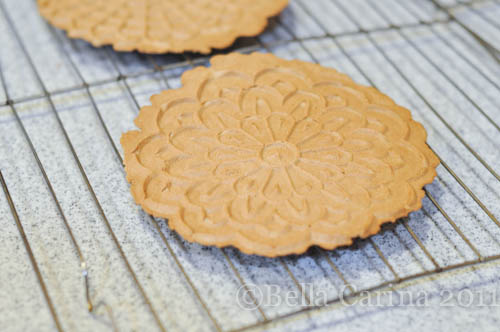 This recipe will make about 60 pizzelles.  They never seem to come out perfectly, but they are still very pretty and homemade looking.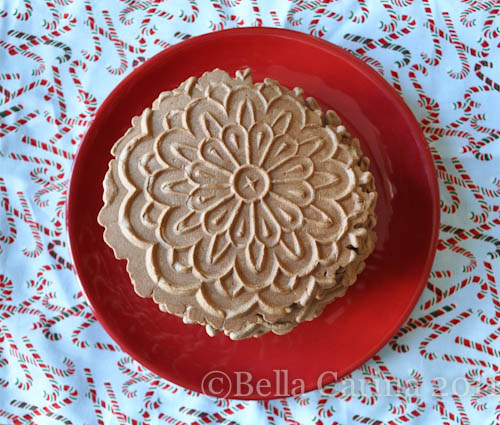 They are best stored in an airtight container or ziplock bag.  But they break pretty easily, so you have to be careful.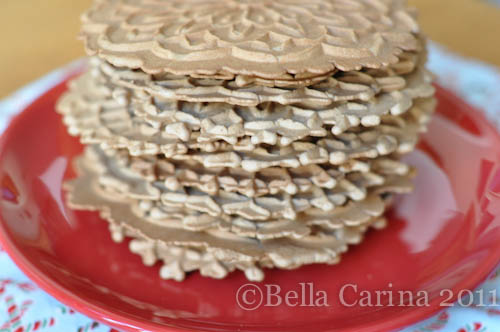 Watch out for little hands…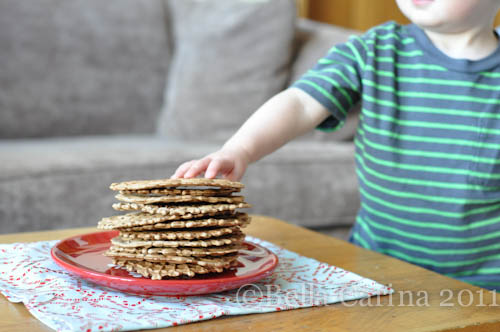 These pass the Zachary eatability test…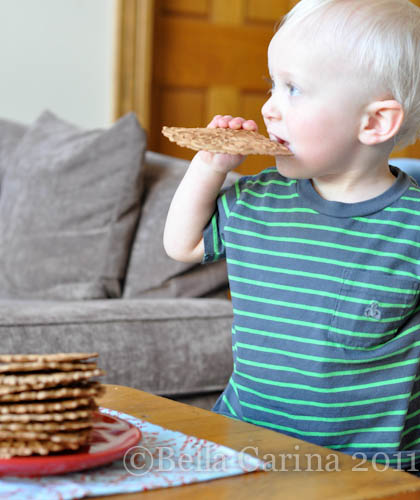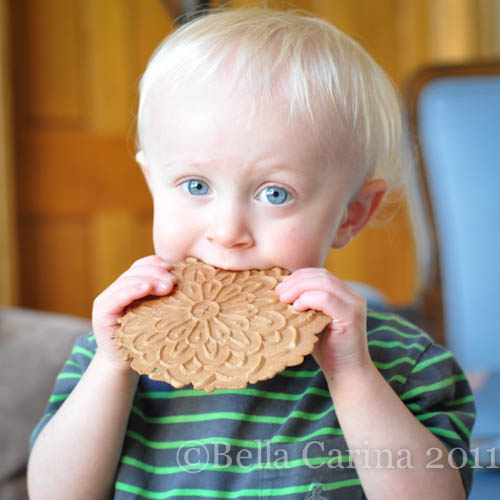 He's one smart cookie!  (haha…get it?  I'm embarrassed for myself for that one…)
I think these are my favorite holiday cookies.  I look forward to these every year!  Not many people know about these cookies, but I've convinced most of my friends to try them at least once.  I like that they are cookies, but not overly sweet and just a little bit of crunch.
Does your family make holiday cookies that are out of the norm?  Have you heard of pizzelles before?  Tell me my family is not alone. 

If you missed the first ten days of Christmas Cookies & Candies here's some quick links!