I have always loved caramel (I pronounce it carmel, by the way), but had never tried to make it before.  Then I saw Ina Garten's recipe for Fleur de Sel Caramels and decided I had to make them for the 12 Days of Christmas.  Then, I tried to buy fleur de sel…umm, ya, so I live in the midwest…fleur de sel isn't exactly something you can pick up at the local grocery store here.  Luckily, I tossed "fleur de sel" into the google machine and discovered that it's really just fancy (slightly flakier than normal) sea salt.  Hurray!  I have plenty of sea salt at home!  Turns out Fleur de Sel Caramels is just a fancy way of saying salted caramels…luckily we're not too fancy here at House of DK.
One other road block I ran into was needing a candy thermometer.  Never having made candy (besides my almond roca that doesn't need one), I didn't own one.  I went out to Target and bought the only one they had, which set me back around $10.  I was a little scared to make this, but it came out sooo good!  Honestly, if I can do it, you can too!
I followed Ina's recipe exactly, except for some minor changes.  First of all, I just bought a whole bunch of vanilla beans at Costco the other day (10 beans for just under $12…not too bad) and I really wanted those brown vanilla flecks to be in the caramel, so I added a vanilla bean.  This is totally optional, so if you don't have any beans, just omit that part.  The other thing is that I don't own an 8×8 pan, so I used an 11×7.  Oh, and I substituted the fleur de sel for regular sea salt.  Ok, maybe I didn't follow Ina's recipe exactly.  😉
Ingredients:
1 1/2 cups white sugar
1/4 cup light corn syrup
1/4 cup water
1 cup heavy cream
5 tablespoons unsalted butter
1 teaspoon sea salt, plus extra for sprinkling
1/2 teaspoon vanilla extract
scant amount of vegetable oil for brushing parchment paper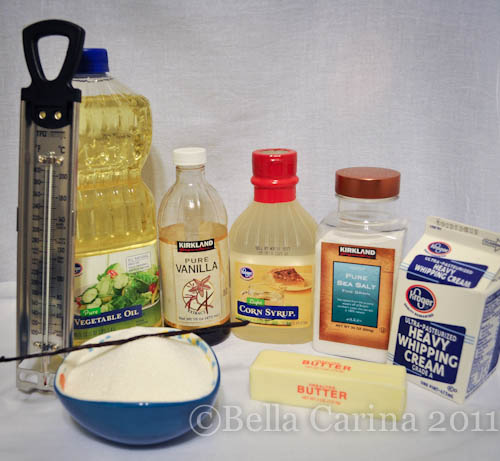 You'll also need parchment paper for this (wax paper would probably work as well).  Cut a piece of parchment paper that is bigger than your pan.  You want it to hang over the edges a couple inches on all sides (Ina says two sides, and that's what I did, but I wish I had done all four).  Brush the paper lightly with vegetable oil.
The reason I love my boyfriend is that he came with a beautiful set of Calphalon pots and pans…ok, it's not really the reason I love him, but these pans are great and beautiful. 😉  You'll need two sauce pans.  One needs to be at least 6 inches wide and 4 1/2 inches high according to Ina.  I used my our 2 1/2 quart sauce pan for boiling the sugar and our 1 1/2 quart pan for the cream and it worked out wonderfully.  You'll see why you want a good sized pan later on.
Time to break out your multitasking skills that you've been storing away for something special.  You'll need to be doing a couple things simultaneously here.  First, in the smaller pan, add the cream, butter, teaspoon of salt (or fleur de sel, if you please).  I also cut a vanilla bean in half and scraped out the insides into the pan.  (Don't mind the flecks of sugar, they got stuck from the ingredients shot.)  Use a paring knife to cut the bean in half length wise and scrape out the insides.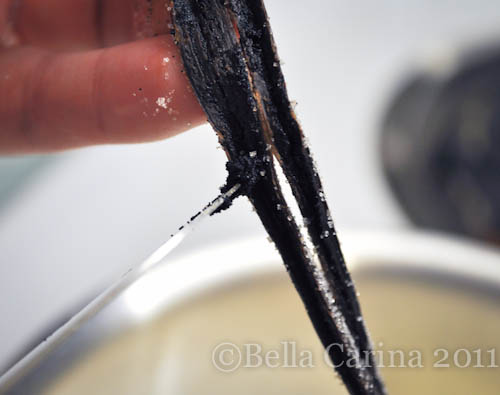 Go ahead and throw the bean into the pan for now as well.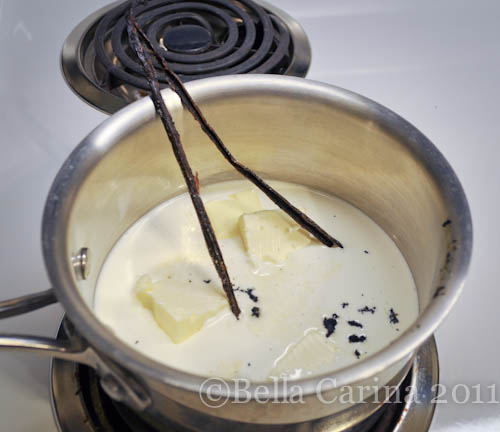 Cook this on medium heat until the butter is melted and it comes to a good simmer.
Meanwhile, add the water, sugar, and corn syrup to the larger pan and turn the heat to medium high.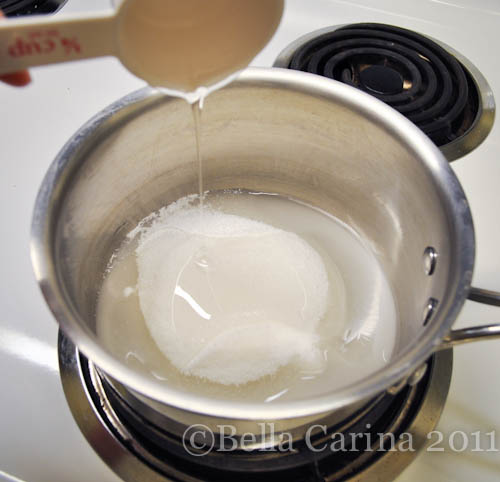 You don't need to stir this mixture, just swirl the pan around.  Here's an action shot for ya…oh ya…workin' the pan.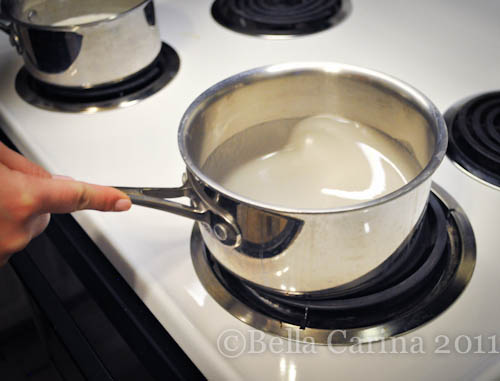 It all eventually comes together on its own.  Pretty soon, the sugar mixture will start to bubble.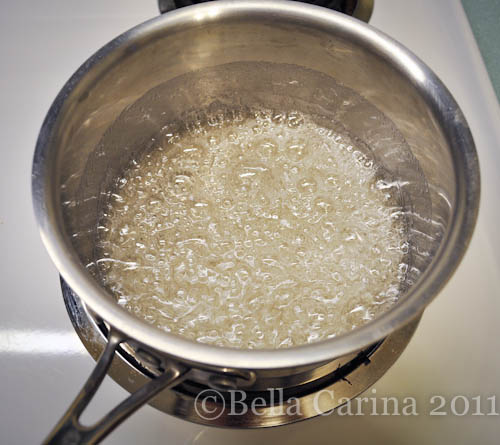 Keep swirling the pan around occasionally.  You want this to get to a warm golden brown color.
Keep one eye on the cream mixture.  Doesn't it look yummy with the vanilla flecks?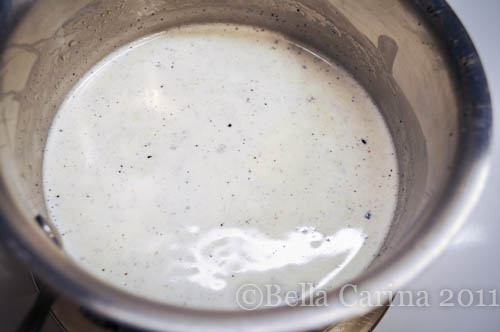 Once it comes to a good simmer and your sugar starts changing color, it's a good time to remove the actual vanilla bean and discard it.  Then take the pan off the heat and set aside until your sugar is ready.  Be sure not to burn the cream.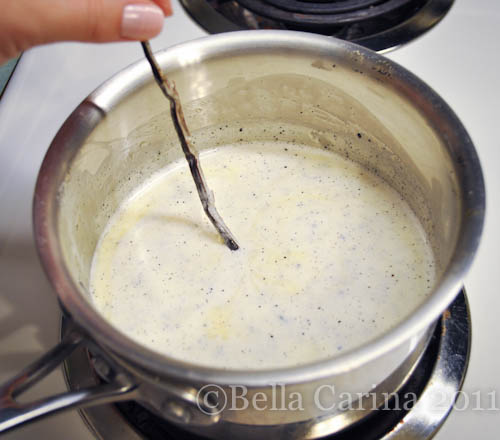 The sugar will first turn a light yellowish color.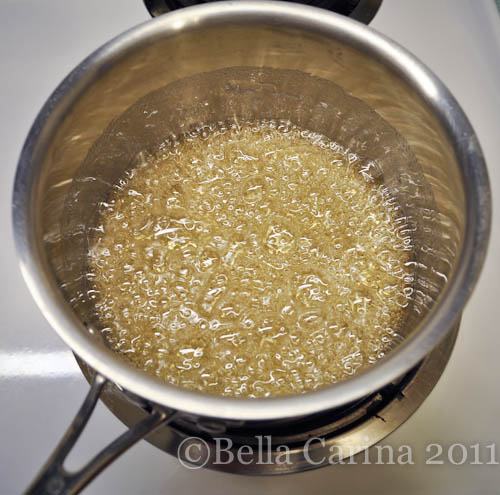 Keep swirling the sugar mixture until it gets to be nice and warm golden brown in color.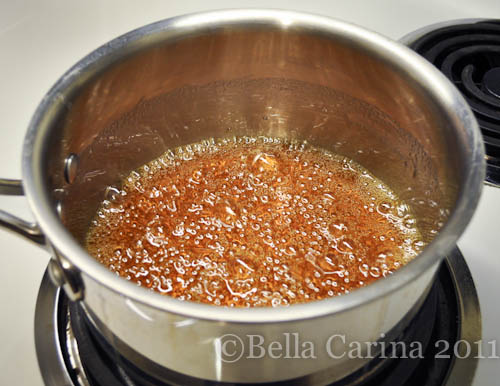 Now, this is the fun part.  Ina says that when you pour the cream mixture into the sugar it will "boil violently."  I couldn't wait for that part!  This is why you want to make sure you have a big enough pan.  First turn the heat off the pan and then be sure to add the cream just a little bit at a time.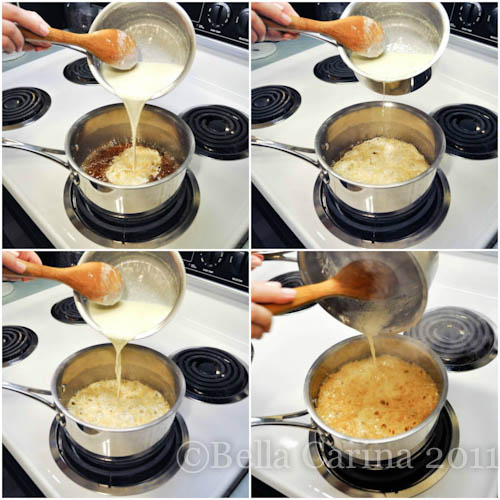 It was pretty fun to watch!  Stir is all up with a wooden spoon and add the vanilla extract at this time.  Turn the heat back on to medium low.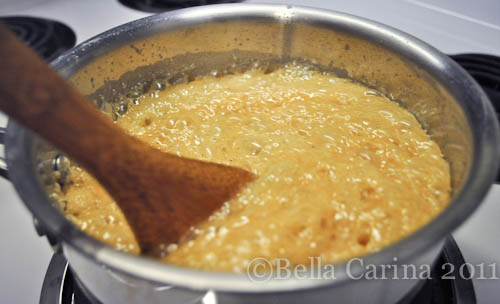 This is where the candy thermometer comes in.  Place your candy thermometer just about an inch or so under the surface of the liquid, but don't let it touch the bottom of the pan.  Mine came with this hand clip.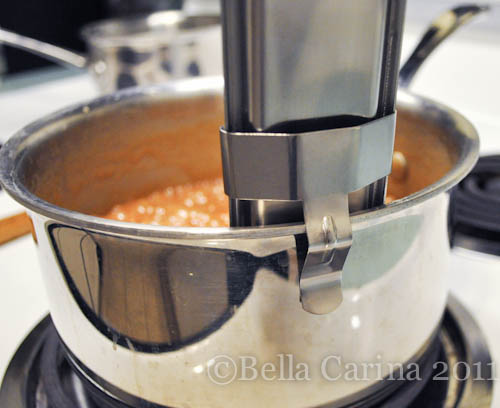 Ina says that you should keep stirring the caramel for 10 minutes until it reaches 248 degrees (which is also called "firm ball" in candy speak).  It actually took about 15 minutes for me.  I didn't stir constantly, but I did stir it quite a bit.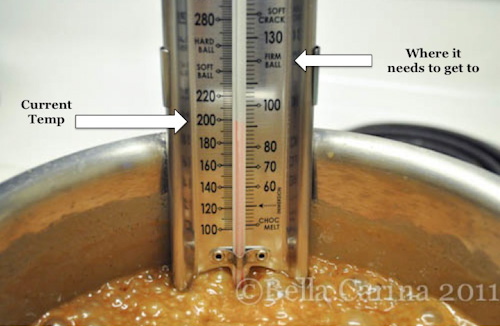 My thermometer also came with this handy guide for candy temperatures.  See the line for "carmels"…kinda funny that it's spelled incorrectly, huh?  That's probably how I would have spelled it if not for spell check…and thank God for spell check, right?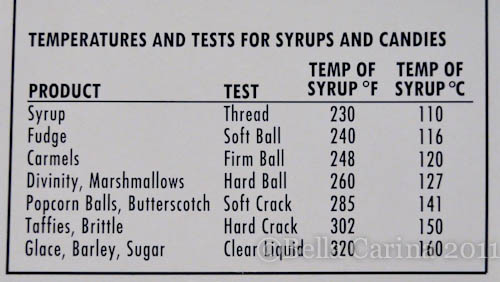 As the caramel heats up, the color continues to get richer.  It should be boiling the entire time.  I used an extra piece of parchment paper as a spoon rest since this stuff is sticky!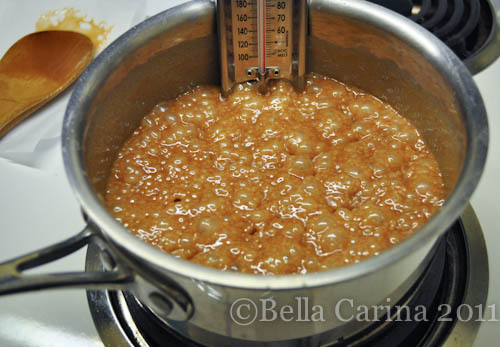 Finally, my caramel reached the right temperature.  (It's almost there, I wanted time to take the picture before I had to poor the caramel…you have to act quickly with candy…so temperamental.)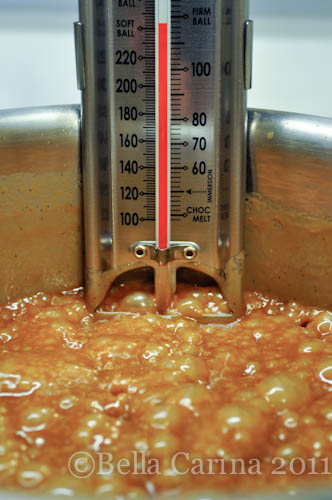 Now, very carefully, pour the caramel into the parchment lined pan.  Can't stress enough, be careful because this stuff is HOT!  Somehow I managed to get a tiny drop of caramel on my finger and it freaking hurt!  And it sticks to your skin and keeps burning until you run it under cold water, so like I said, be careful.  (And, yes, that's a crazy industrial vitamix blender in the background…she also came with the bf. ;))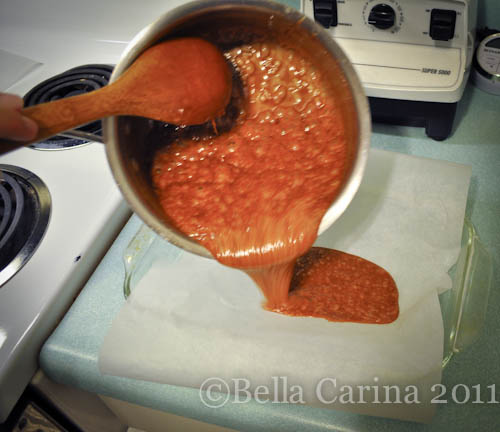 I got very frustrated with the parchment paper because it wouldn't lay properly in the pan and some of the caramel seeped under the paper at the edges.  That's why I would recommend have the parchment paper fold over the edges on all sides.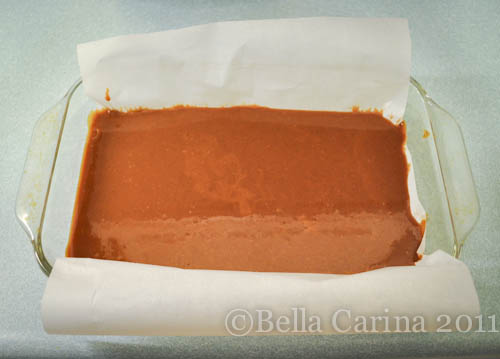 Now, back to the worst part of candy making…the waiting.  This needs to be refrigerated for at least three hours.
When it's cooled, pop this bad boy out of the fridge and use the excess parchment paper to pick the whole thing up and out of the pan.  Turn it upside down on a cutting board and remove the parchment paper.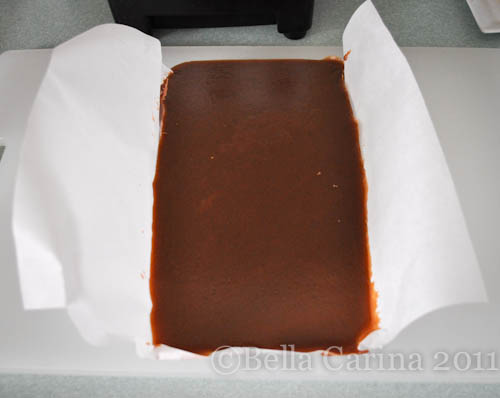 To cut this cup, I got out my Furi Gusto Grip and rubbed a little bit of vegetable oil on the blade and first cut it in half.  Then I cut it into about one inch strips.  Each of those strips I cut into about 2 bite pieces (or one large bite!

)
I know I usually say that my recipes turn out tasting good (like how Giada always acts like it's the best bite of food she's ever had in her life, right?), but these are really, really darn good!  And they are so pretty on top of that!  I love how the sprinkled salt looks like snow.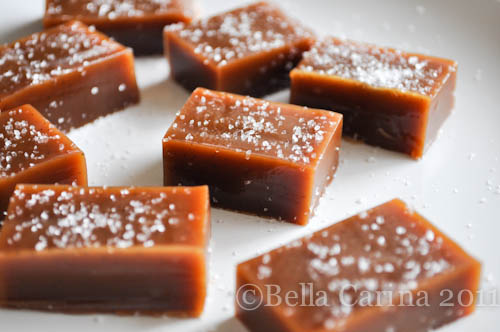 See those little flecks of vanilla bean?  LOVE them.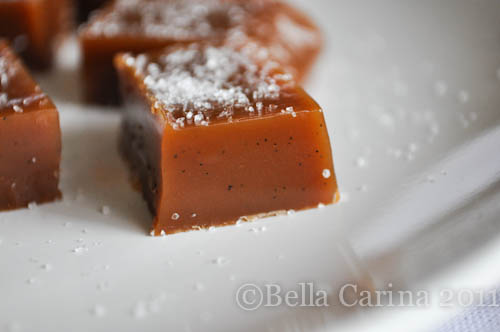 These came out much better than I could have hoped for.  The texture is smooth and just soft enough to bite a piece and have it melt in your mouth.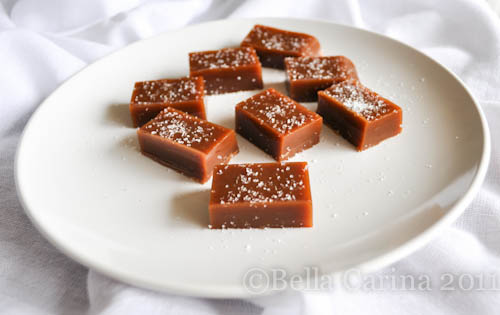 Ina recommends that you keep these refrigerated and serve them chilled…I'm sure room temp would be fine as well.
This is one of those recipes that really isn't that difficult to make, but it will really impress your friends and family when you tell them you made them from scratch.  And if you really want to impress them, tell them they are called Fleur de Sels… 

Happy candy making!
If you missed the first five days of Christmas Cookies & Candies here's some quick links!