These cookies are another bunch that go by different names.  I have always known them as Snowballs ever since I was a kid and my Grandma Fannye made them every Christmas.  I hear that they also go by Mexican Wedding Cookies…not sure where that comes from though.  Anyone know??
Traditionally, these guys are made with walnuts, but my bestie Jenna prefers pecans, so we switched it up.  They came out delicious!  And for those of you who like the semi-homemade stuff, this is right up your alley.  😉  We got the recipe from foodnetwork.com just like the recipe we used for the Peanut Butter Blossoms.  You can find the original recipe here.
To make this recipe you will need:
1/2 cup oil (we used canola)
1 1/4 cups oats (not instant)
1 box of white cake mix
2 large eggs
2 teaspoons vanilla
1/2 cup chopped pecans (we bought them already chopped from Trader Joe's, and when I say "we" I mean Jenna & Cara 😉 Thanks hotties!)
about a cup of powdered sugar (to roll the cookies in)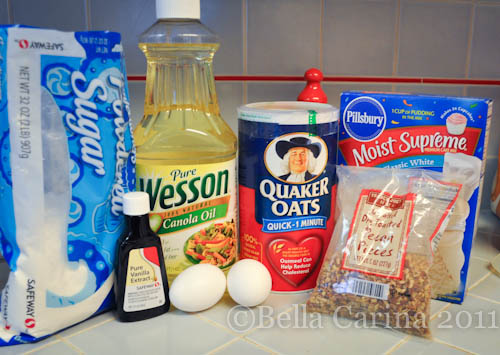 First things first, preheat your oven to 350 degrees.
Next, measure out your oats in a liquid measuring cup.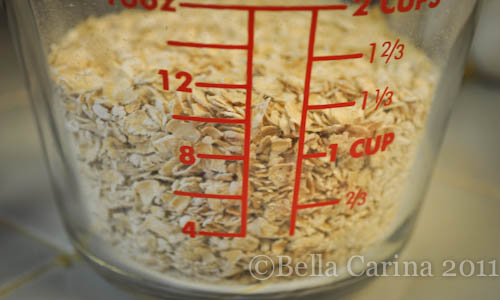 Then pour the oil into the same cup and stir it all together.  You want the oats to absorb all of the oil, so let it sit for about 5 minutes.  These cookies don't end up tasting very oaty…more just vanilla-y goodness, so I assume the oats are more for structure.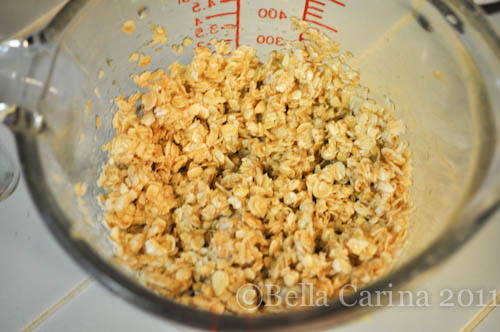 Next, pour the oats/oil, cake mix, eggs, vanilla, and pecans into a stand up mixer.  So, basically all the ingredients.  😉  This is one of the easier recipes.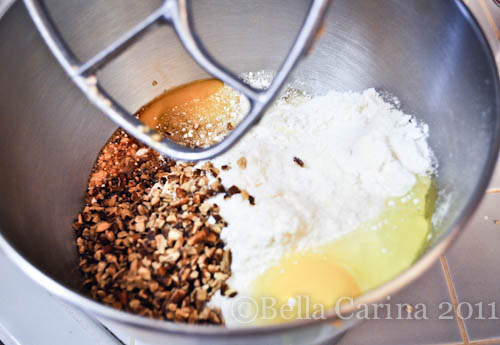 Mix until well combined.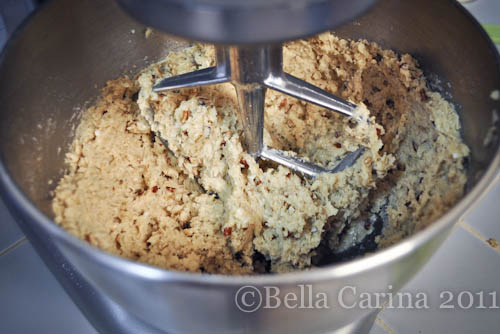 Doesn't it already look yummy?  I'd tell you to sneak a bite, but I would NEVER "officially" advocate eating raw cookie dough for safety concerns.  Unofficially, it tasted really good!  😉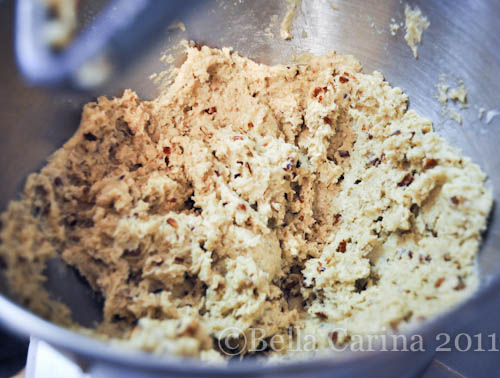 Next, you get to get your hands dirty…but, please wash them first. 😉  Roll the dough into approximately 1 inch balls and place them on an ungreased cookie sheet.  Unless of course, you are at a cookie party and your sheet is already pretty buttery from the other batches of cookies you've been baking.  Then, just go ahead and toss them on the cookie sheet. 😉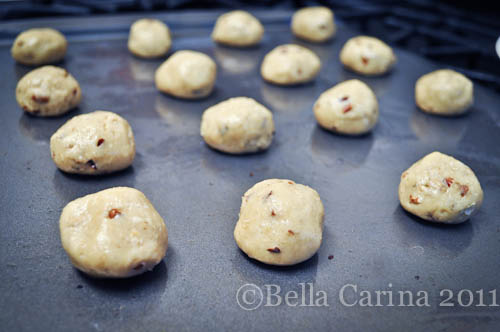 It's a beautiful thing…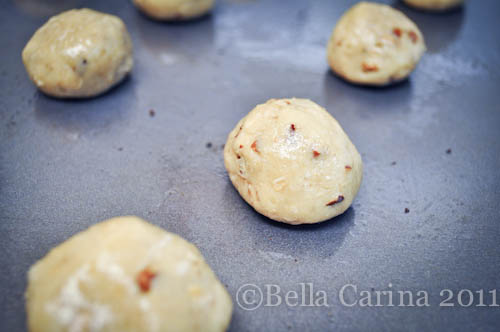 Bake for about 8 minutes.
While you are waiting for them to bake, pour about a cup of powdered sugar onto a plate or shallow bowl.  Cara has such pretty plates…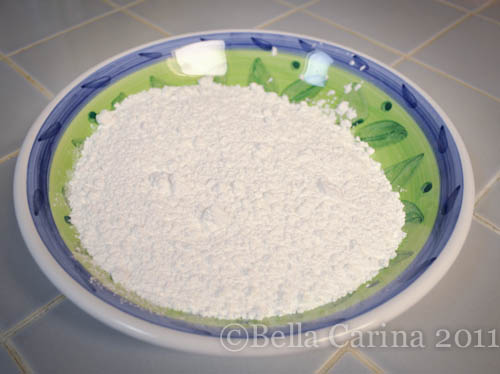 When the cookies are finished baking, let them cool just enough so you can touch them without burning your little fingers.  We just let them cool right on the baking sheet.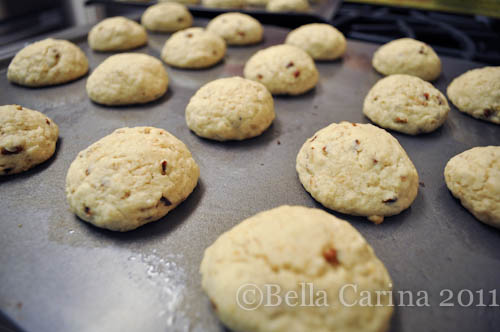 Then, roll each cookie in the powdered sugar.  It's like one of those foam parties you went to in college only for cookies…and powdered sugar instead of foam…I never actually went to one of those parties, but I heard it was pretty disgusting actually. Awwwkward.

Now you can let them cool on a baking rack.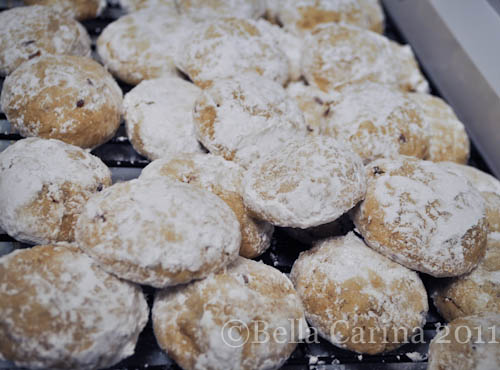 Here they are in all their Cookie Party glory…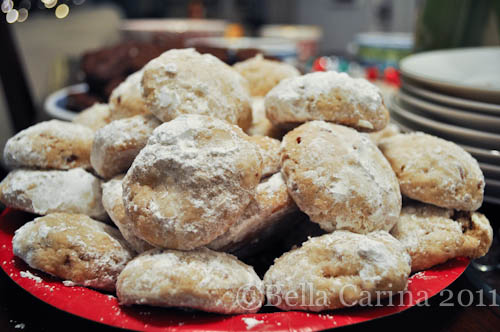 And a close up of the powdered sugary goodness.
Yummy, yummy!
Now, normally I am a slightly bias towards anything with chocolate and these cookies are clearly lacking in that department, but they were really good!  It must have been the switch of pecans for walnuts…good call, Jenna. 

Oh, and remember not to inhale when you take a bite of these…that powdered sugar will go straight to the back of your throat every time.