Ok, disaster may be a bit of an exaggeration. Let me start this story at the beginning. We've been having these cookie parties for a few years now and Cara or Jenna are always the hostesses…
and they attempt to make sugar cookies every time…
and every time, they end up not coming out as they should.
Cara and Jenna are convinced that there is a sugar cookie curse. Now, some of this "curse" may be in part that they seem to be baked towards the end of the cookie party, which inevitably means that a few glasses of champagne have already been drunk, but that is neither here nor there…it's the curse of the sugar cookies that really does it!
Cara and Jenna claim that they have tried every method imaginable and a slew of different recipes…and none of them seem to work. Refrigerate the dough? Tried it. Made from scratch? Failed. Roll out the dough and use a cookie cutter? Epic fail.
So, this year to avoid yet another disaster, we attempted to use a fool proof method…store bought sugar cookie mix.
We used this one…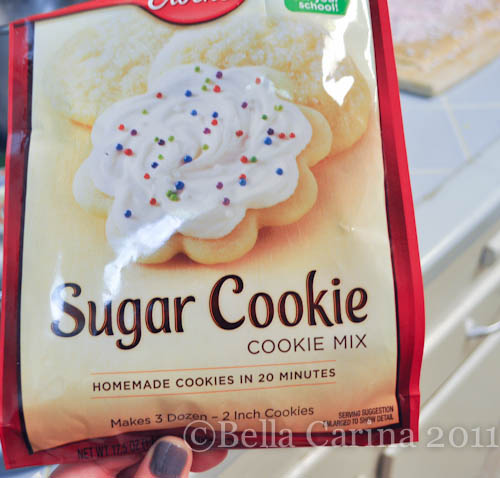 and made it per the directions on the back.
We also decided to just make drop cookies to keep it in the simplest form possible.
To give the cookies a little holiday cheer, Cara crushed up some regular old candy canes using the bottom of a heavy ceramic bowl and wooden cutting board as a DIY mortar and pestle (and yes, I had to look that one up…one of those things I've said a million times, but have never written!).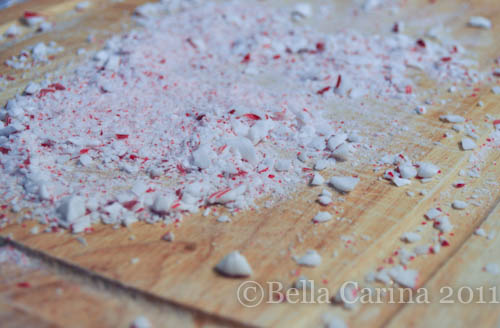 Rolled the sugar dough into balls and dipped them in the crushed candy canes.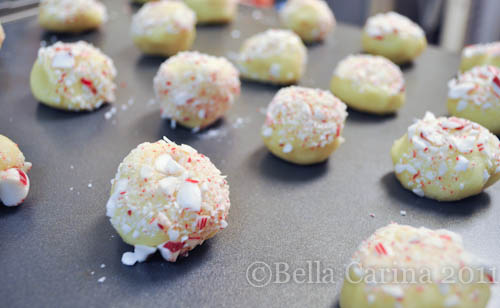 Then popped them in the oven according to directions.
And they came out…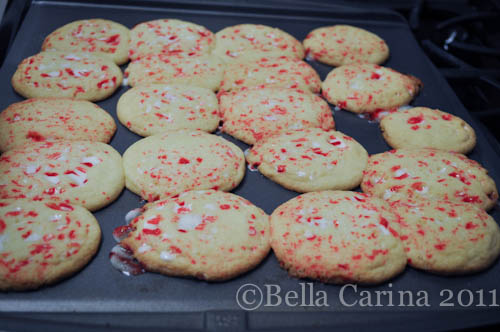 …not so great. Wah wah.
They actually tasted fine, and as Emily pointed out, our problem was most likely the fact that we put way too many cookies on one baking sheet.  We attempted to separate them to salvage them.  And then offered them to Cara's boyfriend to eat…isn't that what boys are for after all?  Dane calls himself the "garbage disposal" whenever I offer him leftover food…it's his fault because he always finishes my plate!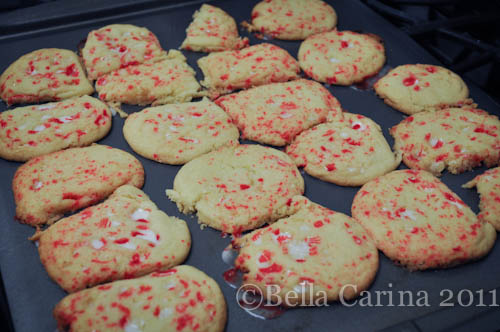 Yes, these were the last cookies we made. So, blame it on the champagne…maybe. Blame it on the sugar rush from all the other cookies we had already eaten that clouded our judgment…possibly. Or!… Blame it on the sugar cookie curse!
Maybe you guys can try decorating some sugar cookies with crushed up candy canes and the curse won't affect you. I can only hope. 😉
Anyone else out there have trouble with baking sugar cookies?  I'm not a huge fan (no chocolate!), so I've never actually made them myself?  Any quick sugar cookie baking tips to avoid disaster?
If you missed the first eight days of Christmas Cookies & Candies here's some quick links!