This recipe comes from my future mother-in-law (find out about our engagement here!) and it is arguably Dane's all time favorite cookie (or candy depending on how you look at it).  We've already discussed how I'm not quite as peanut butter crazy as my better half, but I actually really like these cookie/candies a lot, too!  They have a little bit of a crunch and just enough chocolate to make the peanut butter worth my while.  😉
I asked Dane's mom to give me some history on these little guys and she told me that her mother has made these for as long as she can remember and she has made them herself at Christmastime for over 30 years.  She also mentioned that the original recipe calls for 1/4 bar of paraffin wax that you would melt with the chocolate, but she eventually stopped putting it in because the idea of eating melted wax was not so appealing to her…I totally get that!  Lastly, her recipe note was to melt more chocolate than the recipe calls for since she always seems to run out.  I modified the recipe below to what we ended up using.
This is a no-bake recipe and the only cooking that is required is the melting of chocolate.  In this post, we'll also talk about the trials and tribulations of chocolate melting and how there really is a right and wrong way to do it.
Ingredients:
1 stick butter, softened

3 1/2 cups powdered sugar

2 cups creamy or crunchy peanut butter

3 cups rice krispies

11 oz Hershey's milk chocolate (bars or chips)

8 oz semi-sweet chocolate chips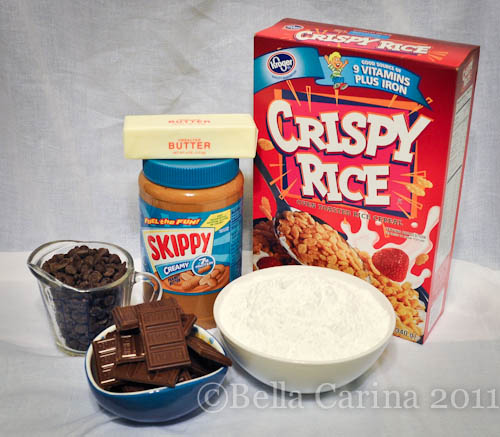 My fiance (that's so fun to say!) decided to give me a hand in the kitchen with these since he's watched his mom make them for years.  First, put the powdered sugar and softened butter (we used unsalted) into a large mixing bowl.  Mix together using a hand mixer.  Then, add the peanut butter (we went with creamy), and crispy rice.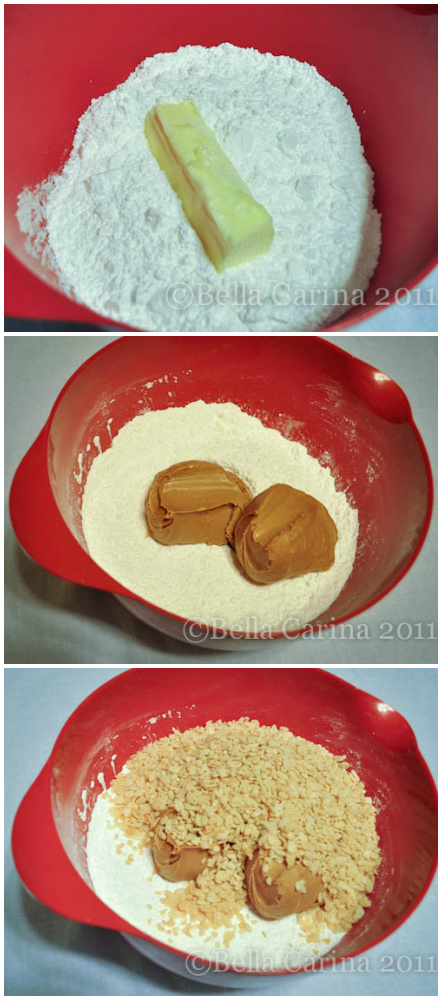 Using the hand mixer, combine all the ingredients well.  It should look a little chunky like this…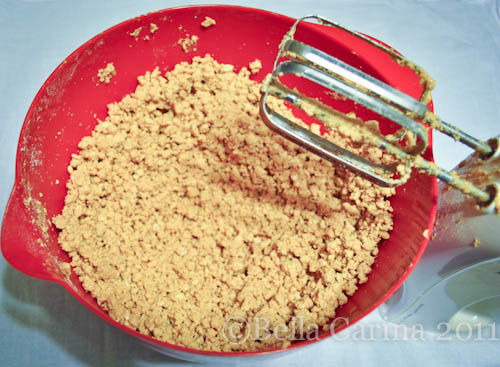 Time to get your hands dirty!  Make approximately 1 to 2 inch in diameter balls.  The dough sticks together pretty easily, so you shouldn't have to manhandle them too much.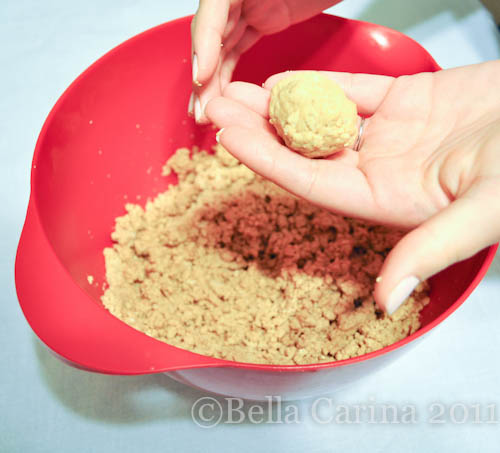 This recipe makes a fairly good amount of candies (or cookies if you prefer)…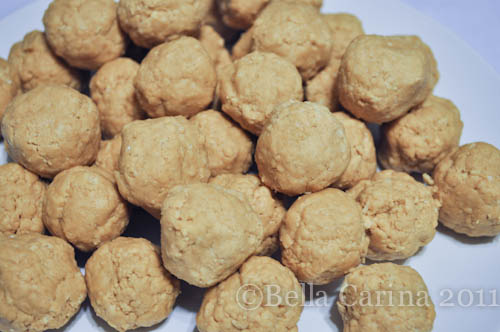 Now, here's the tricky part…melting the chocolate.  My awesome fiance, Dane was very well intentioned and jumped into melting the chocolate before I really had a chance to see what he was doing.  Being the independent man that he is, he chose his own method which consisted of putting all the chocolate in a sauce pan over medium high heat…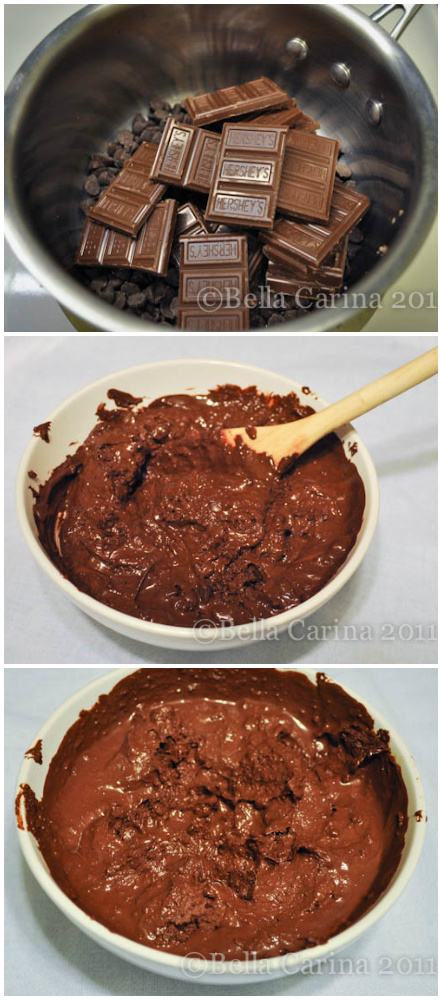 Ummmm… let's just say it didn't turn out so well.  But, you gotta love him for trying!  Chocolate has a very low melting point (about 110 degrees) and is best melted using low, indirect heat.  This is why it is often recommended to melt chocolate in the microwave on low power at small intervals or in a double boiler.  It also helps to have all the chocolate be around the same size (as in, using all chocolate chips).  Dane tried to salvage the (slightly burned) chocolate by using the microwave method (slightly after the fact), but it was just not willing to get smooth!
The method that I prefer is to use a double boiler.  Since I don't own one, I made my own using a sauce pan with a couple inches of water in the bottom and a glass mixing bowl.  I kept the heat on medium low and stirred with a spatula constantly.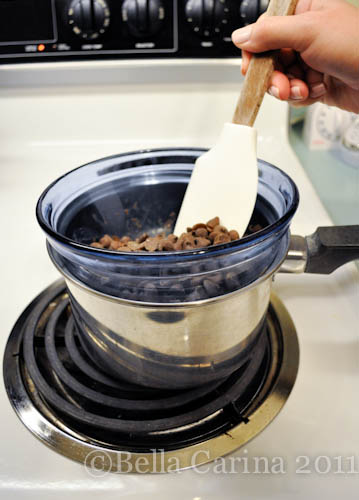 I also used all chocolate chips (we had both milk chocolate and semi-sweet).  The key with this is patience…keep the heat low and keep stirring.  Adjust the heat as necessary to ensure that the water is never boiling…simmering is plenty of heat.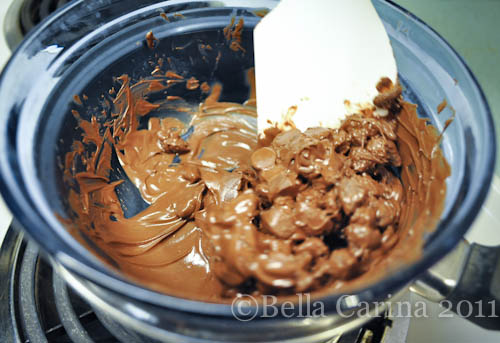 Eventually it will melt and become smooth and silky looking.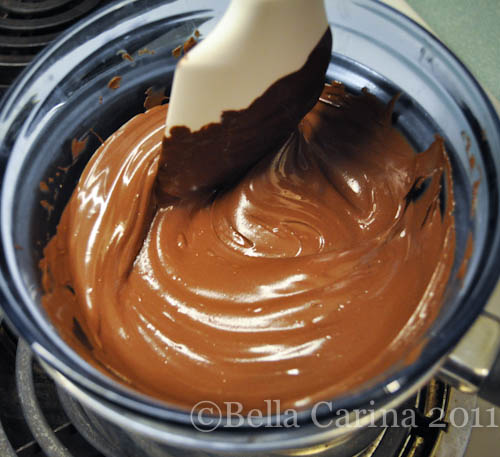 Now it's time to cover the balls in chocolate!  We used a very high tech tool to help with this process.  It's called a modified plastic fork. 😉  We just broke out the middle prongs.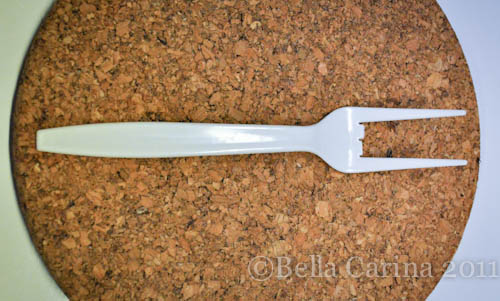 I removed my "double boiler" from the stove and put it on a hot pad on the island to give myself a little more room to work.  The chocolate stayed nice and warm the whole time.  After the ball was covered in chocolate, we placed them on a sheet of wax paper to let the chocolate set.
I used the spatula and our "tool" to thoroughly cover each ball.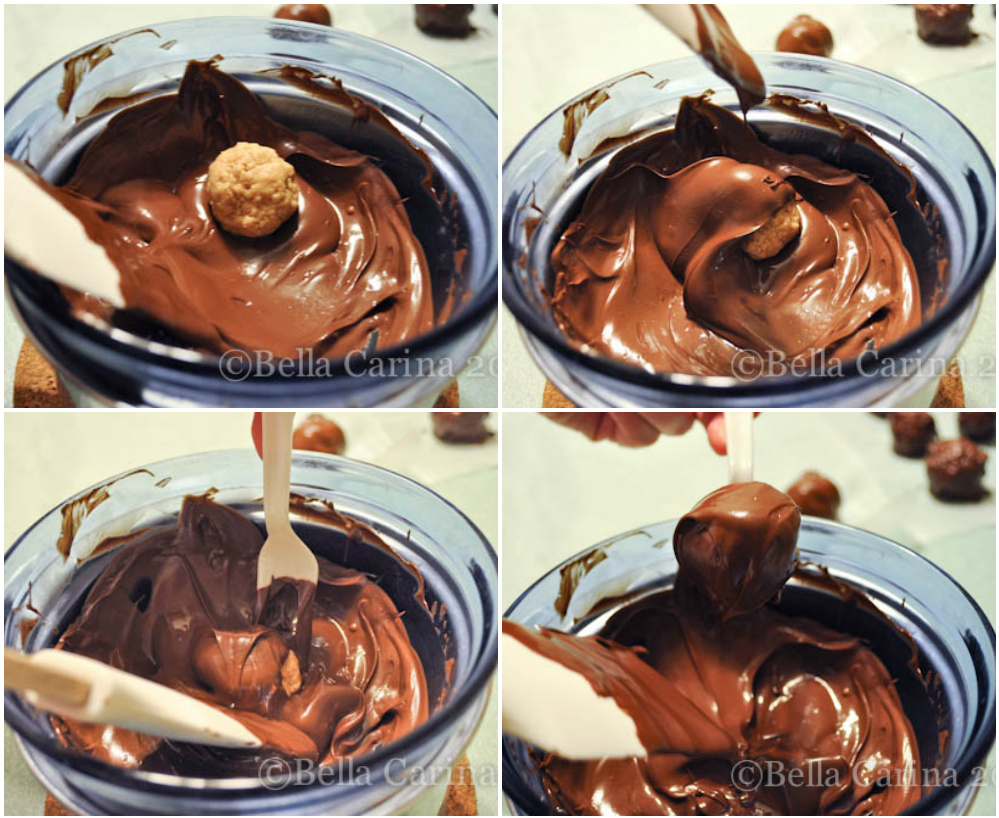 And then carefully place it on the wax paper.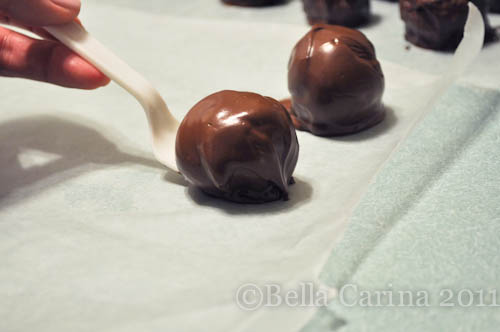 Dane, not wanting to waste the chocolate he ruined made, decided to roll some balls of his own.  I'll let you guess which one is mine and which is his…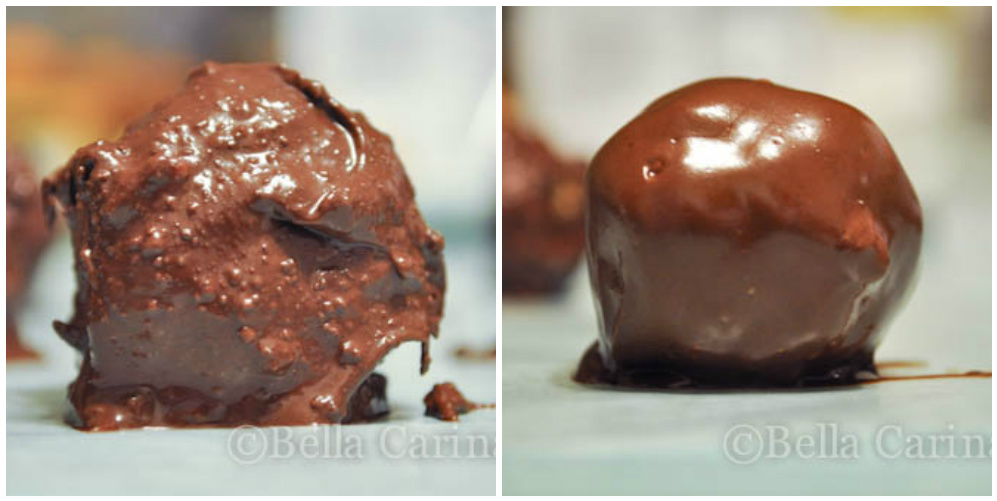 And, yes, he told me to do a side by side comparison.  Haha
After the balls were all covered, we left them on the counter over night to let the chocolate set.  And then they are ready to devour!  Dane loves these so much, he even ate the not so pretty ones that he made.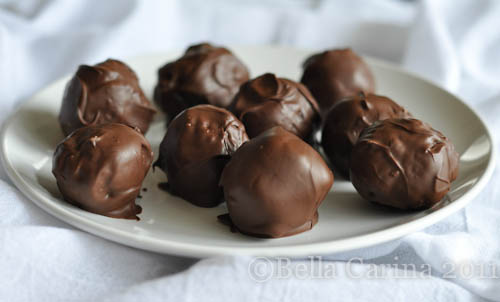 They have just the right amount of crisp, sweetness, peanut butter, and chocolate to satisfy anyone's sweet tooth.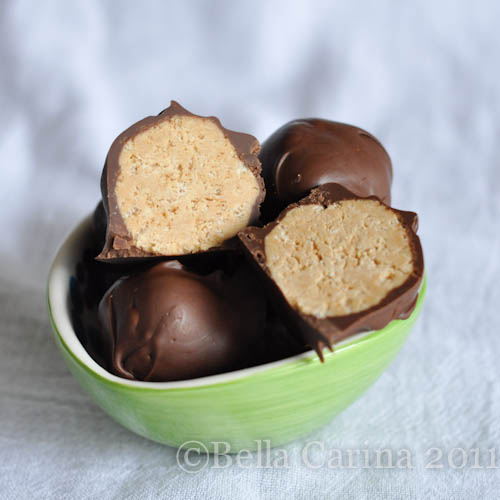 These keep very well in the freezer.  They can be taken out and defrosted slightly on the counter, or eaten frozen…both are pretty darn tasty!
Thanks so much to my future mother-in-law, Trish for this delicious recipe!
If you missed the first seven days of Christmas Cookies & Candies here's some quick links!