The home we live in here in Virginia is a town home. It is three floors, and 3 and a half flights of stairs (there's a half flight to the main floor from the entry way).  Here's a shot from the outside…it's as tall as it looks.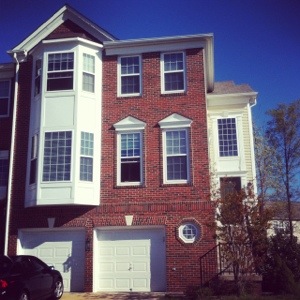 It's all hardwood floors except for the bottom floor including all of the stairs (and yes, I still owe you all the before pictures…#bloggerfail).  That wasn't working too well for the pup.  I briefly talked about it back in this post and this post.  Originally, I had hoped that rubbing some Paw Wax on his feet and shaving his paw fur regularly would do the trick, but it left wax residue on our floors and really didn't help all that much. We even paid the extra $11 to get his nails ground down instead of just clipping them…not enough. Roman was still frightened enough of slipping (after a couple really bad slips) that he would whine at the bottom of the stairs at bedtime until one of us carried all 60 pounds of him up the two flights of stairs to our bedroom. It was quite sad actually.  But, I mean, what wouldn't you do for this cutie?!  (That's his, "seriously, you aren't going to help me?" face.)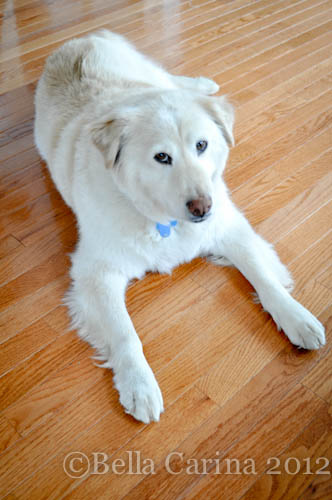 We discussed several different options on how to help The Bubbas, as we often call him.  We even considered installing a permanent stair runner, which probably would have been close to $1000!  We would have also had to ask permission of the landlord, of course. We came across websites like this one, that had removable stair treads, but it still came out to $179 for 13 stair treads (ouch!). We would have needed to buy 3 sets to cover all of our stairs, which was way out of our budget. One of our cheaper options that we came up with was to purchase several of the Borris door mats from Ikea and cut them in half so they would fit each stair. At $1.49 a pop, it was an option that was waaay closer to our price range, but I was not a huge fan of the black and navy, made for the outside of your home quality going on.  Just when we thought we had ran out of ideas, we came across these at our local Home Depot.  You're looking at the stack of rectangular shaped carpet pieces to the left and a price tag of only $9.99.  (Please excuse the awful iPhone pic.)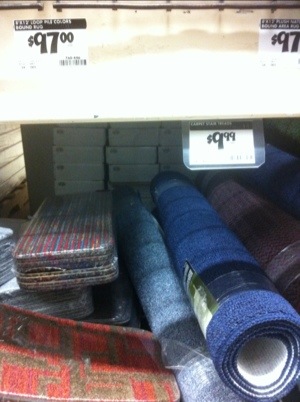 We were definitely intrigued.  It turns out, these stair treads, called Soft Treads, are pretty much just all the leftovers that they cut into the same shape and package in groups of 13 treads per package.  I got down on my hands and knees (they were on the bottom shelf) and started digging through the pile to try and find three matching packs (we needed 3 to cover all of our stairs).  I ended up pulling them all out in the middle of the aisle…classy, I know, but I was on a mission.  Turns out, they had two packs that were relatively similar (one had vertical stripes, the other was horizontal, but the same carpet none the less) and one pack that was more on the neutral side that we thought might work on the basement stairs without clashing too much with the other sets.  That was as good as we were gonna get.  We asked a nice worker man if you could order 3 packs in the same color, but they are only listed as "multi-colored" on the HD website and even the store only ordered them as "multi" and they just get what they get…literally carpet refuse cut up into rectangles.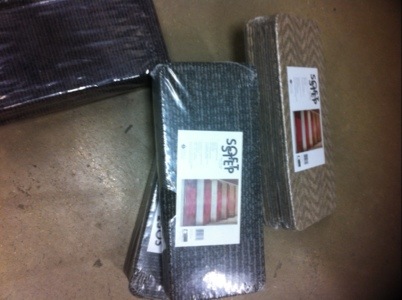 Not to be discouraged, we picked the two that were the same-ish and the tan-ish one and then skipped over to the caulk aisle (ok, maybe I skipped, and Dane just walked).  Why the caulk aisle, you ask?  Well, let me tell you!  The back of the treads were just hard plastic, as in slippery, which wasn't going to help the cause.  I had remembered seeing something on pinterest that mentioned using caulk for a cheap solution to make rugs non-slip.  At around $2 for a tube of caulk, this was definitely the cheapest route to go.  Thank you very much Martha for this awesome tip.  (In case, you aren't keeping track, this is a $32 solution…yay!)  I couldn't remember if it was supposed to be just silicone or silicone latex, so we just went with a mix.  (We already own the trigger thingy (technical term) that you need to squeeze out the caulk, but I bet those aren't too expensive.)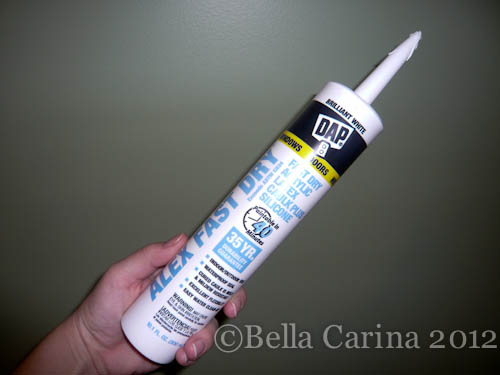 Here's a better shot of the packaging that I took once we got home.  Notice the awesome mix of blue, grey, and greenish that doesn't really match anything in our house, but is still kinda neutral.  Is it just me?  Maybe I was feeling a little desperate.  😉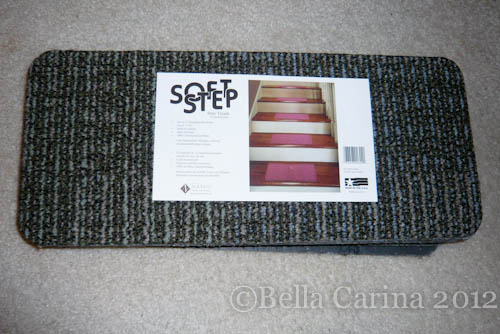 When we got home, we laid out all of the carpet squares rectangles.  Why they aren't backed with some sort of rubbery coating, I don't know, but I am considering writing a sternly worded letter to the company.  (Yes, most of these photos are awful since we did this at night and used my point-and-shoot…please forgive me.)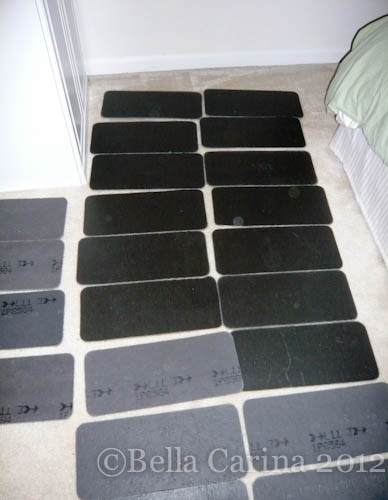 Next, we got to squeezing!  We took turns…here's me.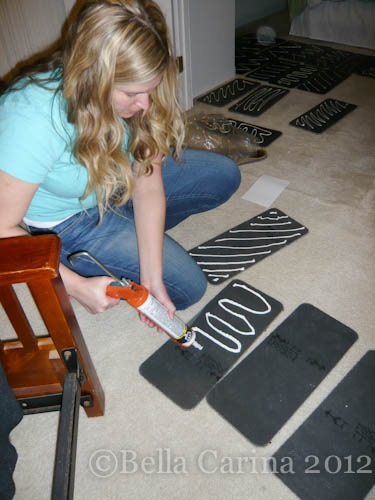 We did all kinds of patterns just to mix it up…I'm sure it has no effect on the non-slipness of the treads.  Dane took a turn and made a loving gesture.  Collective "awwwwe."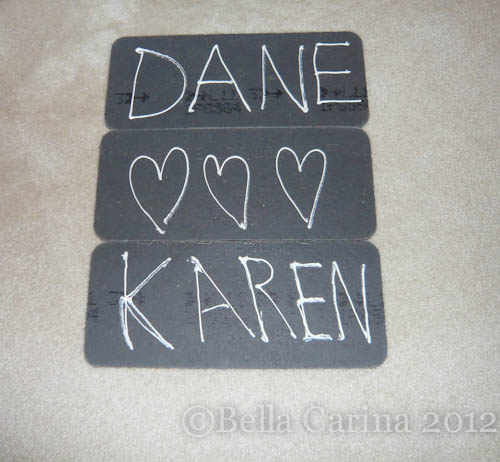 The tube says "paintable in 40 minutes," but to be safe we let them dry overnight.  And made sure to keep the pup out of the basement, so we didn't ended up with little caulk paw prints all over the place.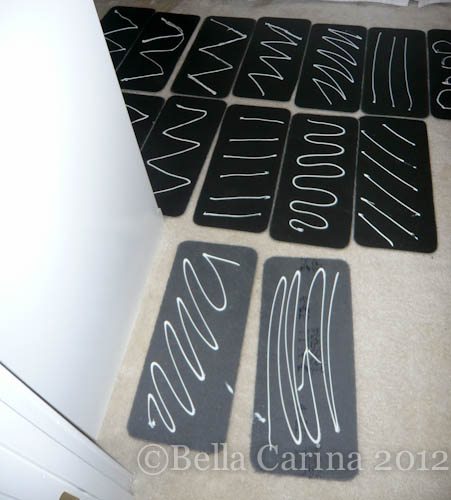 Now, don't get me wrong, this is not the most beautiful solution to our problem.  But, considering that the more beautiful alternatives were at least hundreds of dollars out of our price range, this is what we went with.  In the end, I don't think it really turned out all that bad.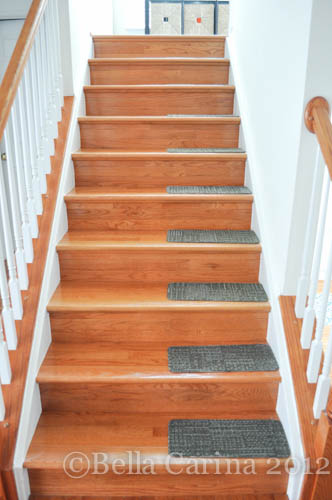 We decided to have them run up one side on the stairs so Roman could have a little path (he likes to walk right alongside you).  Here's that half-stairway I was telling you about.  From afar, they just look kind of grey striped without all the weird extra colors.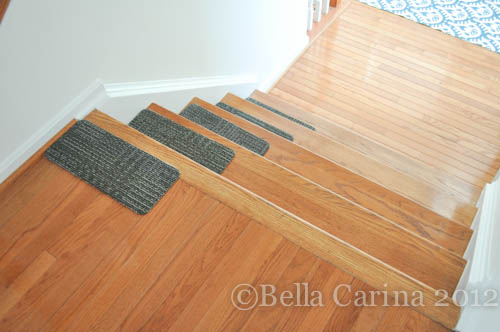 And we used the tan set for the basement stairs.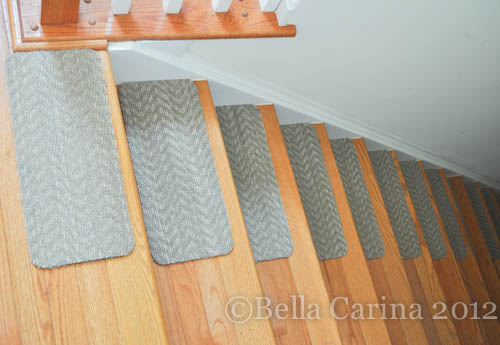 The great thing about them is that they stick really, really well.  Like, we were scared at first when we tried to pull them off, but we're happy to see that they didn't leave any residue at all on the wood…hurray!
The other awesome thing is that after a couple days of coaxing Roman up the stairs and training him to walk on the carpet, he is officially an independent dog again!  It's been a couple months now and he actually will run up and down the stairs again…Mission Accomplished!  It's so great to have our fun-loving dog back instead of the scaredy cat we were dealing with for the first few weeks.  Sometimes it's a good reminder that they have personalities and fears, too.
Love this pup.  <3