I always thought of the dollar store as a place you can buy old candy on the cheap.  In the last year or so, I started to get into reading blogs and everyone talks about the Dollar Tree and how great it is for crafts and the like.
So, I got very brave and made my first trip to the Dollar Tree.  I actually didn't buy anything the first time I went, but I think it was because I was so overwhelmed at how many projects started spinning in my head!  One thing that caught my eye was the glassware section.
Dane and I are beer drinkers, in fact, some may even call us beer snobs.  It all started a few years ago when Dane started getting into brewing his own beer at home.  Prior to that, the extent of my beer knowledge was that there were light beers and dark beers and I knew that I was not a fan of the dark ones.  It wasn't until I actually started tasting all kinds of beers that I realized there is really a- whole-nother world out there of beers.  After moving to Ohio, we were introduced to a local bar called Kings Table by a friend.  Kings Table is unassuming from the outside.  It's home is a strip mall next to a hair salon and a gun shop (this is the Midwest after all).  Kings Table is no fancy pants bar from the looks of it, but what they do have is over 200 different kinds of beers from all over the world.  You won't find any cheap American lagers on tap here either.  They get kegs from all kinds of craft breweries.  Between their beer selection, kind and knowledgeable staff, and their dollar grilled cheese and tots night (it's Wednesday, btw) we love this place.  It was here that I learned that I love a good Belgian Abby Ale among other beers.
Long story long, we started a collection of beer glasses.  Much like how there are different styles of glasses for wine, the same goes for beer.  At the Dollar Tree I stumbled upon this little gem.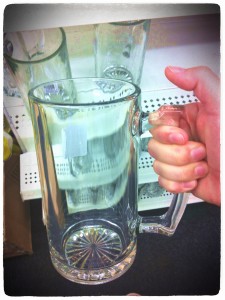 Then I remembered reading about glass etching from John & Sherry over at Young House Love and I knew that's what needed to be done.  I bought two beer steins (or beer mugs) for a grand total of $2 plus tax.  Yippee!
Supplies you will need for this project:
glass
contact paper
exacto knife
print out of a design or letter you want to etch
scissors
tape (I used double sided tape that I had on hand)
etching creme (I used Armour Etch)
cheap craft paint brush
old credit card or piece of stiff plastic about that size
gloves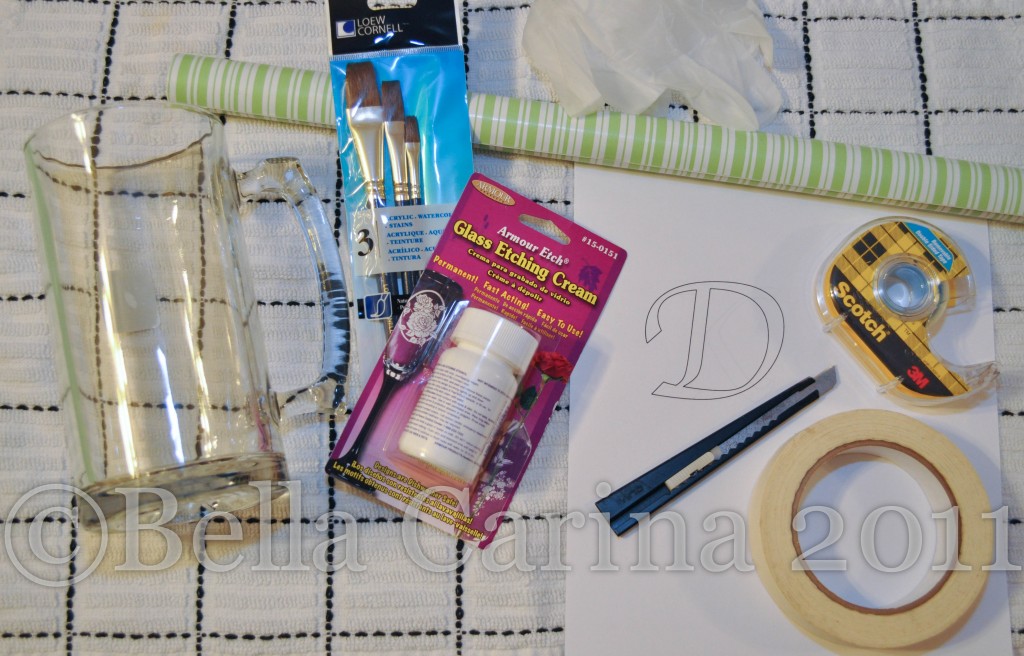 Then I went to Michael's where I used a 40% coupon to buy the smallest bottle of Armour Etch I could find.  Let me warn you, this stuff is not cheap!  I believe it was $11.99 for a 3 oz bottle before the coupon.  You can almost always find a Michael's coupon online though which helps.  If you are like me and print the coupon only to forget it on your kitchen table, you'll be glad to know that they also will let you pull up the coupon on your smart phone (thank you very much trusty iPhone 4!) and scan it from there.  And I'm always for saving a tree here and there.  (Note: At first, I only found larger bottles of Armour Etch which were upwards of $30!  The bottle I found was actually hanging from a hook higher up in cardboard and plastic packaging.  Unless you are planning on etching an entire window the small bottle will be enough.)  I also needed to buy contact paper and was sad to see that the cheapest roll Michael's had was in the range of $7.  Between the investment in the Armour Etch and the contact paper, this cheap little project was getting quite expensive.  That's when I strolled across the $1 bins at Michael's and found a small roll of contact paper…hurray!  I already had the other supplies I needed at home.
First, decide what you want to etch on your glass.  I found myself being drawn to monogrammed mugs recently like this one from Anthropologie, so I decided to go with a D on one glass and a K on the other.  I went to Microsoft Word on my Mac and found a font that I liked (Apple Chancery in size 250 in case you were wondering.  Note: I'm cheap frugal and don't like buying ink, so I was sure to switch the font setting to 'outline' to save ink).  I wanted something where the lines weren't too thin since this was my first go at etching.  Then, I cut a piece of contact paper a couple inches bigger around than my letter.  I used the double sided tape to stick the printout to the non-adhesive side of the contact paper and then used a wood cutting board as my cutting surface to carefully cut out my design.  This was kind of a pain and there was some cursing and yelling when my not-so-sharp straight blade was tearing the paper instead of cutting it.  I would recommend a sharp blade and an actual exacto knife to make things go a little smoother.  (I knew we had an exacto knife somewhere, but couldn't find it and wanted the glasses to be a surprise, so I couldn't ask Dane).  I also found later that it is really easy to touch up once you stick the contact paper to the glass, so if you did make a mistake, you can probably fix it without too much trouble.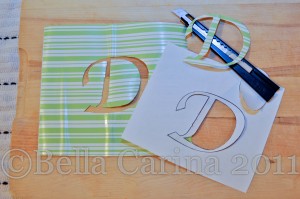 Before sticking your stencil to the glass, make sure that the surface where you want it is wiped clean.  Of course, the side I wanted it on is where the sticker was.  And of course it was one of those super stickers that wouldn't come off even after trying the blow dryer trick (heat up the sticker with a blow dryer and it should come off easily).  A little Goo Gone was no match for the sticker and I won in the end.  Yay.
To affix the contact paper to the glass, I peeled it back half way and tried to make it as straight as possible.  Luckily, if you mess up, you can un-peel it and try again.
Don't forget to stick on your middle piece if you are doing a letter like D or A.  I used the printout cut out to make sure I had it in the proper spot.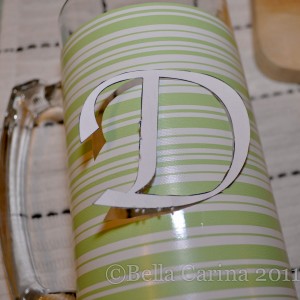 Using striped contact paper actually helped with this as well.  Once I was happy with my stencil I gloved up (the Armour Etch is an acid, so make sure you don't get it on your skin or any glass that you don't want etched).  Use the paint brush to liberally apply the Armour Etch to the open areas of your stencil and set the timer and wait.  (Note: on my first glass I waited 5 minutes, but I waited 10 minutes on my second and think it came out better.)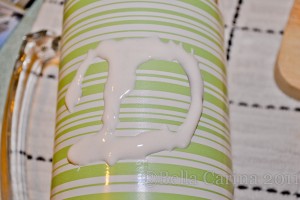 Once the time has passed, use the piece of plastic (we got a flyer in the mail from Farmer's Insurance that was made of plastic, so I just cut a piece of that) to scrape off the majority of the Armour Etch and put it back in the container.  I read here that this is ok and since it's practically the price of liquid gold I figured it was worth a try.
With the stencil still affixed and my gloves on I rinsed off any residual etching cream in the sink.  (Note: I also read here you should only do this in a stainless steel sink, but we only have porcelain in our house.  I didn't notice any damage to our sink).  I then removed the stencil and rinsed it again with plain water before giving it a good wash with soap and water.
And that's it!  Here's the final product: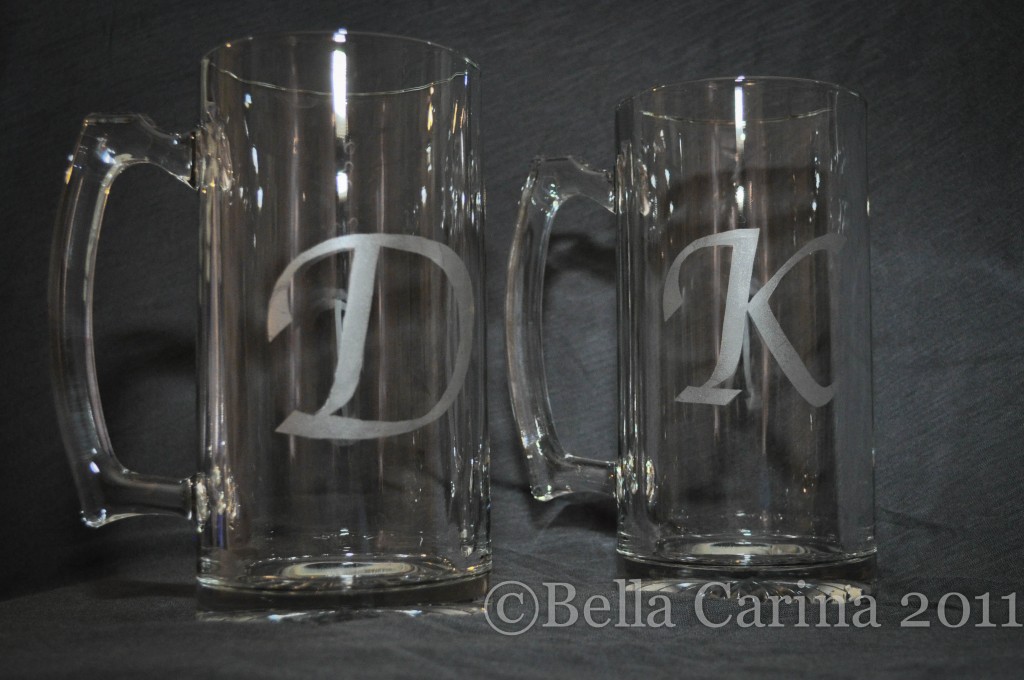 I love how it looks so professional and yet it's so quick and easy!  I surprised Dane with the glasses and he thought they were awesome!  He was showing them off to his friends and they all wanted to know how I had done it.  The initial investment of the Armour Etch is a little hard to swallow, but I'm excited to do more etching projects in the future so the cost will be spread out.
Has anyone tried any etching before or found a different way to do it?  Are all the projects you can do swirling in your head?  Any awesome dollar store finds?
**Quick Disclaimer: This Armour Etch stuff is no joke!  Be sure to take all safety precautions and read all directions noted on the bottle before use!