**Today is the day for the big reveal!  I explained the Pinterest Challenge: Fall Edition in an earlier post here.  Basically, a few super bloggers that I follow (find them here, here, here, and here) decided to challenge any and all pinners around the world to stop pinning and start doing.  I accepted that challenge and this is the final result!  If you've never heard of Pinterest, check it out here.** 
I have already talked about how Dane and I are beer lovers here.  Well, we also have a strong affinity towards another libation…vino!  We both have some Italian blood flowing through our veins, so it's almost mandatory for us to enjoy wine, right?
I've been trying to think of something I could do with old wine (and large beer bottles) that we accumulate every now and then when I saw this on pinterest…ding! ding! ding!
The original image is from Woman's Day online website.  And here's the link to my pin.
Now, I was a little sad that I didn't get around to doing this for Halloween (it would have looked quite cute on my mantel!).  Then, as I was trying to think of which pinned project I wanted to do for the challenge, I thought to myself, "self, why not try a fall or winter themed sprayed wine bottle?"  (I try to really think outside the box as often as possible. 😉 )
Which is where this project began.  I had one empty wine bottle on hand which was made of green glass and a large empty beer bottle made of brown glass.  (For those interested, the brown one was a bottle of Southern Tier Creme Brulee Stout.  It is a dessert beer which is as sweet and delicious as it sounds.  I highly recommend.  The wine was a bottle of Cab Sav by Twenty Bench, which I hold dear to my heart since I spent many a nights enjoying it with my best friends at a small wine bar in Cali called Friends of the Vine.)  I decided to go with a winter/Christmas themed design on the green bottle and do an autumn themed design on the brown.  The first step to this project is removing the labels.  I started by giving the bottles a good soapy, warm bubble bath.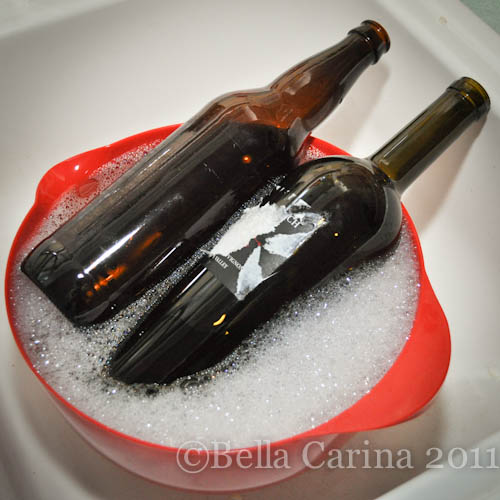 When the labels were soft, I scraped off as much as I could with my thumb nail.  You could also use a straight razor to do this.  After some scraping, I was left with this.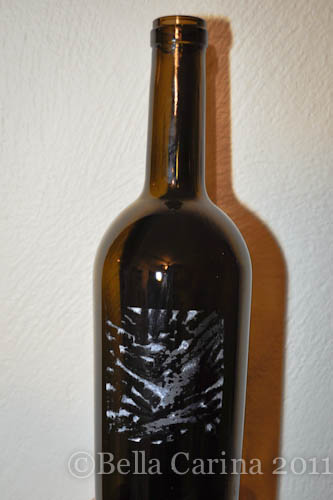 No bueno.  Enter my trusty bottle of Goo Gone.  A little Goo Gone and a paper towel makes easy work of getting rid of sticky label residue.  After all the label stickiness was gone, I gave the bottles another quick wash with soap and water and let them dry while I went to get to work on my stencils.
I'm sure there are lots of ways to go about doing this, but since I had recently had success making stencils with the $1 roll of adhesive backed vinyl I  purchased at Michael's to do my glass etching project, I decided to stick with what I know.  My first thought was to free-hand a design using a sharpie and then use my exacto knife to cut it out.  Let's just say my free-handing skills are a little sub par.  Whomp, whomp.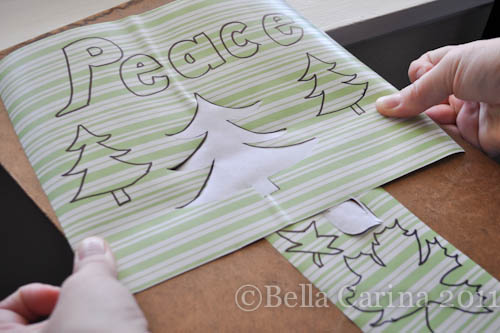 I was happy with my large tree, but not so happy with my attempt at leaves.  I mean, seriously, those leaves are terrible.  Let's just hope my cutting skills are above the level of a first grader…eesh.
I decided to print out letters from Word and then cut them the same way I did with my glass etching project.  I even used the same font (Apple Chancery) since I liked it so much from before.  This time it was a little trickier to cut out because the letters were smaller.  In fact, I started out with all lowercase letters and they were just too small and the lines were too thin.  So, I switched to all caps and it worked out a lot better.  (Tip: use a small piece of double stick tape to keep the print out from moving around while you cut.)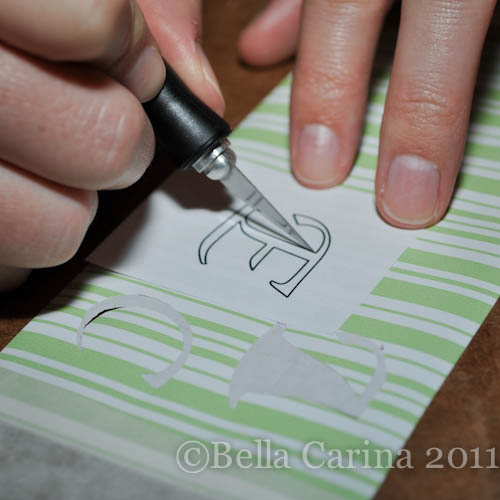 For my Autumn leaves, I hit up google and searched "autumn leaves" in the images and fell upon this site.  I wanted the design to be simple, without too much detail…translation, easy to cut out.
I copy and pasted the leaves to a word document and printed it out on some card stock that I had around.  I used scissors to cut out each of the four leaves.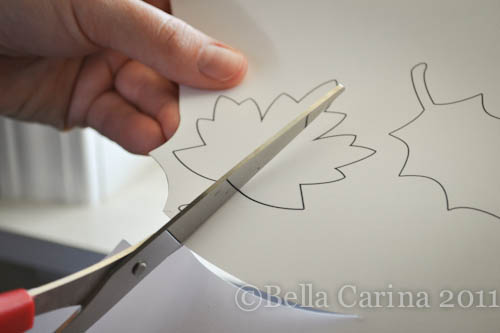 Then I used double stick tape to stick a leaf onto my contact paper.  I cut the contact paper to a more manageable size.  Then I used my scissors to cut around the leaf.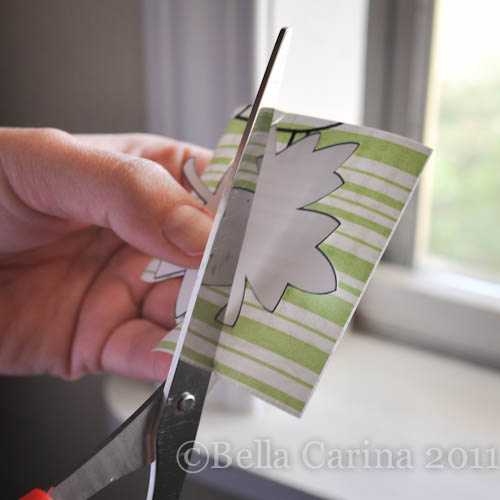 I went ahead and used the contact paper that I had already drawn on.  Waste not, want not, right?
Then, when I had everything cut out, I peeled and stuck each of the pieces appropriately to the respective bottle.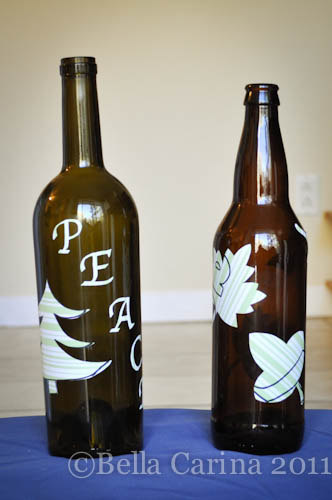 Next, I took my bottles outside (think ventilation when you think spray paint) and used an old box I got from Costco as my spray paint studio.  Funny, I don't even like fish sticks.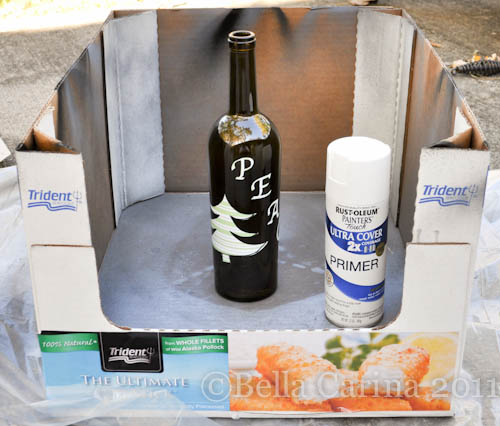 I had that white primer already in the garage and in an effort to keep this project inexpensive, I decided to use it.
I wore a pair of latex gloves that I already had from the dollar store to protect my finger tips and was sure to shake the can for a full minute (ish) before I started spraying.  Be sure to spray about 8 to 10 inches from the bottle and keep the can moving while you spray.  It's important to do a few lighter coats as opposed to laying it on real thick and getting drips.
I debated leaving some of the glass showing and making it look like snow, but decided on just painting it all white when it wasn't quite looking the way I wanted it to.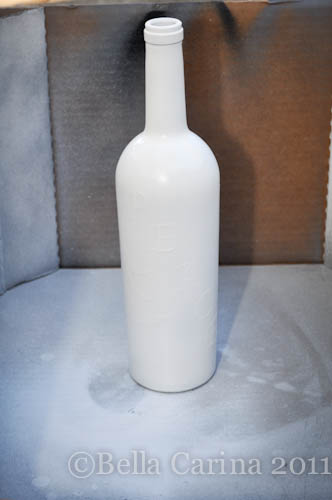 Oh, and I put a gloved finger in the bottle to maneuver it around while I sprayed to avoid getting any smudges on the bottle.  Once it was painted, I set the timer for 20 minutes (the amount of time the can said it would take to be dry to the touch) and took a nap…just kidding…I'm sure I was doing something much more productive than that, I just can't think of it at the moment. 😉
I didn't want to wait too long before peeling off the contact paper in case it decided to cure or something.  I used an old razor to very carefully peel back the letters from the bottle.  I basically equate the care I took taking off the letters to the care a brain surgeon would use.  Ok, maybe not that careful, but I didn't want to accidentally scrape off any paint and ruin everything.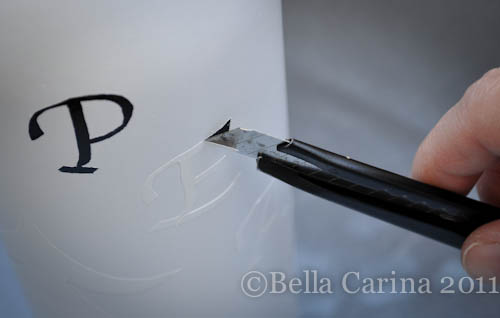 After all the letters were peeled off, I put one of the gloves back on and stuck my finger in the bottle to carry it in the garage to finish drying to avoid having any bugs landing on my paint and getting stuck.  Safety first; that's what I always say.
Then I sprayed the brown bottle.  I got a little more creative with this one since I already had some red spray paint on hand and purchased a bottle of orange spray paint from Lowe's for about $5.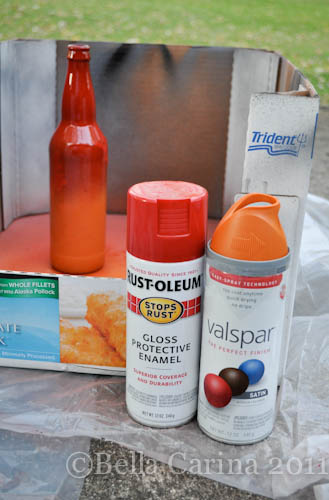 I gave it a little bit of an ombre effect which I have been mildly obsessed with lately.  The red has a glossy finish and the orange is satin, which I was worried about at first, but I like how it turned out.
**Tangent Warning**: A note on the difference of spray paints.  I have already admitted in another post that I am rather a novice to spray paint at this point and have just bought the cheap stuff in the past.  I bought the Valspar can because I liked the color better than any of the others and just thought it was an added perk that it had the trigger nozzle that I had heard good things about.  My conclusions thus far are as follows: A) the red can had an old style nozzle and dripped all over and I was super happy that I was wearing gloves, 2) the trigger nozzle kept my glove clean, but 3) it was harder to hold down the sprayer than the red one…I guess the age old debate continues; trigger nozzle vs old skool nozzle.
Back on track…here is the final product!  Drum roll, please……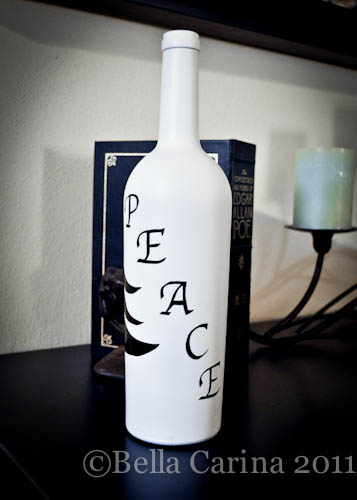 and a close up/artsy shot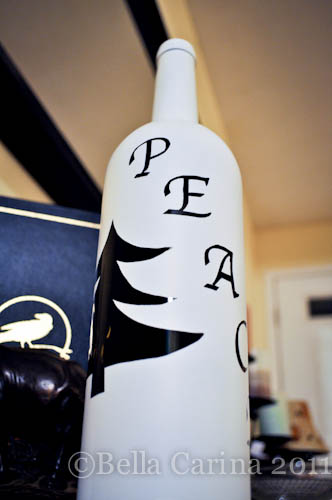 I like how using the primer gave it a very matte look.  Now for the beautiful Autumn leaves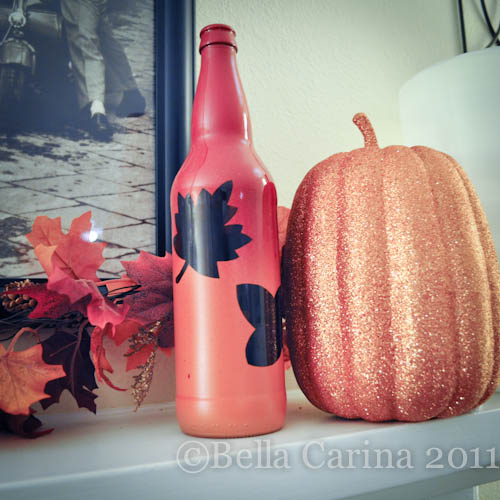 and a close up to really show you that ombre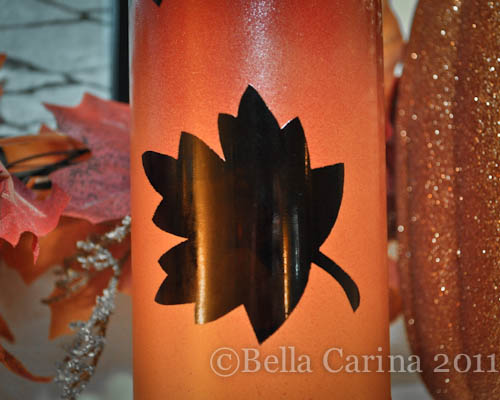 I think it was a pretty cool addition to my other Autumn decor!
Here's the breakdown of cost and materials:
empty glass bottles (free.99)
contact paper (already bought for $1)
print outs of designs (free.99)
exacto knife/scissors
double stick tape (already had)
spray paint of your choosing (white and red – already had, orange – $5)
This project came to a grand total of 5 bucks for me.  And it would have been free had I decided that I was happy with just using the red paint (I am obviously hard to please).  The best part is that I plan on using the orange paint for another Turkey Day project soon.  Hurray for reusing supplies!
I LOVE the way the Autumn leaves bottle turned out and I'm thinking about making him (her?) a friend down the line when another large beer bottle turns up.  I may also need to make Peace a friend…maybe Joy?  The winter themed bottle will have to go away for a little while since it is WAAAAY too early to start thinking about snow (sorry northeast…major bummer!)
Overall, I think this way a pretty quick, easy, and cheap frugal project that people of all levels of craftiness can do (you saw my leaf drawing, right?)  Try it out and let me know how it goes!  Oh, and keep Pinning!