My boyfriend, Dane and I both have nephews and since my cousin just had his sweet baby boy, Pierce, I'm always brainstorming and looking for ideas for homemade gifts for babies.  I was recently over at my friend, Chelsea's house (who is the proud mamma to a 16 month old baby girl) and she showed me a couple hoodie towels that she had bought from a craft fair a while back.  I thought they were so awesome because they were nice and oversized and she said they loved using them for her baby.  I also noticed that the construction was simple enough, using one large bath towel and a smaller hand towel to construct a hood.  With Dane's nephew Oliver having a fast approaching first birthday and the arrival of my cousin's son drawing near (technically Pierce is my first cousin once removed right??…anyway) I decided to tackle this project.  Off to Target I went to buy towels!
For this project, you'll need:
regular sized bath towel (it's trickier the thicker the towel gets, so don't get one that's too fancy!)
one hand towel of the same color or coordinating color (you will only need half of one, so you can make two hoodies with one hand towel)
thread
scissors
sewing machine
If you want to get more ambitious, you can purchase some coordinating accent fabric.  I went with a cute fleece argyle that was on sale at Hancock Fabrics.  I also printed out the first initial for each hoodie.  (I'll be sure to write a post on how I completed the applique soon!)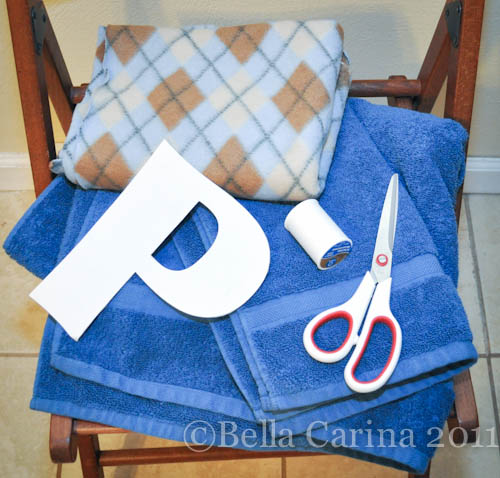 The most difficult thing about this project was the applique, so if you are a newbie to the world of sewing, I would go for just a straight line accent or something along those lines.  This project without any frills could be completed in less than an hour.
First, fold your hand towel in half (hamburger style, for those of you that know what that means 😉 ).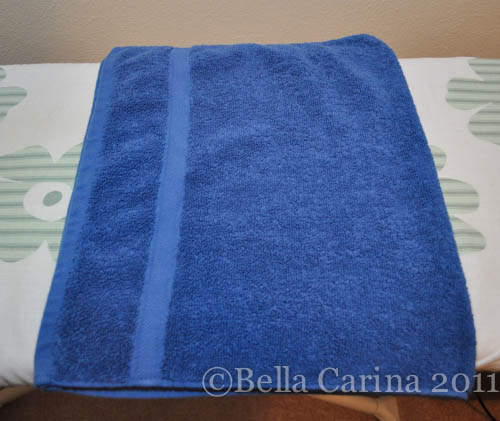 To cut mine in half, I slipped my scissors into the fold and held onto the other end while I cut.  This doesn't need to be perfect…you'll see why in a minute.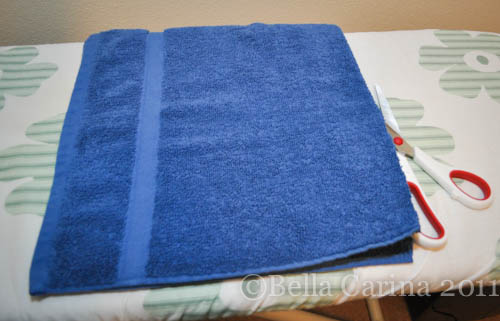 Next, I folded one of the pieces in half again (the finished edge will become the "brim" of the hood).  I used one of Dane's hoodies as a pattern to cut the curve of the hood.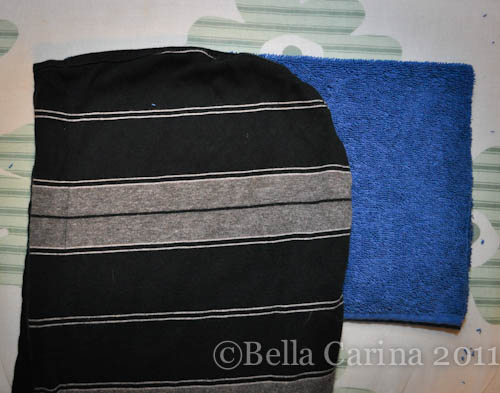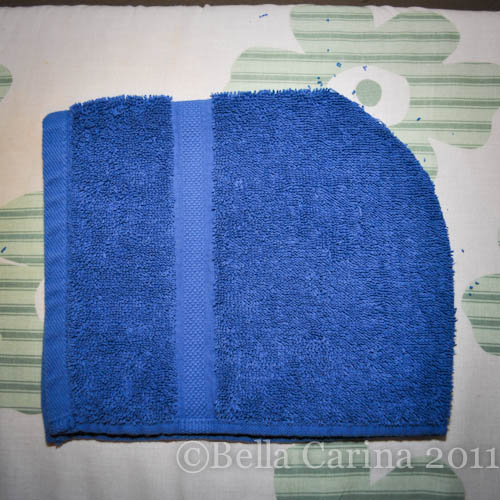 I pinned the curved edge of the hood with right sides of my towel together (the finished edge is folded over on one side which is the "wrong side").  I set my sewing machine to a zigzag stitch with the width between 3 and 4 and the length in between 2 and 3.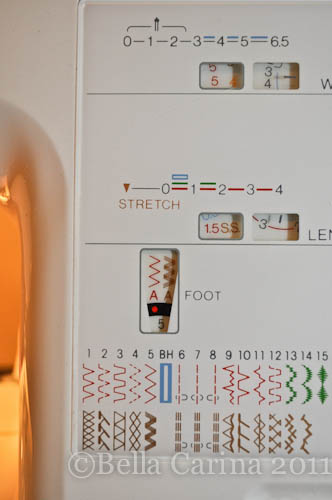 Sew the hood using a 5/8 inch seam allowance.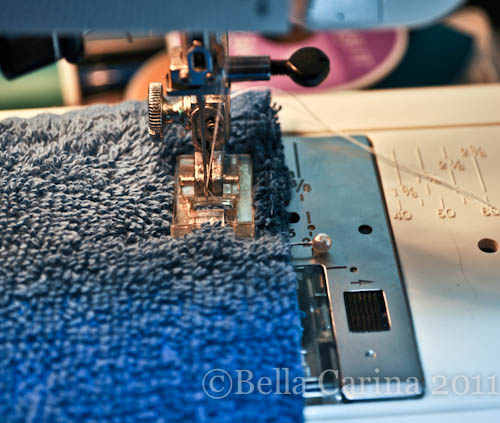 Be sure to remove the pins as you go, so you don't break a needle.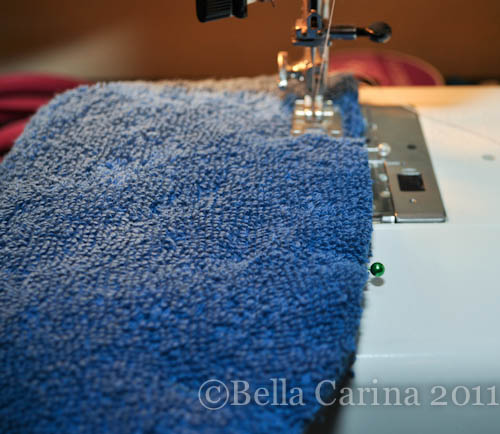 I ended up going back and making another pass over to be sure it was a strong seam.  But, before I did that it looked like this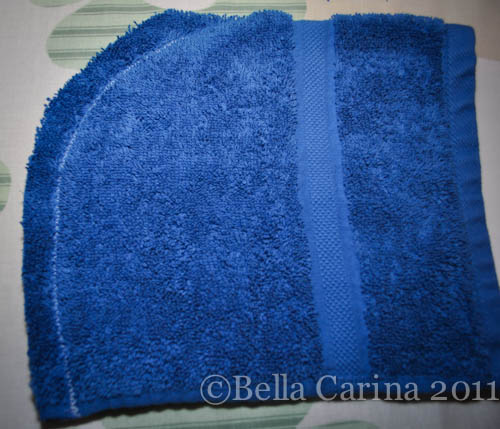 I trimmed some of the excess seam allowance to debulk it a little and then turned it right side out.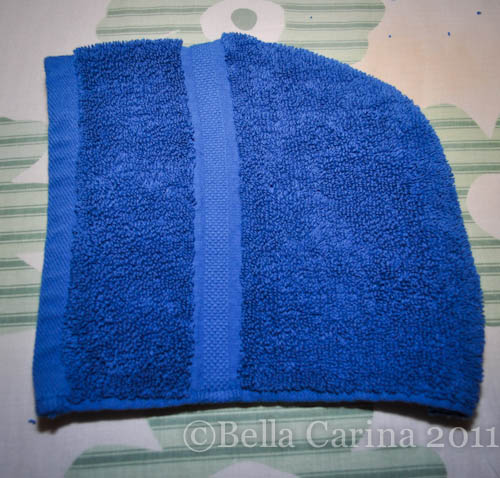 Next, find the center of the large bath towel by folding it in half (hamburger style 😉 ) like so…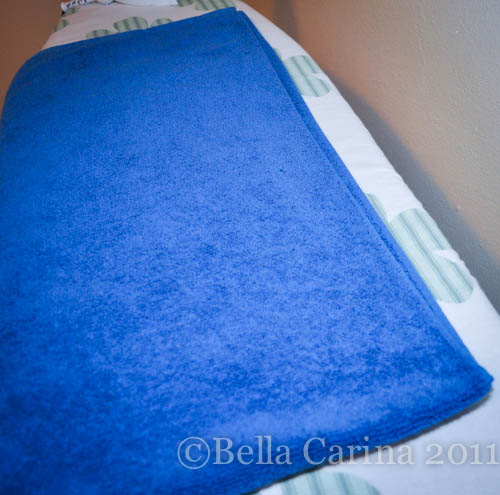 I put a pin in the towel at the fold to mark it and then aligned the marker pin with the back seam of the hood.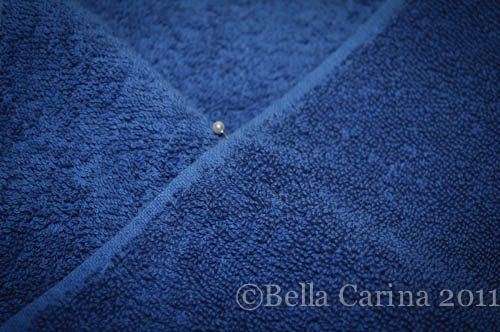 I pinned the hood to the towel right sides together.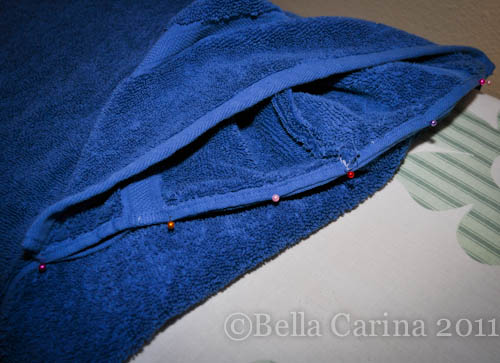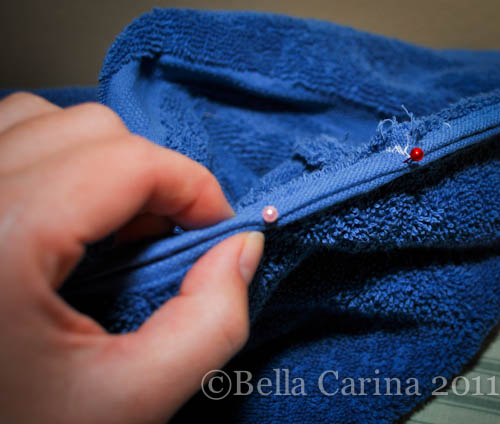 This is a little trickier to sew than the hood because it's very thick, especially at the seams.  Sew as close to the edge as you can using the same zigzag stitch (I used the edge of the pressure foot as a guide).  You'll have to go slowly and slightly pull the towel through.  Be sure to remove the pins as you go.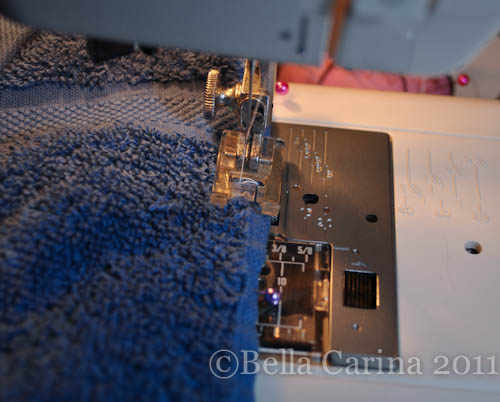 I ended up going over this again like I did with the hood to ensure that it would last a while (this is for a boy after all!).  This photo only shows one pass.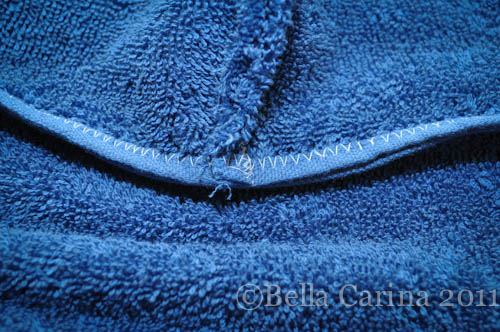 And here's what it looks like all done with the hood.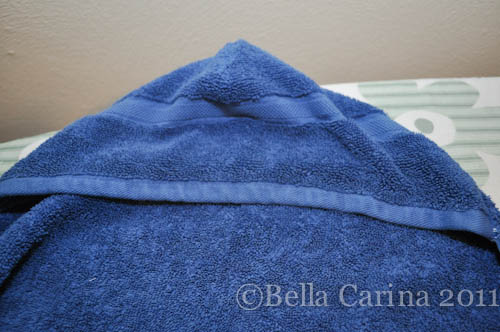 Can't you just imagine a cuddly little baby all wrapped up after a bath?
Here's a finished product (along with the applique).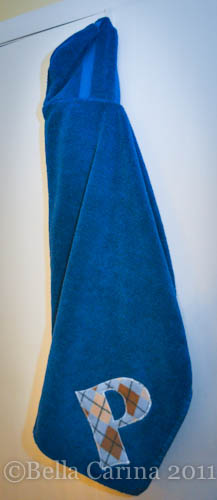 This can be modified for bigger kiddos (and adults!) by making the hood bigger (using a whole hand towel instead of half) and even getting a bigger bath sheet.
These make great gifts for any time of year, especially for the holidays!
Any of you adults out there think that a hoodie towel might be pretty awesome?  Know any babies in your life that could use one of these?  I know plenty!