My beautiful maids of honor and my amazing (and also beautiful) mom threw me a bridal shower when I was home in Cali two weekends ago and it was perfect.

  Seriously, it was everything I could have hoped for and I want to thank you all from the bottom of my heart!  I feel like as I've gotten older, most parties that are thrown for me are organized by yours truly.  There is something very special about having the ones you love throw you a party and I really did feel showered with love!  I promised in this post that I'd share photos once I got around to uploading them, so here they are!
As guests entered, they were given a beaded necklace and were told that they weren't allowed to say three words…I'm pretty sure they were Wedding, Bride, and Groom (or something to that affect).  I lost my necklace pretty early on. 😉  Also, Cara was a genius and bought thank you cards to have guests write their name and addresses on to save me time later.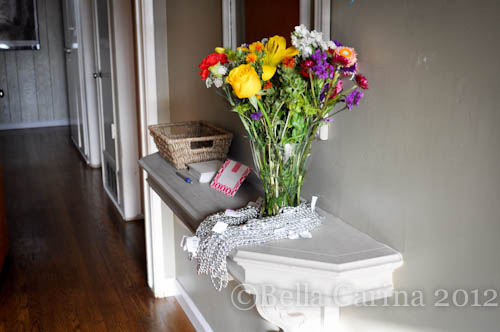 The spread of tapas was a beautiful thing.  And I loved the pretty dark pink gerber daisies in the centerpiece.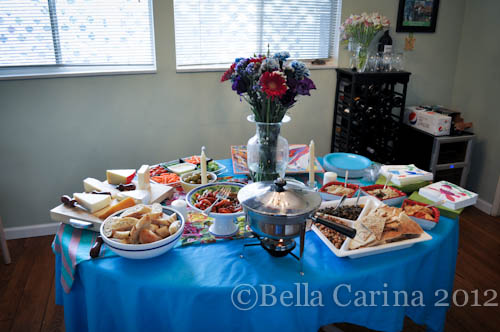 Some of my favorites were the cheese platter and my mom's famous marinated roasted peppers…sooo good!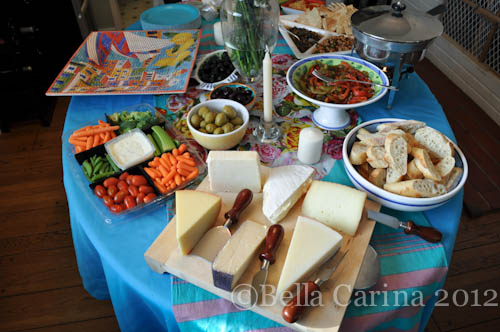 For favors, Cara painted the bottoms of wine and champagne glasses with chalkboard paint.  Guests were able to write their names on the glass and take it home.  LOVED this idea and I may have to steal it. 😉
I helped myself to a glass of champagne early on.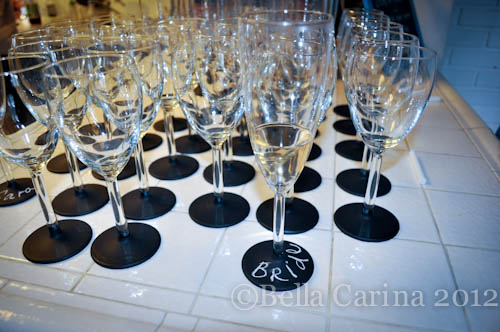 What's a good party without dessert?  Jenna made some super yummy (and adorable) cupcakes and a berry trifle.  Emily made yummy mini cheesecakes.  How cute is that cupcake tower!?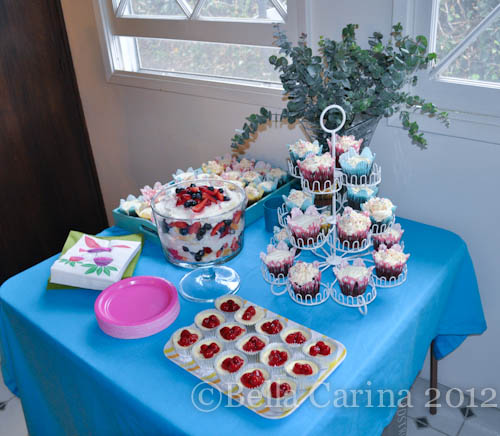 We took some time for some outdoor photos, too.  Love my beautiful mom and sister!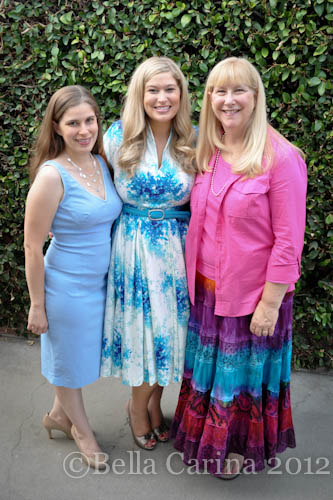 And where would I be without my MOHes?  Erica, Jenna, and Cara.  Muah!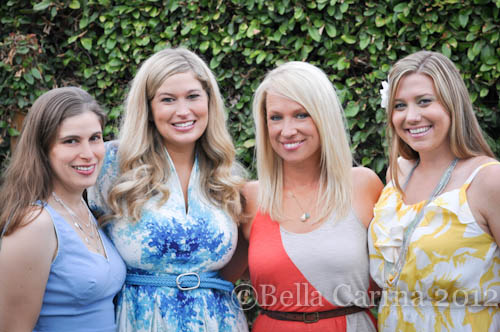 Thank you to all of the awesome ladies in my bridal party who were able to make it!  Emily, Erica, Jenna, Cara, Roselie, and Brynn.  We missed you Julie, Blake, and Katie!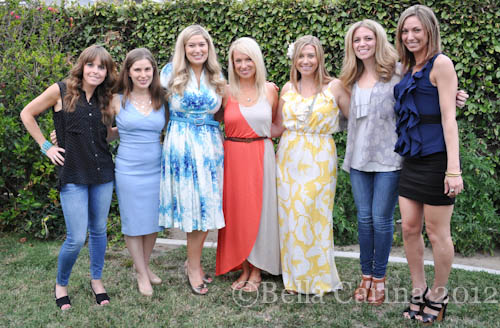 I was so excited that my friend Crystal could make it out all the way from Virginia.  Definitely feeling the love!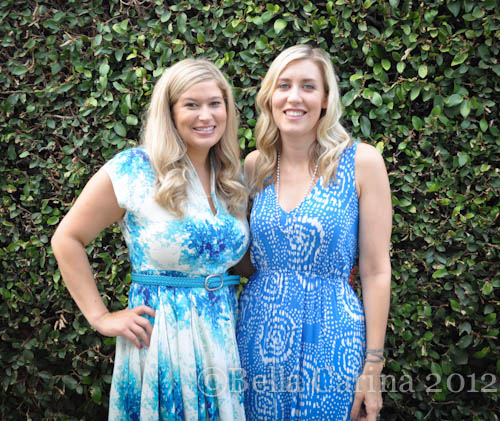 What's a shower without some gift opening, right?  I was pretty much smiling the whole time.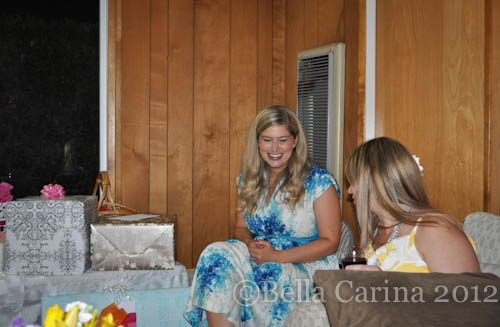 I'm not sure what was in this box, but I was obviously pretty happy about it!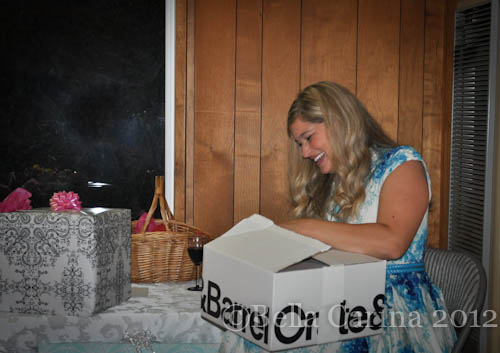 Here's my attempt at looking sexy in my sexy apron…wow…I'm sorry Dane, but you get what you get!  lol  Karen = Dork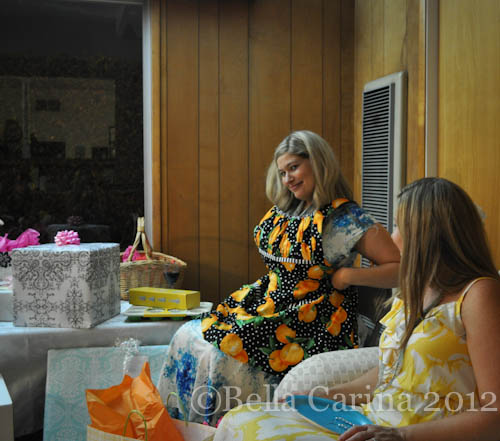 I was able to squeeze in a photo with my future sister-in-law, Brynn, and my future mother-in-law, Trish who both made long journeys to make it to my shower.  I'm truly lucky to be marrying into an awesome family!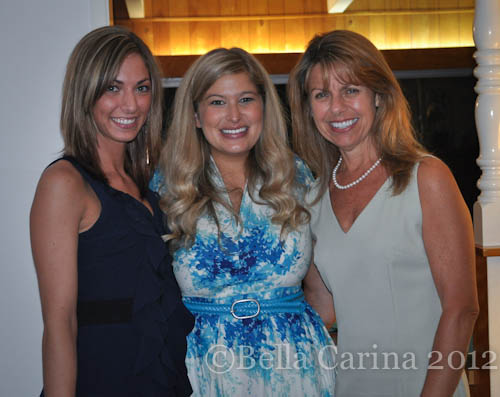 At the end of the night, the party was crash by my nephew Zachary.  We taught him how to 'cheers'…gotta get 'em started young.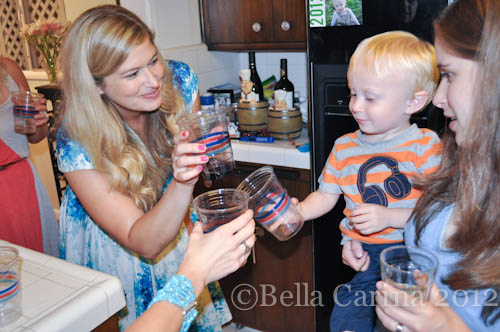 Overall, it was an amazing night.  Thanks everyone for making this Bride-to-be feel loved!