Prior to going to dinner with some close friends at a local Dayton restaurant called Sidebar, I had never had saffron risotto.  In fact, I had no idea what saffron was except that maybe it possibly was used in Indian food.  Ya, I had no idea.
I can honestly say that Sidebar was probably the best dining out experience I've had here in Dayton. (If you are ever in the area and don't mind spending a pretty penny, then be sure to stop by.)  Their main focus is their signature cocktails, but that isn't why I would go back…their wide selection of small plate delights are a-maze-ing.  Specifically, their saffron risotto was absolutely delicious.  It was served as a side on the small plate of Grilled Beef Tenderloin Skewers and I may or may not have ordered a second plate just to get more of the risotto (although, the steak was pretty darn awesome as well).
The point of all this is that I came home and couldn't stop thinking about the risotto, but Sidebar is a little pricey, so it's not exactly a place we can go to everyday.  I had to find a way to replicate it at home.  After a little online research I found out that saffron is actually used as a spice all over the world and it does. not. come. cheap.  It is derived from the crocus flower and the reason why it is so expensive is because you don't get much from each flower.  I considered planting crocus all over my yard after learning about it.  Alas, after a little more online research, I found out that Trader Joe's sells it for a (somewhat) reasonable price.  This little bottle set me back about $6. (I wanted my hand in the photo just so you could understand how small this bottle was.)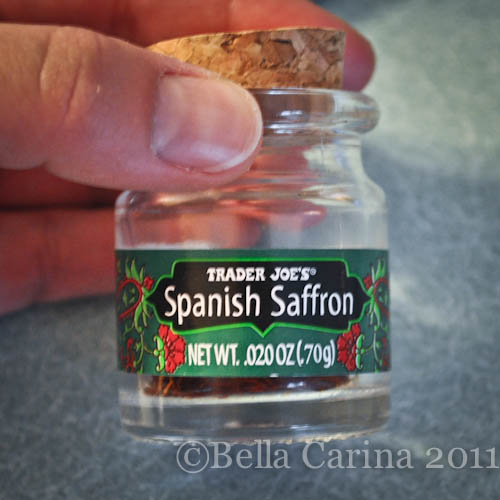 Just a few strands of the bright red saffron will give food an intense yellow color.  The taste of saffron is rather subtle and might be described as floral.  But, as I said, it ends up being rather subtle.
Having lived in Rome for a semester in college, I am no stranger to risotto, but I had never made it from scratch.  Risotto is a little bit high maintenance.  It needs to be stirred constantly and you can only add a little bit of liquid at a time.  But, it did come out delicious and there were definitely no leftovers, so if you have the time, this recipe is worth a try.
Ingriedients:
28 ounces of chicken stock (I make mine using Better Than Bullion, which you can find at most grocery stores.  I highly recommend.)
1 tablespoon olive oil (I use extra virgin)
1/2 an onion, diced (I've been into the Texas sweet onions lately)
1 cup risotto (aka arborio rice)
salt
1 cup white wine
large pinch of saffron
1 tablespoon butter
1/3 cup grated Parmesan cheese
2 medium saucepans
In one pan, bring the chicken stock to a low simmer while you dice your onion. (Check out my Chili Recipe Post to see my preferred onion dicing method.)  In the other sauce pan, heat the oil and add the onions.  Cook on medium until the onions are translucent or about 10 minutes.  Then, add the risotto and season with salt.  Next, you want to saute the risotto with the onions until the rice looks translucent, but make sure that it doesn't turn brown (remember, I told you risotto is high maintenance).  This should only take about a minute.
This is the arborio that I used.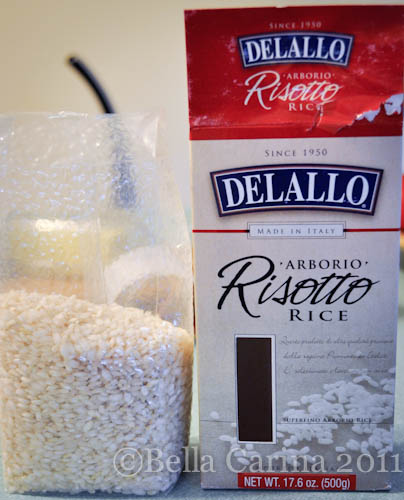 Next, add the white wine to the pan of onions and risotto.  I bought this wine at TJ's.  I think I bought it because I liked the old surfer car.  I'm almost positive that I did not buy it because it was made with organic grapes, but I won't say no to organic.

  I'll admit that I am not a white wine connoisseur by any means, but I enjoy a glass of Chardonnay every now and again and if you make this recipe I suggest that you enjoy one while you make dinner…come on, you deserve it.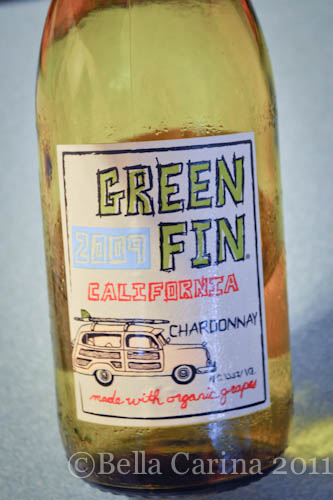 With the wine, add the pinch of saffron.  As you bring this up to a simmer, you'll want to keep stirring the risotto until almost all of the wine has been absorbed by the rice.  A friend of mine who is a cook once told me to only use a wooden spoon when making risotto, so that's what I did.  He also mentioned something about only stirring clockwise…or was it counter-clockwise?  I can't remember, but I'm pretty sure that was just some old Italian wives tale anyway. 😉
You should see the bright yellow color coming out now.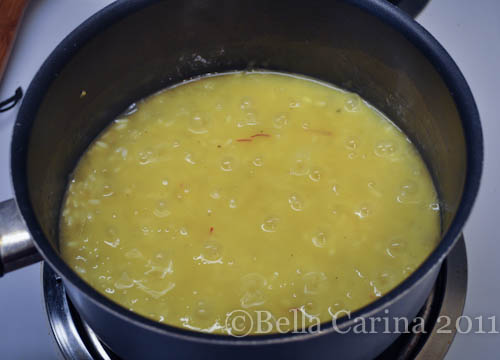 This is where the simmering chicken stock comes in to play.  Add two ladles of chicken stock to the pot and keep stirring until it is almost completely absorbed.
Continue adding stock one ladle at a time, waiting until the stock is absorbed before adding the next until all the stock it gone.  And keep stirring!  (Remember…high maintenance!)  Your liquid shouldn't be boiling, just simmering so that it doesn't burn.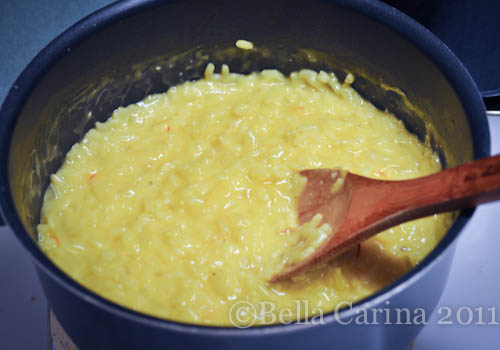 Cook until the rice is slightly al dente (Italian translation is "to the teeth," but basically you just don't want it too soft or soggy).  It should slightly stick to the spoon like so.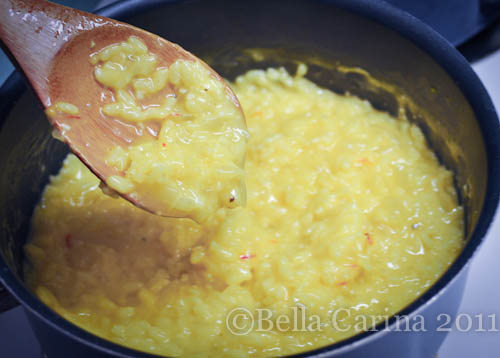 Once it is cooked, take it off the heat and stir in the butter and Parmesan cheese.  I like myself a lot of parm…take the 1/3 of a cup as more of a suggestion than a requirement. 😉
I stirred the grated parm in and used the shaved as a garnish.
Once the cheese and butter are incorporated, put the lid on the pot for 2 minutes.  Then serve immediately in bowls with a little more cheese on top.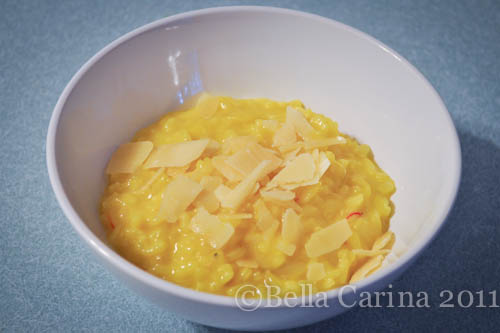 This can be served as a side or as a main entree.  The recipe feeds 2-4 people depending on serving size (as I said, there were no leftovers and it's only the two of us, so…)
In my honest opinion, I'm not sure the saffron did much more than give it a really cool color.  The taste was very subtle, but still good.  If you are short on cash or just don't want to make a trip to traders for saffron, I think this would still be delish without it.
So, there's a new recipe to try and you also got a little lesson on saffron.  Your welcome.  haha
Try this recipe and let me know what you think!  I'm thinking I might try a pomodoro risotto next time because that is what I remember loving in Italy.  Have you tried your hand at this high maintenance recipe or something equally as needy?
**Note: this recipe was adapted from this source.