When the weather turns a little colder there's nothing better than a nice warm bowl of chili to warm you up.  This easy chili recipe is straight from the cookbook mind of my mom.  As in, when I need a recipe for something I call her and she tells me from memory.  Yeah, she's pretty amazing. 

  I make it the same way she always did and it has never disappointed me.  I like to serve it with a little bit of cheddar cheese on top and a warm piece of cornbread…mmm mmm good.
Ingredients:
pound o' ground meat (I like to use lean ground beef or ground turkey)
1 tablespoon oil (I use extra virgin olive oil)
1 onion diced (I've been into the Texas sweet onions lately, but any onion will do)
8 oz can of tomato sauce
16 oz can of ready-cut tomatoes
16 oz can of pinto beans
16 oz can of kidney beans
4 oz can of diced green chilies
2-3 tablespoons chili powder
garlic salt
pepper
large skillet
large pot or slow cooker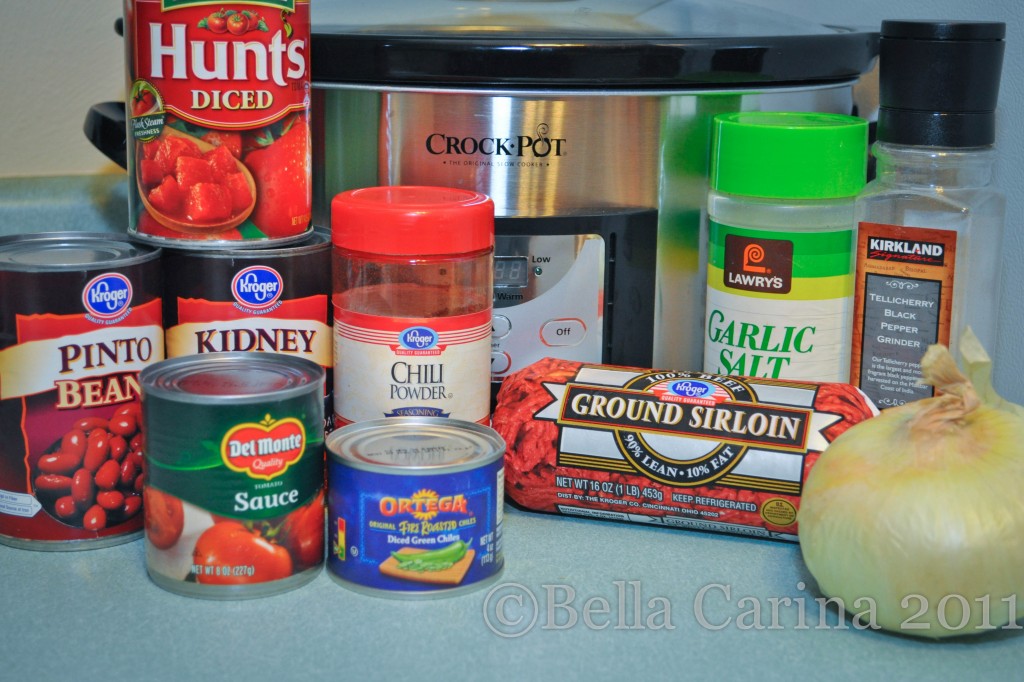 That's my shiny new crock-pot in the back.  I just bought it at Costco last week and I am excited about it!  It's my first slow cooker and I feel like a whole new world of slow cooking is now opened up for me. 😉  Oh, and can you tell we shop at Kroger?  Haha
Speaking of slow cookers, since I never had one before, I usually make this in my enamel cast iron dutch oven on the stove.  You can make it all in one pot and takes only about a half hour of simmering once you have everything in the pot.  So, if you are in a hurry to make dinner, I would go with that and save the slow cooker for another day.
First, brown your meat in the skillet.  If you are using lean meat like I do you might want to add a tablespoon of oil to the pan just so the meat doesn't stick to the pan too much.  Season the meat with garlic salt and pepper.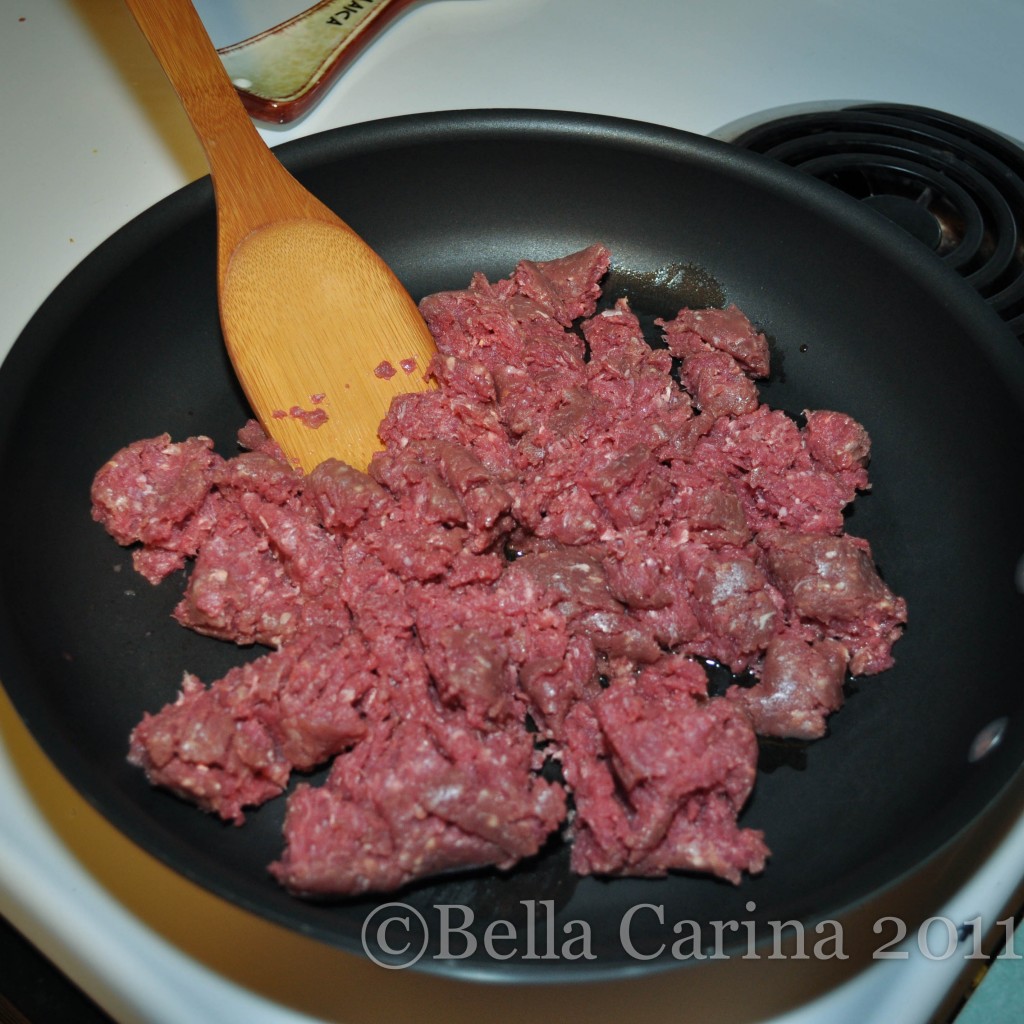 While your meat is browning, you can dice the onion.  The way I like to cut an onion is to first cut off each of the ends and then cut it in half.  Like so: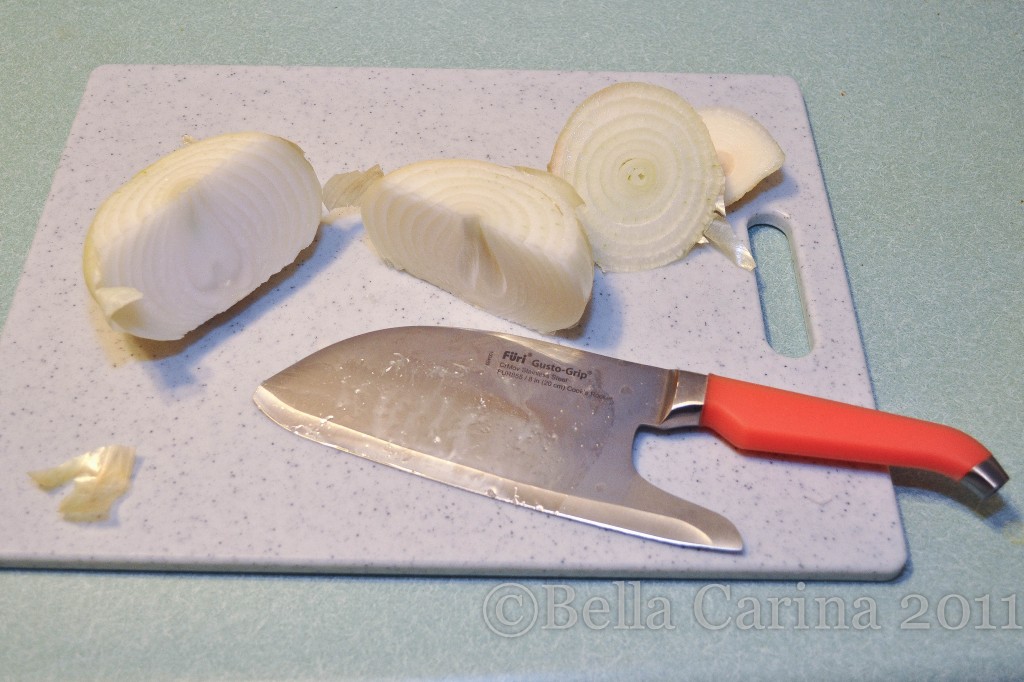 From there it's super easy to peel back the first layer of onion and remove the peel.  Take note of my a-maze-ing knife.  It's awesome and huge (but, not too heavy) and wonderful.  It's Rachel Ray's Gusto Grip knife and you can get it on Amazon here for under $30.  My only complaint is that it's hard to find a place to store it.  But, that is a story for another day, my friends.
So, once you have peeled the onion, you'll want to slice or dice the whole thing.  Another tip I'll give you about onion cutting is to slice the onion like so,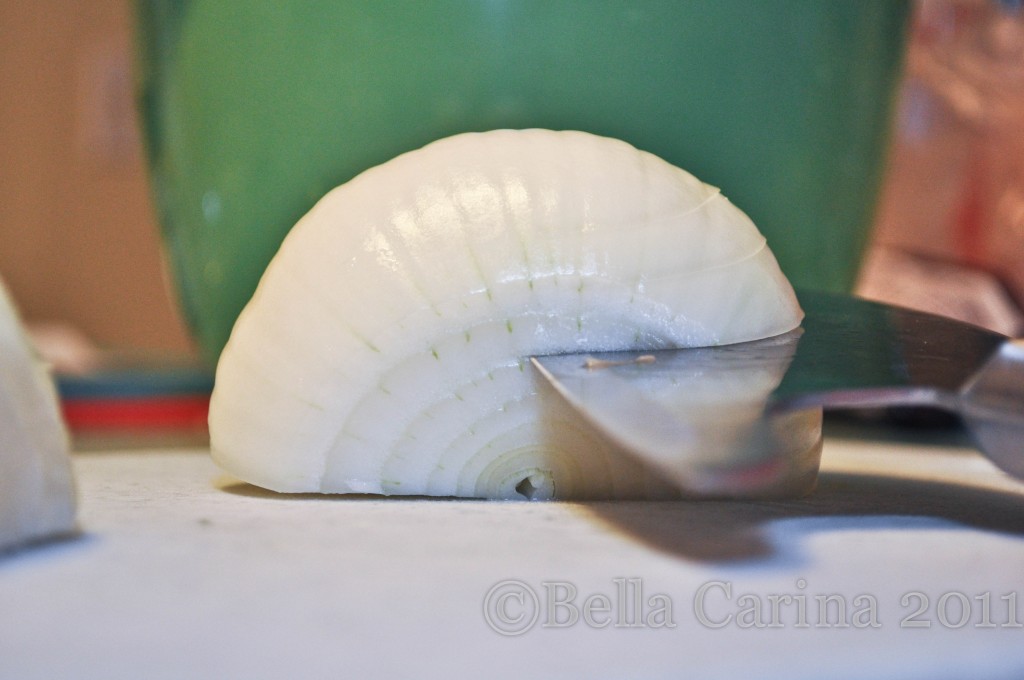 and then go ahead and slice it the other way until it looks like this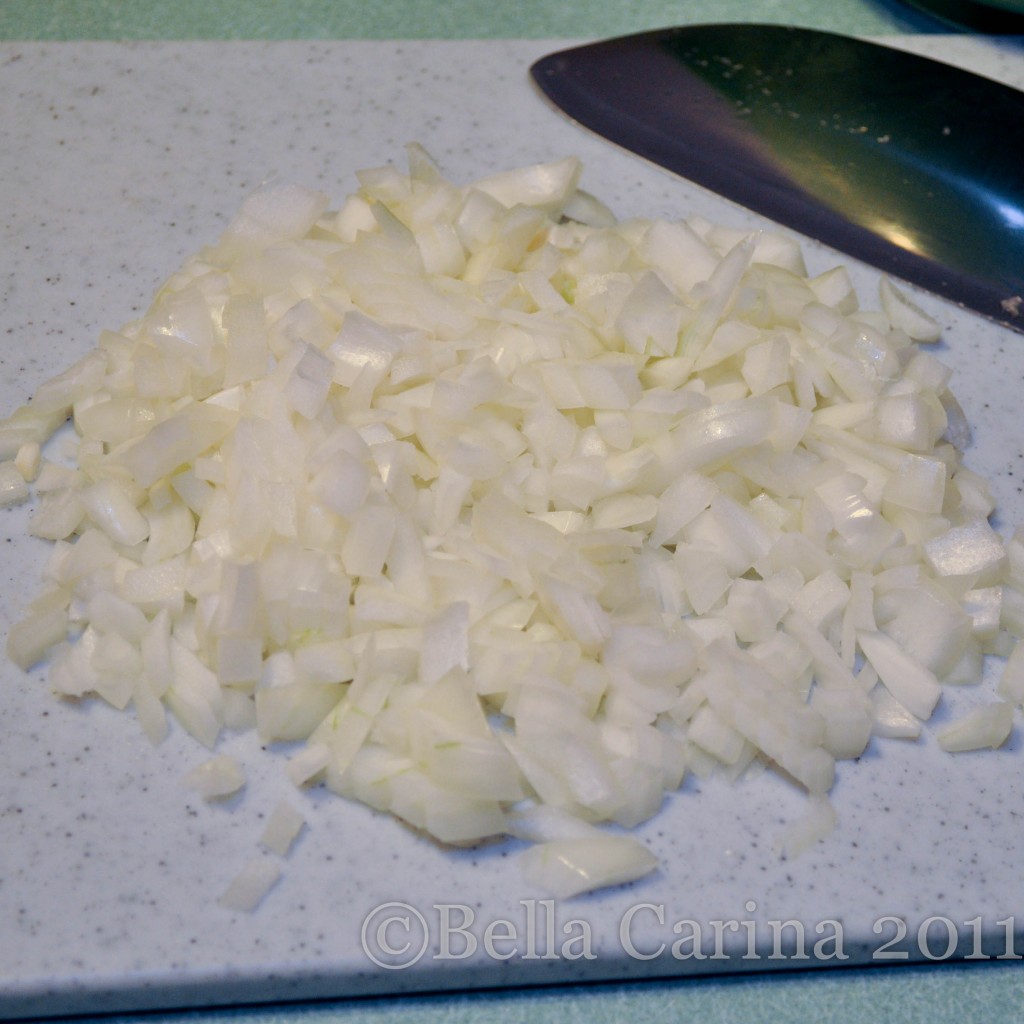 By now, your meat should be browned and look like this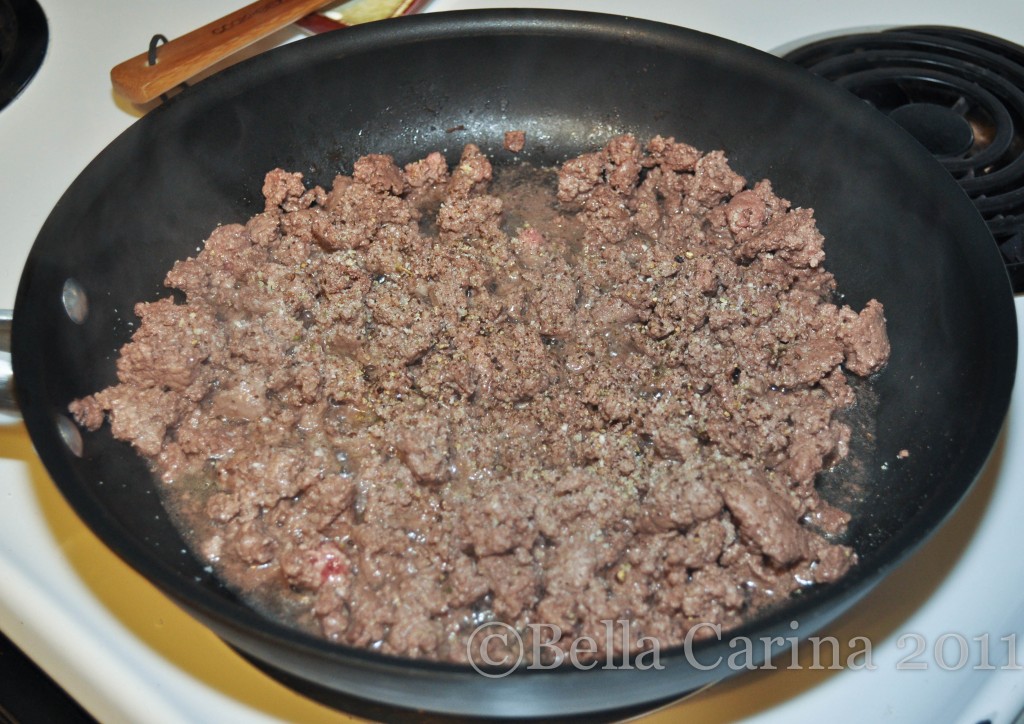 so you can transfer it to the crock-pot.  Turn the crock-pot on now.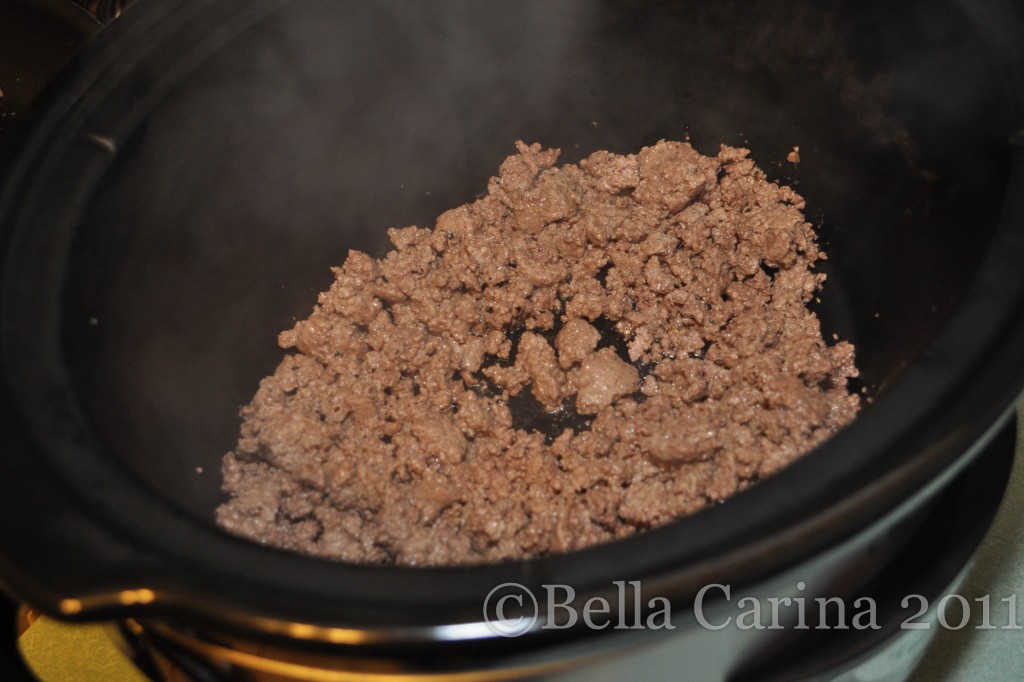 Try to leave some of the grease in the skillet so you can saute the onions.  If you can't, you can always add a little more oil to the pan.  Now, add the onions and saute until translucent, or about 10 minutes.  Just a little note here, you can saute the onions first and then add the meat which I have done before.  My brother recently told me something about how mixing raw meat in with cooked veggies is not so good.  Like I said, I've done it both ways and they both turn out great.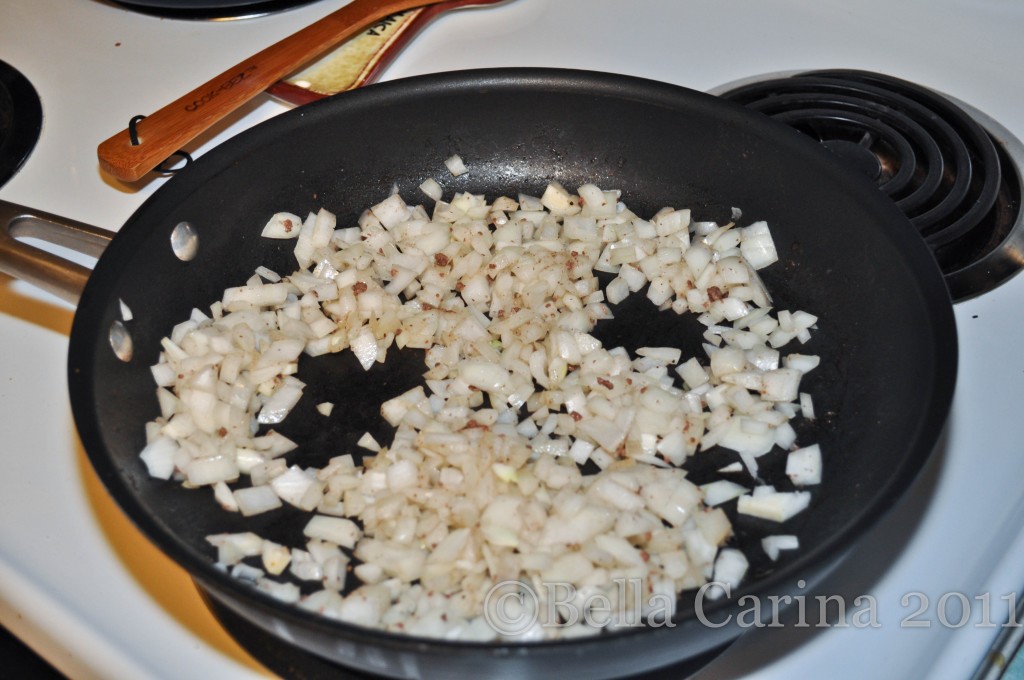 While your onions are cooking, it's time for the fun part…opening up all of the cans and dumping them into the pot!  Just toss them in right on top of the meat.  The order doesn't matter.  If it's in a can, it goes in the pot.  I like to drain the juices from the cans of beans before putting them in the pot, but you don't have to.  Once the onions are cooked, transfer them to the crock-pot as well.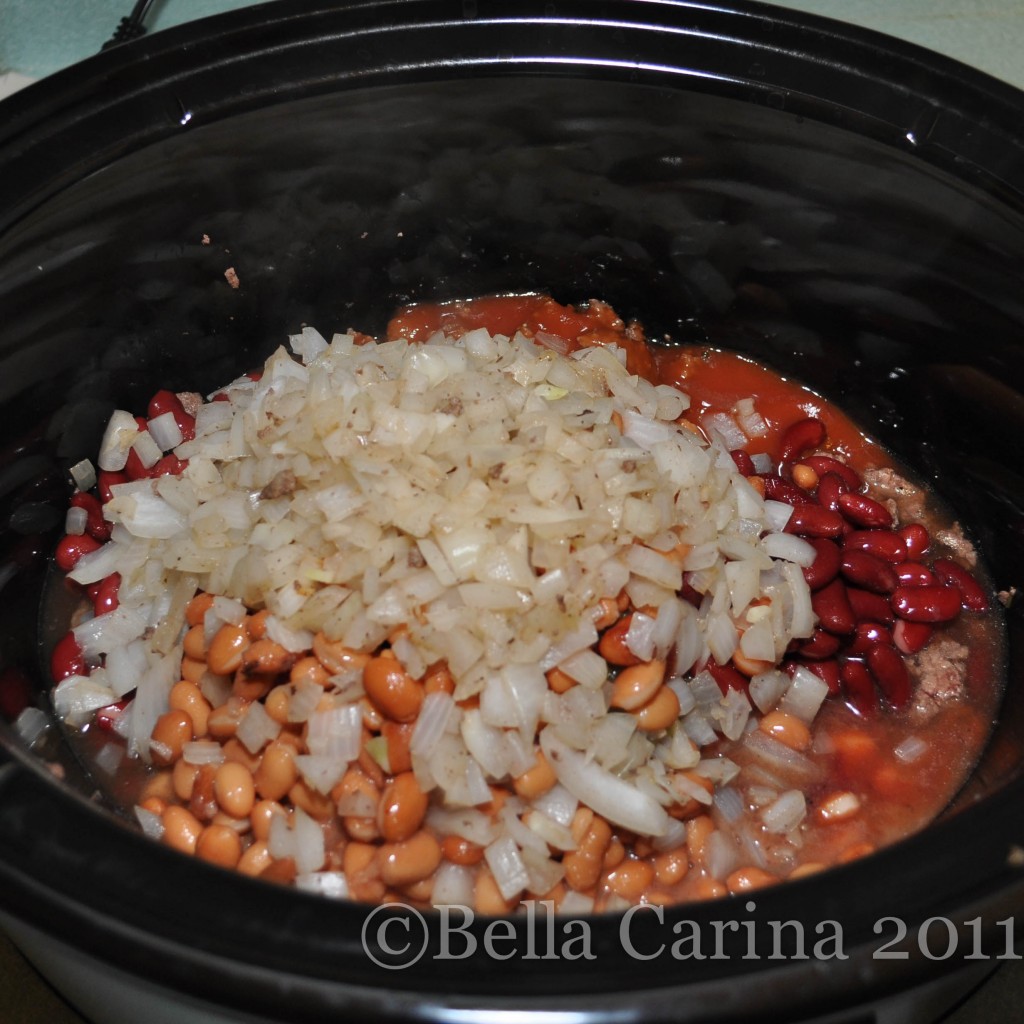 Give everything a good stir.  As you can see, the chili doesn't have that rich red color just yet, but your kitchen is probably already smelling delicious.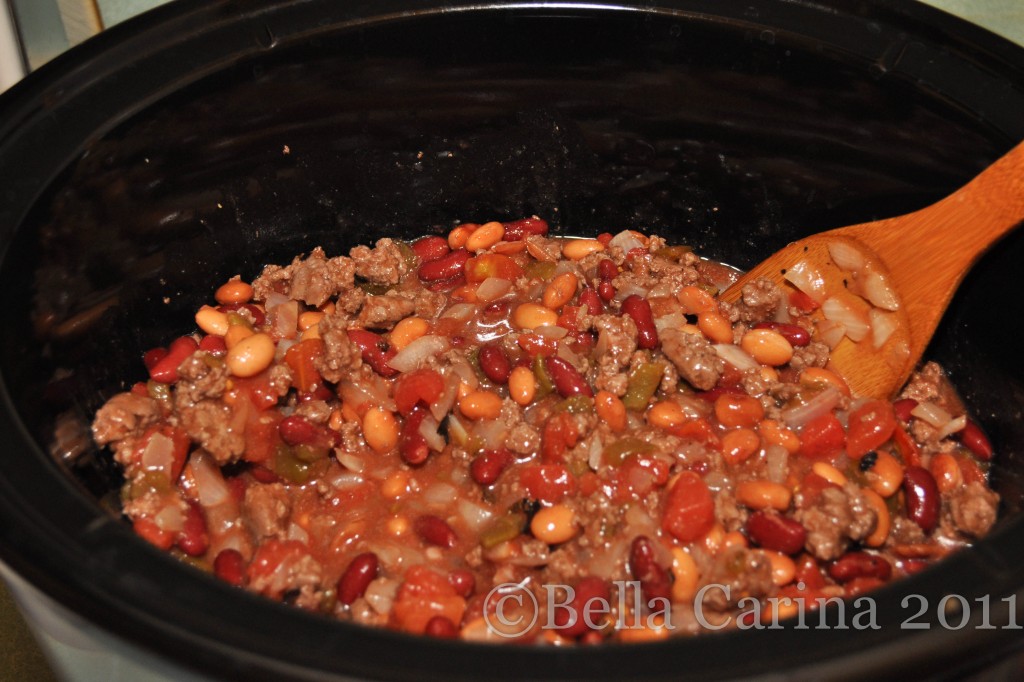 And now for the not so secret ingredient…chili powder!  And a lot of it.  I always put three full tablespoons.  I like my food flavorful, but not too spicy and this comes out perfect.    (Speaking of which, if you like your chili spicy like Dane does, you can always add your favorite hot sauce to your bowl.)  Go ahead and take that shaker top right off and dig in with a measuring spoon.  It should also be noted that I don't buy any special kind of chili powder, store brand works just fine.  And, yes, those are Mickey Mouse measuring spoons that we got as a gift a couple Christmases ago from some dear friends that know how much we I love Disney.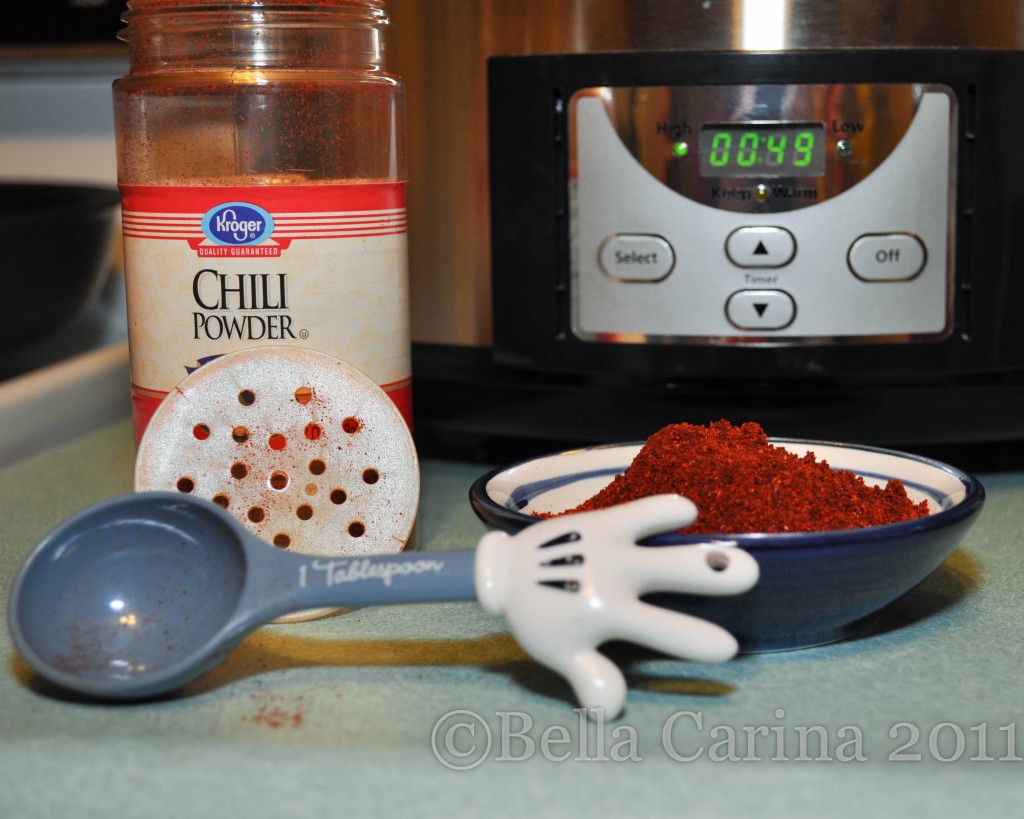 Once the chili powder is added, give everything a good stir and that red color will really come out.  Cook on low for 8 hours or high for 4 hours.  If you are making it on the stove, bring it up to a boil and then turn it down to a simmer for at least 30 minutes.  Stir occasionally.  Everything in the pot is cooked at this point, so just make sure it's all hot.
Now serve into bowls and add some shredded cheddar to the top! (Note: I use reduced-fat when I'm watching my calories).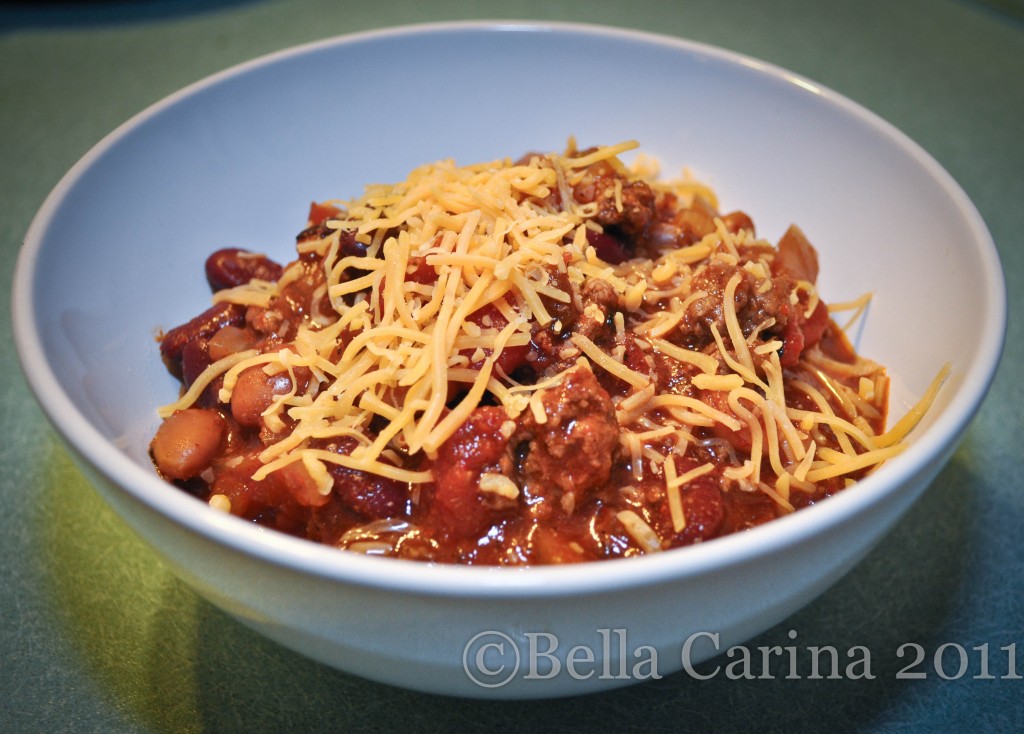 Deliciousness and pretty healthy if you use lean meat!  This makes a good amount.  I'd say at least 6-8 healthy sized servings.  The best thing about chili is that it gets better the longer all the flavors have time to meld.  In other words, it makes great leftovers!
This is one of those meals where substitutions can definitely be made.  Have black beans but not kidney?  that's fine.  Have a can of Rotel, but no green chilies?  you're all good!
What is your favorite cold weather dinner?