Being a chocolate chip cookie dough lover, I've been wanting to make my own vanilla extract for a while.  Actually, it was ever since I saw Ina make it on one of her cooking shows a couple years ago.  (The recipe isn't exactly brain surgery, but here's the link in case you want to see it for yourself.)  On a recent trip to Jungle Jim's, down near Cincinnati, I got my hands on some vanilla beans that didn't cost an arm and a leg ($2.99 for 2 beans).  The other bonus was that I could purchase them in a reasonable quantity since when you buy them online they usually are sold in bulk.  I figured I wanted to try a small batch before I went too hog wild on this stuff. 

Jungle Jim's is one of Ohio's many few gems.  It's a HUGE grocery store and international market where you can buy basically anything you can think of.  They also carry a wide variety of craft beers and wine.  Ya, it's pretty awesome.
What you'll need to make your own vanilla:
Empty glass bottle
Vanilla beans
Vodka or Rum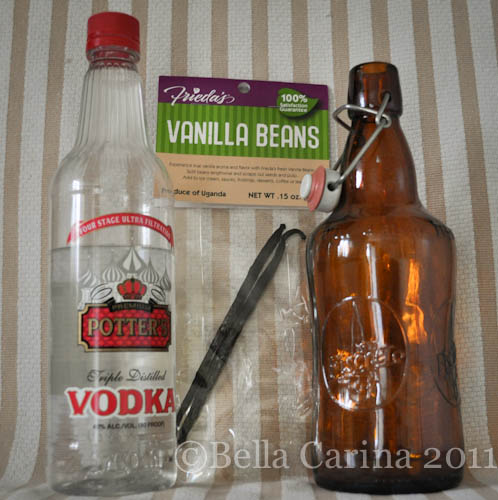 Dane knew I wanted to make vanilla eventually, so he specifically bought a beer that had a cool bottle with a lid that could be closed air tight.  I can't remember if he actually enjoyed the beer, but I was happy to have the bottle for free. 😉  Here's a close up of the lid for ya.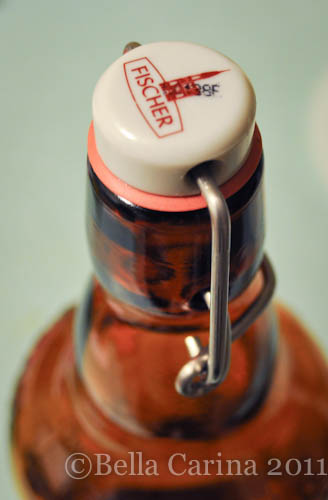 I know you can buy similar bottles online or I have even seen them for pretty inexpensive at TJ Maxx in the kitchen section.  A screw top bottle would be ok as well.
We actually have a pretty well stocked liquor cabinet, which is slightly funny since Dane and I are definitely more beer and wine drinkers than mixed drinks.  I blame it on the fact that we are both fairly conscientious hosts…we want to be able to offer our guests their drink of choice.  And we've been known to throw a party here and there.  😉  So, when it came time to deciding what alcohol I wanted to use, I went no further than the kitchen.  These were my choices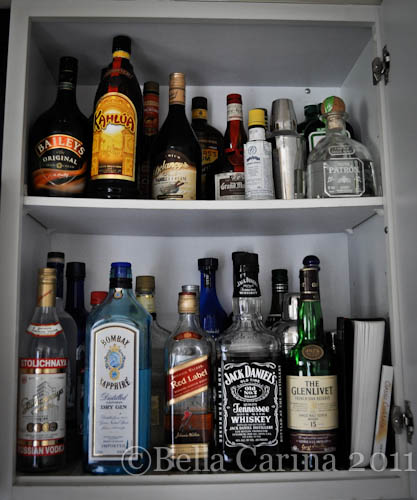 I zeroed in on this little guy hiding behind the Bombay Sapphire gin.  See the Potter Vodka in the plastic bottle?  Ya, him.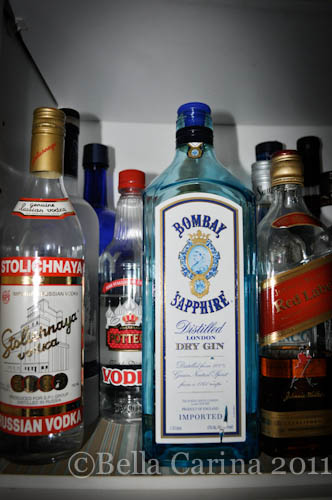 I also didn't want to use our expensive vodka or rum since I had read that it doesn't really matter which kind you use.  (Dane later told me that we have this to clean out his beer brewing supplies…apparently no one bought this to actually drink…I mean we aren't in college anymore, people. 😉 )
I started out by slicing my vanilla beans lengthwise in half using a paring knife.  I didn't slice them all the way.  And yes, that is a Mikey Mouse cutting board, and yes it is awesome.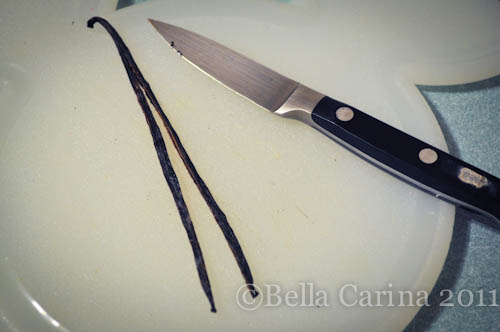 Then I put my two sliced vanilla beans into my bottle.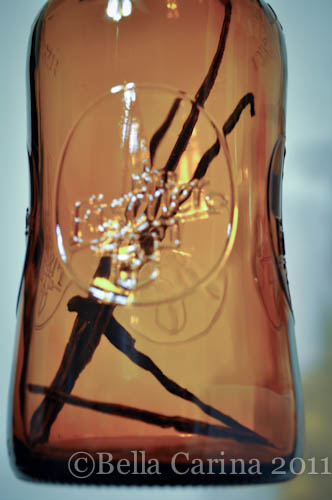 Since I only used two vanilla beans, I measured out 8 oz of vodka.  The good thing about making your own vanilla is that it will last indefinitely and you can continue adding more beans and more alcohol to increase your stash, so if this goes well, I'll just buy more beans and fill 'er all the way to the top.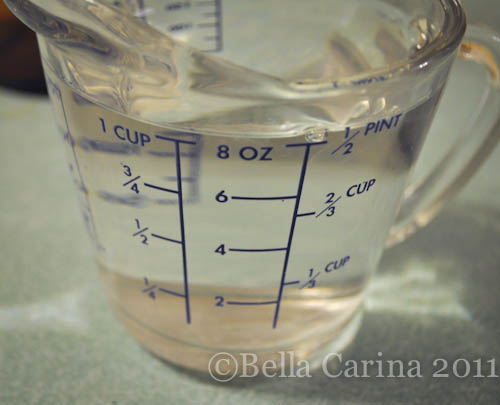 A funnel would have made this next part easier, but I don't have one, so I just carefully poured the vodka into the bottle over the sink.  I gave it a good shake and then I was done!  Continue to shake your bottle at least once a week or so.  After a month, the vodka should be infused enough to start baking with it!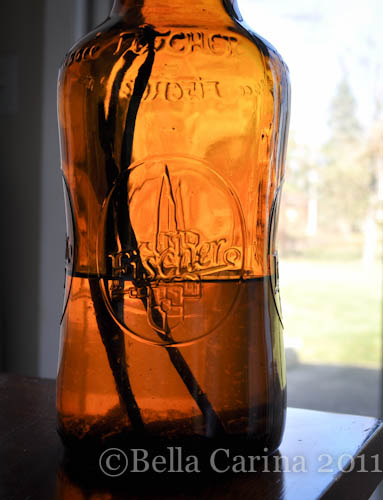 It's been about a week since I made this and it smells super vanilla-ie and delicious.  I can't wait to bake with it and see if it makes a difference in my cookies.
Before making my own vanilla, I had never read the ingredients on my store bought bottle.  I currently use the large bottle from Costco since it's the most inexpensive that I have found.  I was surprised to see that it contained sugar!  I guess we'll see if that's a good or bad thing.
One thing that I have noticed already is that there are tons of vanilla particles floating around in the extract.  Not sure how I feel about that, but it may make my cookies even better.  That remains to be seen.
I'll be back to let you know how my homemade vanilla extract fares against the store bought when it's ready!