Dane and I actually did this project last Spring.  For those of you out there that live in a place where it actually snows in the winter, you will probably want to wait until Spring comes around again to do this project.  For the lucky ones (I'm talking to you, friends and family in California) who live where it's nice and sunny most of the year, you might consider planting a winter herb garden or pretty much anything else you want since, as I said, you are the lucky ones. 

Dane and I made the decision to grow a garden for a few reasons.  1) We love caprese and the idea of walking outside and picking tomatoes and basil off our own plants sounded a-maze-ing,  B) We thought it would save us some moolah on the grocery bill, 3) We wanted to be able to eat organic veggies that we knew had never been sprayed with pesticides, and lastly, we thought it would be a fun hobby we could do together.  I think we accomplished all, but one of those goals which I will elaborate more on later.
Raised garden beds have many advantages over planting your garden in-ground.  Some of them are better weed control, pest control, better soil, and a longer growing season.  (And, it just looks prettier!)  With a raised bed, you know exactly what soil you are planting your vegetables in which allows you to be sure it is nutrient rich soil (and sans bad things like lead and other nasty stuff from run off and the like).  As far as pests and weeds, when you put the landscaping fabric down underneath your soil, it stops weeds and ground rodents from coming up through the dirt.  In areas like Ohio where frozen ground is a problem having a raised bed will allow the soil warm up faster than the actual ground, so it's less likely to stay frozen for long periods of time (you warm climate peeps need not be worried about this).
To get started, Dane and I went on a little trip to Home Depot to scout out the cheapest price for cedar.  Cedar naturally resists decay and infestation of all the little buggies out there.  Cedar does not usually come cheap, but we came across a deal we couldn't resist.  We found 6 foot dog eared fence pickets on sale for less than $2 a pop!  (Here's a link to the one's at Home Depot.)  The fence pickets are 5/8 inch thick and 6 inches wide.  We decided to go with a bed that was 12 inches high, 6 feet long and 3 feet wide just to keep it simple.  We bought 8 fence posts because I also wanted to make a seat for each of the long sides.  I wanted the seats because I had envisioned lots of me sitting and tending the garden…let's just say I don't think I needed the seat. 😉
Next, we searched for a 4 x 4 piece of cedar lumber that we could use to brace the "walls" of the garden bed.  Apparently, we would have had to special order this specific size.  That was not gonna happen…especially because I wanted to keep the cost of the project around $20.  We put our two brainstorming heads together and decided to buy a piece of 2 x 6 pine.  It was about $3 for an 8 foot piece.  Pine isn't as decay and bug resistant as cedar, but we made sure to buy the kind that isn't treated with any chemicals.  The most important thing when building a garden bed where you are going to be eating the plants that you sow, is to use wood that is not treated with extra chemicals that can leach into the soil (and eventually into the fruit off your plants).  We had the nice associate at Home Depot cut the piece of lumber into 11 inch sections for us (yay for less cutting at home!).
We didn't take any photos of the building portion (we originally planned on making two boxes, but ended up just sticking to the one).  Here's a photo to give you an idea of all the components.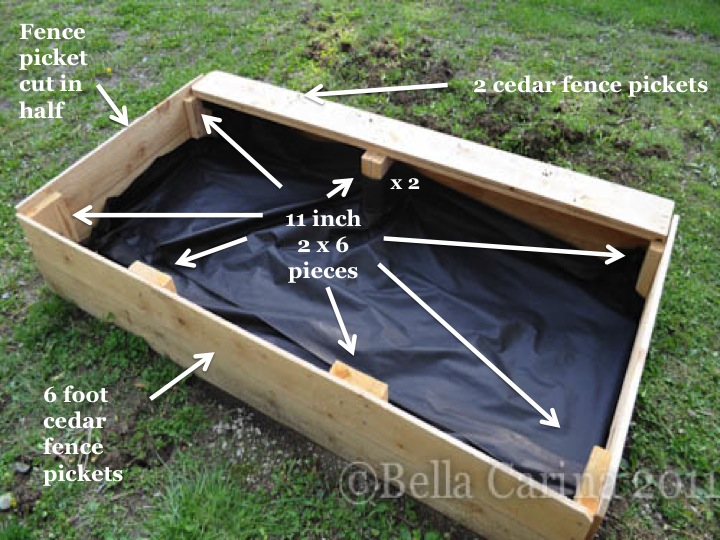 Materials needed for this project:
8 – 6 foot cedar fence pickets (you only need 6 if you are going sans bench seat)
1 – 8 foot 6 x 2 piece of lumber (we used pine, cedar is preferred)
outdoor screws (approximately 2 inch)
circular saw (or hand saw)
power drill
landscape fabric
heavy duty stapler
shovel
Once we got everything home, Dane used a circular saw to cut two of the fence pickets in half.  While he was cutting, I used a shovel to dig up the grass in the area where we wanted the garden.  You only need to remove about an inch off the top…we aren't digging a hole to China here, people.  To choose a spot for our garden, we monitored the sunlight for a couple days to see what spot in our yard would get the most sunlight.  This spot happens to be in the front of our house and we think it used to be all gravel, but has since been overgrown by weeds.
Once the grass weeds were dug up, Dane brought all the pieces out and built it right in that spot.  We didn't use a level or anything, we just eyeballed it all.  We used 2 inch outdoor screws to attach everything.  In each 2 x 6 block, Dane put 3 screws like so: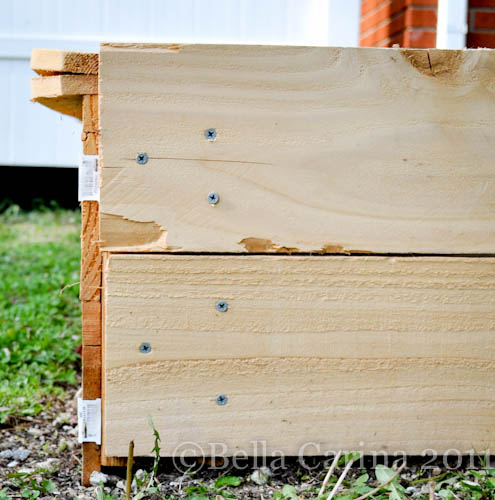 On the long side, we used 2 screws in each fence picket.  You can also see that the bed isn't perfectly level in this shot.  You really can't tell from further away.
We had purchased the two extra fence pickets because I was thinking that I wanted a bench on either side of the bed.  Once we got it home, we decided that the bed was not so wide that we would need two benches.  Also, since the pickets are only 5/8 inch thick, we figured it wouldn't hurt to double them up to ensure they supported our weight.  Since we had an extra 11 inch piece, Dane doubled up the support on that side as well.  Here's that photo again so you can see how positioned the 2 x 6s.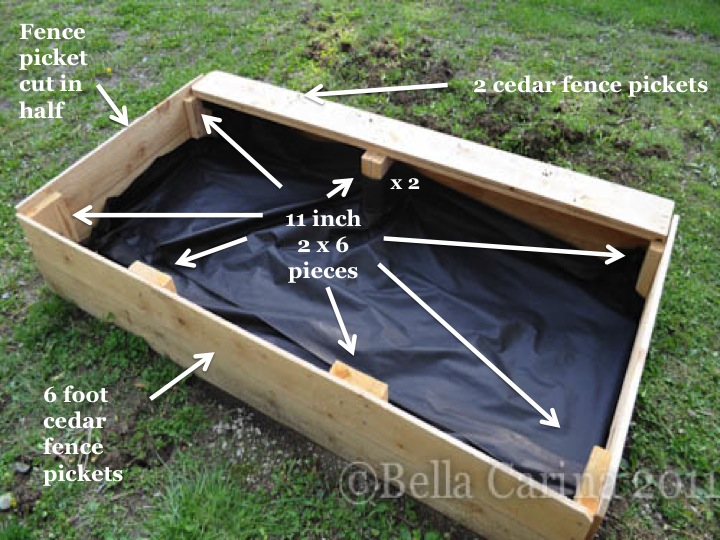 Once the bed was all assembled, we cut the landscape fabric to the proper size (slightly larger than the bed).  We wanted to keep this garden as weed-free as possible, and even though we dug up the grass, we thought the landscape fabric was a good idea.  We laid the fabric inside (we actually used two pieces and overlapped them since the fabric was less than 3 feet wide) and then stapled it to the walls with a heavy duty stapler.  This was also so the soil wouldn't come out from the bottom of our bed.
Here's a price breakdown of the raised bed:
8 cedar fence pickets ($2 each on sale, $16.  If you go sans bench you only need 6)
8 foot 2 x 6 ($3)
2 inch outdoor screws (already had)
landscape fabric ($4, with plenty left over for next season)
Total so far: $23
If you've ever looked into buying a raised garden bed yourself, then you know that this price is a deal and a steal.  Most ready-made raised garden beds about this size will set you back anywhere from $50 to $200…no joke (here's a link to one if you don't believe me).  And that's not including the landscape fabric!
Now, here's where this whole "grow your own garden" thing gets expensive and where we my have not met that second goal of saving money.  It's the last thing that you would think would be expensive…the dirt.  But, we all know, you can't just fill your garden with plain ol' dirt, right?  And on top of that you need A LOT of dirt.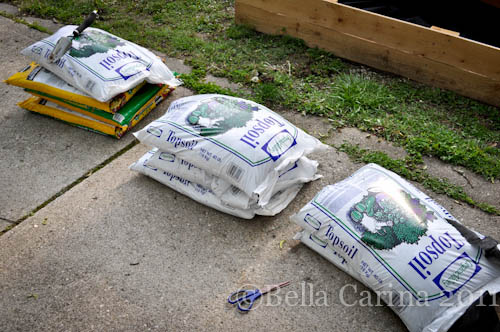 And it weighs a ton.  My poor volvo was low ridin' like a gangsta the whole way home, not to mention my biceps were bulging after loading them from the shelf to the cart, and then the cart to the trunk.  The thing about soil is that there is a large breadth of varieties and the pricing goes just as wide.  We didn't want to just get the cheapest soil we could find because we knew that it was important to have some good nutrients in the soil, but we also didn't want to spend hundreds of dollars on soil.  That's where the compromise came into play.  We decided to buy a few bags of the expensive, nutrient filled soil, and then mix it up with the cheap 99 cents a bag stuff as filler.  Generally, soil is sold by the cubic foot.  If we wanted to fill our garden box to the brim that would be 18 cubic feet of soil!  (To figure out how much soil you'll need for yours multiply the length of your bed by the width.  Then multiply that number by the depth of your bed.  For example ours is 6 ft x 3 ft x 1 ft = 18 cu. ft.)  The soil you see in the photo above wasn't even all of it!  To that, we added a bag of Miracle Grow Moisture Control that we found at Costco for about $9 (I think it was 2.5 cu. ft.).  Each 40 pound bag of top soil (which comes out to a little less than 1 cubic foot) was $1.30, so by mixing in some expensive soil (Miracle Grow Garden Mix is about $5 a cubic foot) with the cheaper stuff we were able to keep our costs down.  We just started dumping in the bags and made sure to mix it all up well with a metal rake.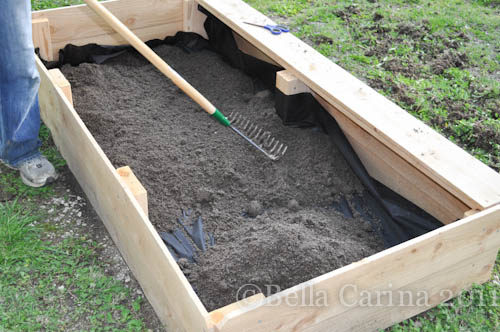 After all your soil is in the bed it's time to start planting!  Since this post is already ridiculously long, I'm going to save the planting portion for another post.  Keep your eyes peeled for part 2: How to plant a vegetable garden. 

Have you tried to be a green thumb?  Are you just as shocked at the price of pre-built raised garden beds as I was?
**UPDATE**After you finished building your raised bed, check out this other post on how to plant your vegetable garden!