A couple weeks ago I talked a little bit about our training schedule for the half marathon we trained for.  And now I am very proud to announce that my mom, sister, and I finished the Inaugural Tinker Bell Half Marathon this past weekend!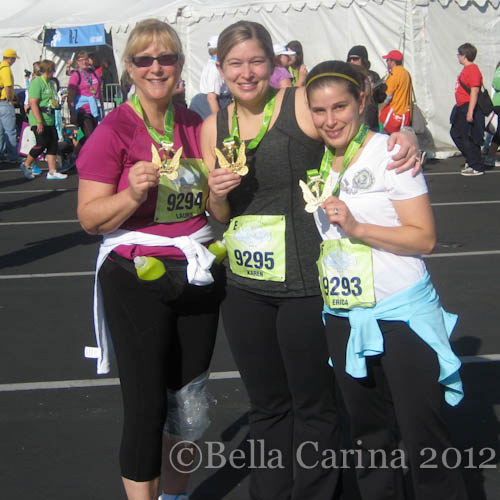 We started out getting to Disneyland at 4:30am…aka o-dark-thirty.  Rickie still seemed quite cute and cheery at the car in the parking lot.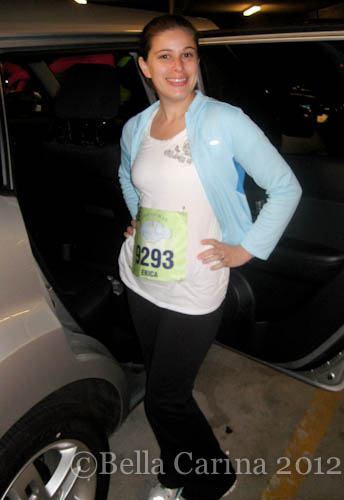 My mom and sister were smart enough to make a pit stop at the parking structure bathrooms, so they could skip the porta potties at the start line.  There were tons of people dressed as fairies and Tink…men and women in tutus!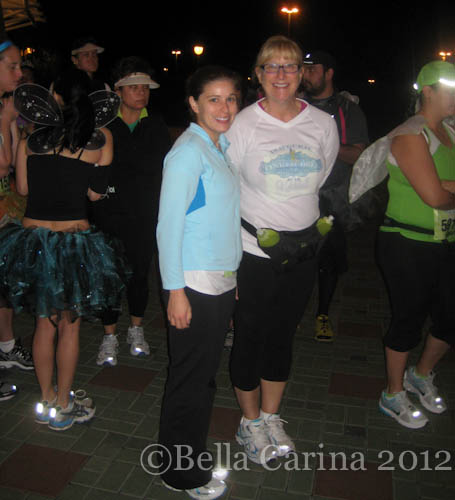 Lots of other women had the same idea…here's the line!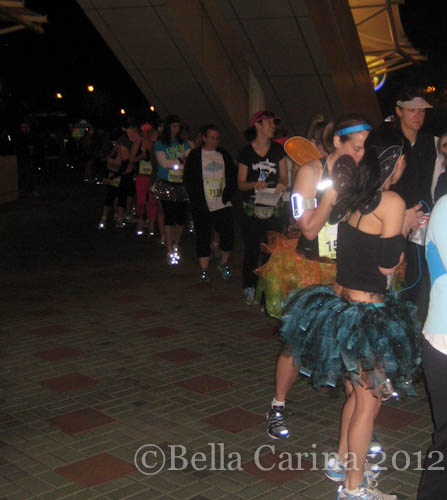 We were all smiles to start…please ignore the extreme close up of my face at the self-portrait style angle.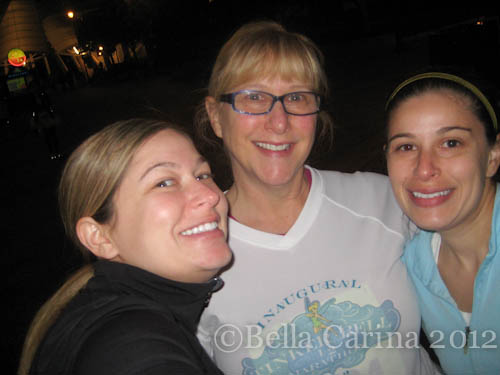 We found a nice girl to take our picture near the start line.  I had no idea how reflective my zipper was until I saw this photo!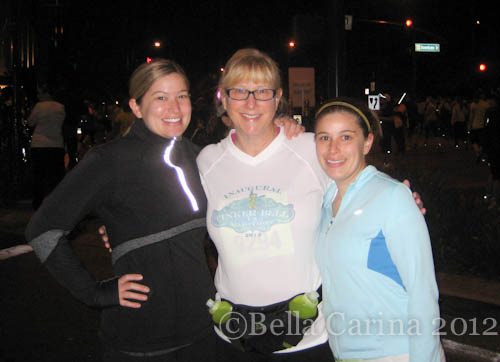 The "start line" is a vague term…with 12,000 runners and walkers, we were about a half mile from the start line in our corral!  This was the view in front of us…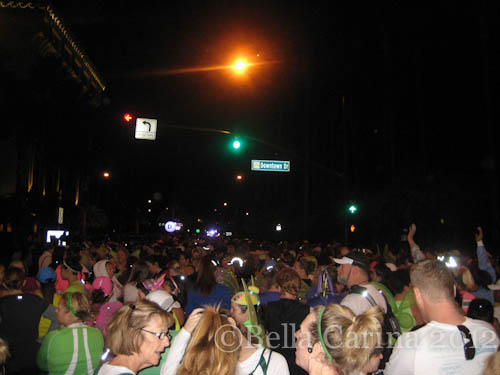 And this was the view behind!  So many people!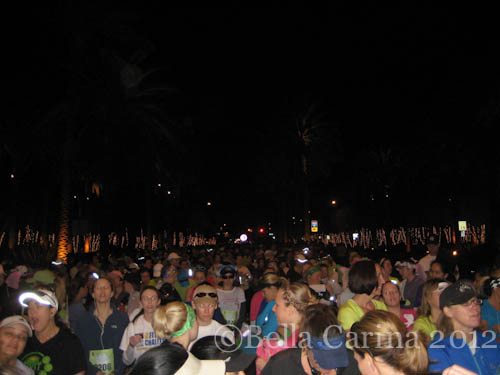 The race started at 5:45 am…we didn't cross the START line until 6:15!  Once we did, we got our butts moving and had to do a lot of bobbing and weaving to get around some of the slower walkers around us.  The first mile and a half or so was out on the streets of Anaheim.  Then we got to walk through Disneyland!  There were people waiting in lines to get to take photos with all kinds of dressed up characters.  We wanted to make sure we finished within the time limit so we just big leagued someone else's photos ;).  I think that may be Tarzan behind us.
We made our way around to Space Mountain in Tomorrowland.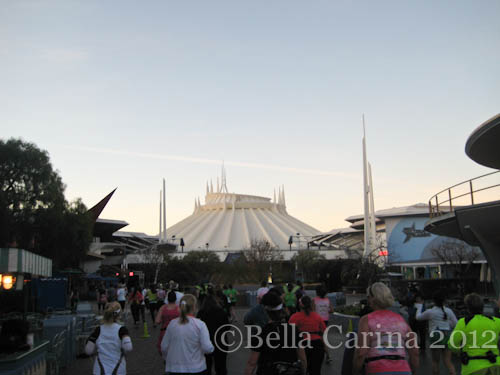 And then went through the back lots and eventually made our way to Main Street, USA!  A nice Disney worker took this shot for us.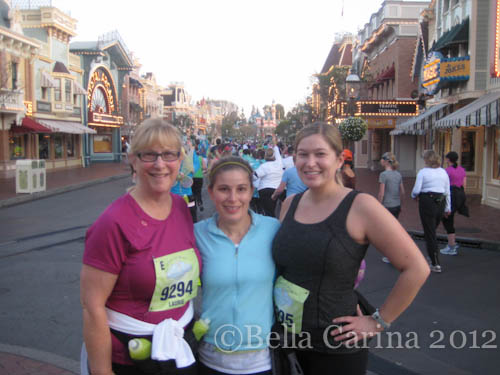 And then we took a shot closer to Sleeping Beauty's Castle.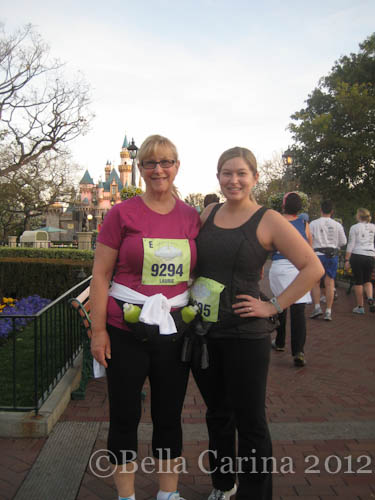 Walking through the castle was one of the highlights for this Disney lover. 😉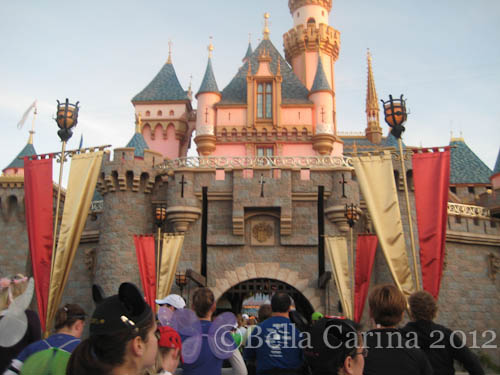 And seeing the sun rising over the Rivers of America was pretty sweet as well.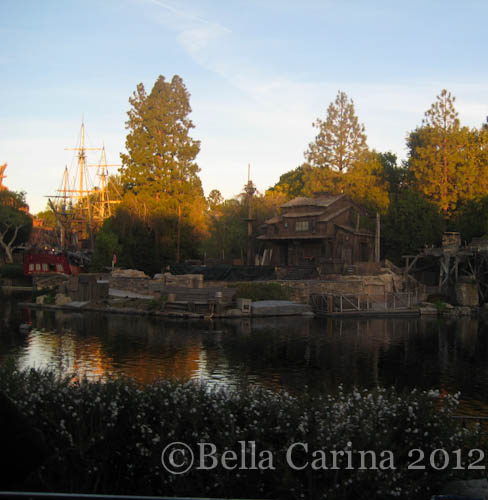 And I loved seeing the Haunted Mansion without a ton of people waiting in line in front.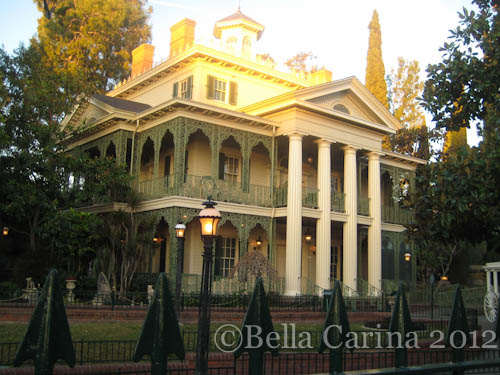 After we left Disneyland, there was quite a bit of boring time where we walked all through the streets of Anaheim.  Although, they did have some live music and lots of cheerleaders and bands from local high schools cheering us on.
Around mile 11 we made it into California Adventure.  Here's a shot of my favorite ride, Tower of Terror.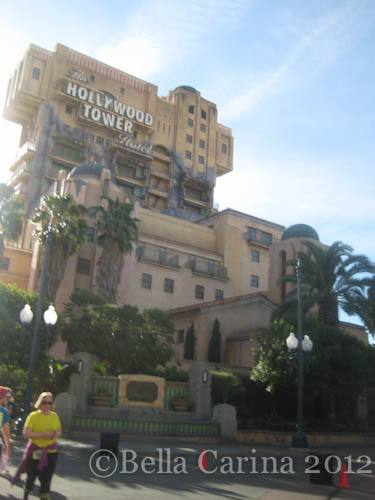 And my mom and sister still smiling at almost mile 12!  This was in the Hollywood section of California Adventure.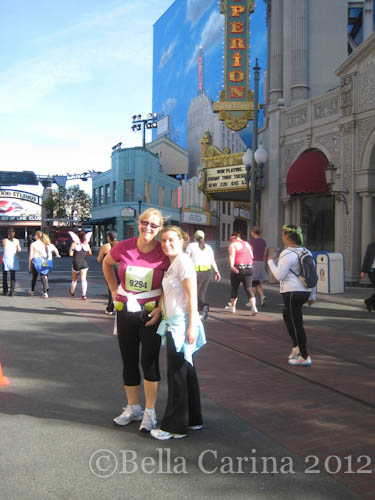 And then we finally made it all 13.1 miles (don't forget the .1!)  My mom and sister are officially Half Marathon Finishers!  Ya, they're kinda a big deal.  I'm very proud.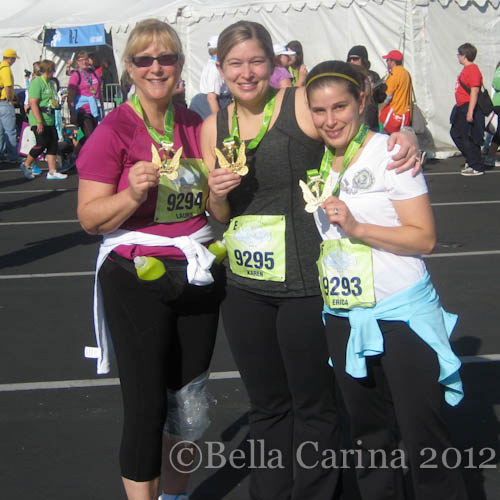 My mom ended up tweeking her knee a bit about half way through (hence the ice on her knee), but she's a trooper and kept on keeping on until we crossed the finish line!  We came in at just over 3 and half hours which is pretty good considering all the breaks for photos!
It was a pretty awesome experience to complete something like this with my mom and sis and I'm so happy we did it!  Congrats to all the people who finished this race on Sunday!