Dane and I have been dating for about 4 years now, but this is our first year living together where we actually have a Christmas tree. I'm so excited! Even if it is a cheapy fake one (I explain where we got it here).
A couple of weeks ago we got one of those coupons from Kohl's that is basically just a free $10 gift card. While Dane and I were meandering around trying to decide what to spend our $10 on (and not go over because we're cheap like that), Dane came up with a great (and very sweet) idea! We decided to start a new tradition where we buy a new special ornament every year. We shopped around in the ornament section until we found one that we both liked and that we felt was uniquely different than the other ornaments we already have on our tree. We settled on this beauty…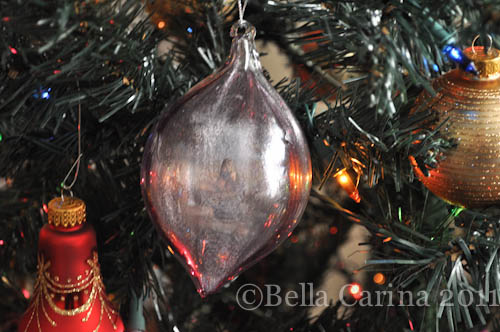 The best part was that it was under $10…which means we got her for free.

In the photo it looks all silver, but it's actually slightly purplely-pink and looks like it's blown glass…very pretty. I plan on using a silver paint pen to write "DK 2011" very small somewhere slightly inconspicuous.
Aren't new traditions fun? Do you and your significant other have any holiday traditions?