Merry Christmas from Bella Carina! I just want to use this chance to thank all of you, my wonderful readers! Without you, I'd be talking to myself…and then people might think that I'm crazy, which is never a good thing!
Here's our Christmas card that we made for this year…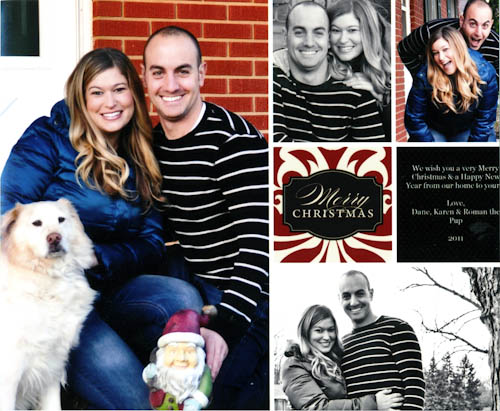 Yes, Dane insisted that the Santa gnome be in the photo…haha. All these pictures were taken in our yard using a timer and a tripod, so I was actually pretty excited how well they turned out! And Roman was even looking at the camera!
I used Costco's photo center to make them and have them printed. At $14.99 for 50 cards, silver lined envelopes, and 4 free photo calendars it was really a steal! The only bummer is that the right edge was cut incorrectly so the words were a little cut off, but I decided that I was just going to be ok with that…at least Dane's head wasn't cut off!
If you can't read the wording it says, "We wish you a very Merry Christmas & a Happy New Year from our home to yours! Love, Dane, Karen & Roman the Pup."
I think the most expensive part about sending out cards this year was the postage!
We wish you all a very Merry Christmas!!