My very beloved Grandma Fannye passed away in April of 2007. She was as Italian as they come, but one non-Italian dish that she made for us at all of our holiday gatherings was her potatoes. Now that she is gone, a holiday without her potatoes just doesn't feel right to me. At the request of my bestie, Cara, I decided to blog about it. 😉
Last year was my first Thanksgiving that I spent with Dane's family and although all of the food was delicious, I really felt like something was missing. I guess you can say I have a strong food to memory connection. 😉
This year, Dane's mom was kind enough to allow me to introduce some of my family's tradition into theirs and it was decided that I would make Grandma Fannye's Potatoes.
Growing up, these potatoes were something that I had known only as Grandma's Potatoes and she had said she got the recipe a long time ago from a friend at a potluck. It wasn't until recently that I did a little google machining and discovered that this recipe is quite popular and has many variations. I think the best comparison might be Cracker Barrel's version which they call a Hashbrown Casserole.
Without further ado…I give you Grandma Fannye's Potatoes.
Ingredients:
1 pound frozen shredded hashbrowns (that's one of the regular bags)
1 can cream of chicken soup
2 cups shredded cheddar (I used reduced fat)
16 oz sour cream (I used Light)
1/2 cube of butter cut into tablespoons
1/4 cup of onion of your choosing (I used a purple onion this time)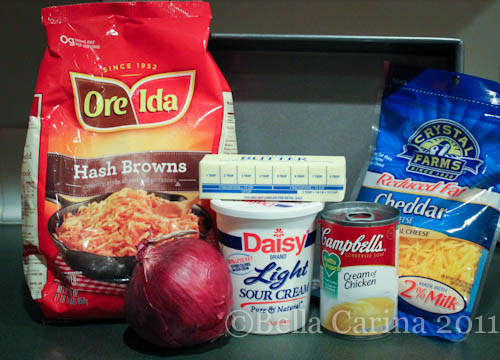 All of this gets baked in a 9 x 13 pan. Glass or metal both work fine. First, spray your pan with non-stick cooking spray and set aside. This dish can be prepared in advance and then cooked later. I prepared this the night before Thanksgiving and kept it in the refrigerator until I was ready to bake it. This can also be baked right away. If you want to bake it now, preheat your oven to 350 degrees at this step.
Next, dice your onion. I ended up using about half of this onion and didn't really measure exactly 1/4 cup. I've used green onions in the past which adds a little more color to the dish as well, but we needed the other half of the onion for stuffing, so purple it was. Both are delicious.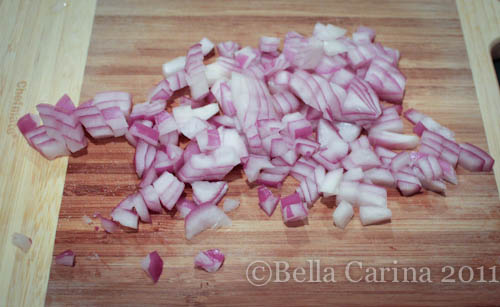 Next, heat up the sour cream, soup, and butter in a large stock pot on the stove over medium heat.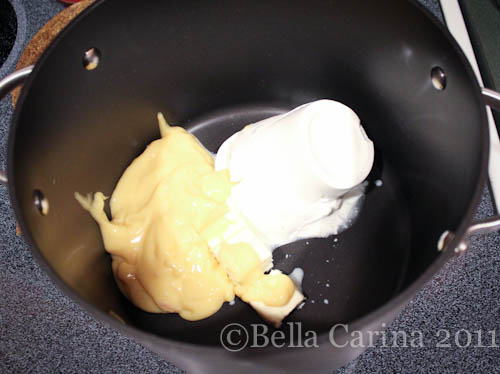 Cook stirring constantly until the butter is melted and all three ingredients are well combined.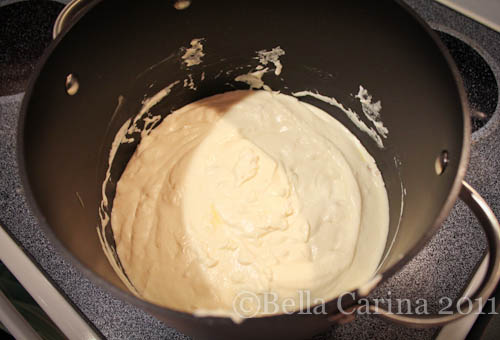 This creates kind of a sauce. Once this is done, add the bag of hashbrowns (I usually pull them out of the freezer along with the rest of the ingredients, so it's only slightly defrosted at this point, which is fine), the onion, and the cheese. Stir everything well until all of the hashbrowns are covered in sauce and the cheese and onions are distributed evenly.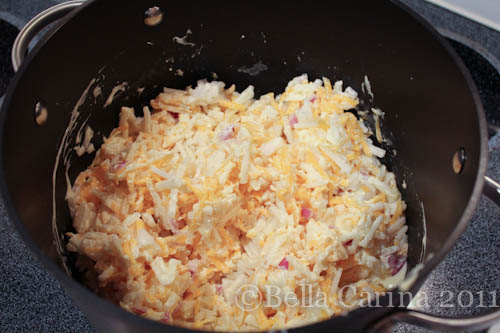 At this point, if you are going to cook this right away, leave it on the stove for 5 to 10 more minutes, stirring occasionally. You aren't trying to cook it, but the potatoes should be almost completely defrosted. If you are preparing this in advance, no further cooking is needed.
Next pour everything into your 9 x 13 pan and use a spatula to spread it evenly. If you are baking this later, cover with foil and refrigerate until you are ready to bake it.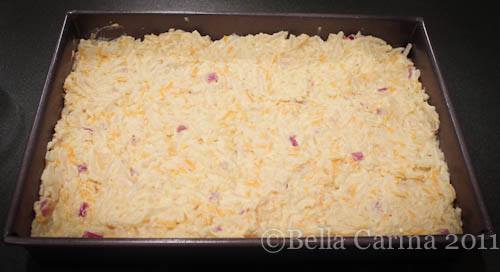 To bake now, cover with foil and bake for 20 minutes. After 20 minutes, remove the foil and bake for another 20 minutes or so. If you used a glass baking dish, you'll be able to to see the edges bubbling, which is an indicator of doneness. You also want the edges to be crispy like this and all the cheese to be melted.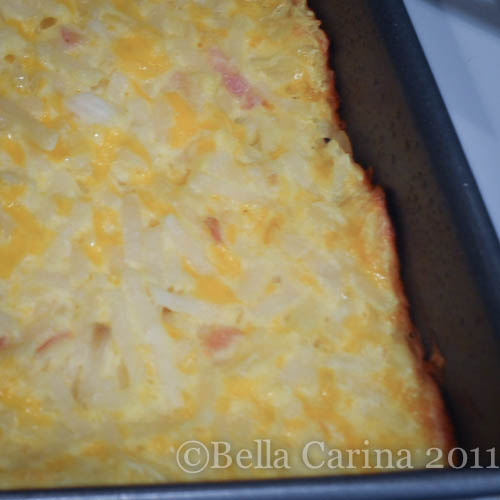 This dish is super yummy. It's quite rare that I meet someone that doesn't like this potatoey, cheesy, yumminess.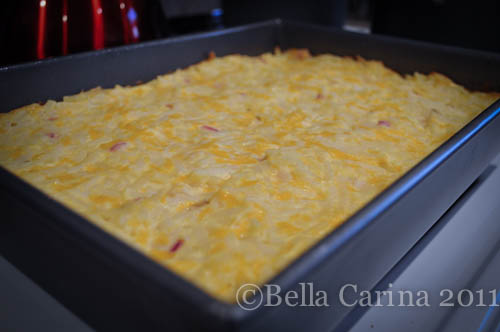 Sorry, I didn't get a photo of this piled up on a plate, but I was a little busy enjoying an awesome Thanksgiving dinner with family.

Ahhh, I love the holidays!
One of the things I love about this is the semi-homemadeness…it's easy to throw together and makes a great side dish for all kinds of meals. I think my favorites are ham and turkey.
Funny side note: One time when my Grandma was watching us while my parents were out of town for a few days, I remember requesting that she make us her potatoes…a few times…in a few days. I'm pretty sure my brother and I lived off of Grandma's Potatoes that whole time my parents were gone. 😉 Also, Grandma's Potatoes between a roll actually makes quite a killer sandwich!
Anyone else have a go to holiday dish that is a "must have"? Do you also have a strong food to memories connection?