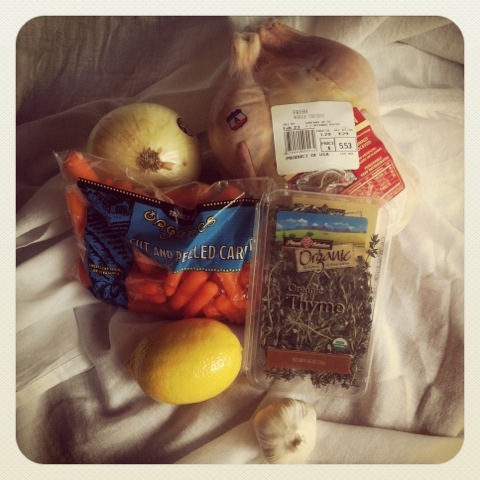 What do all of these ingredients have in common?  A Valentine's Day dinner, of course!  And all of this stuff cost me less than 10 buckaroos!
One little known fact (at least to people that don't know me) is that my fiancé is currently in a master's program.  He's actually almost done with it, which means he is super crazy busy getting his thesis done.  Which also means going out for a nice, time consuming, romantic dinner for two on Valentine's Day isn't exactly in the cards for us.  Being the wonderful fiancée that I am, I decided that maybe it was time for me to prepare something special for us, so I'm going to make my betrothed one of his favorite meals…a whole roasted chicken.  This way, we can still have a romantic meal together on Valentine's Day without taking too much time away from thesis writing.  This is our one and only Valentine's Day as fiancés after all, so I guess we should celebrate it!
But, while we're on the subject, let's have a chat about Valentine's Day.  In the past, I was always the one to volunteer to work on Valentine's night (back when I was a barista at Starbucks in high school and college).  You may think this is because I was single and ornery (which, was probably true for a couple years in there), but even when I was in a relationship, I really just never saw the fascination with Valentine's.  I've also never understood the whole "waiting forever for a table and paying way too much for food" thing.  Now, this isn't to say that I don't love a nice romantic night with my honey, but I'm just not really into the whole commercialized Valentine's thing.  And I would much rather have a good bottle of wine than a bouquet of expensive roses…I don't even like cheap roses, let alone inflated price Valentine's roses.
All that to say, that we are going to celebrate the day of good ol' Saint Valentine, but on a budget and without fighting the crowds.  Hence, my romantic dinner at home idea.  I can't wait for our house to smell super yummy from a roasting chicken and to have a cute candle lit table set up just for us with Roman under our feet.  😉
And what would Valentine's Day be without some chocolate?!  I found this recipe for Molten Chocolate Cake via The Pioneer Woman.  Cannot wait to see how that turns out!
Doesn't it look so so good?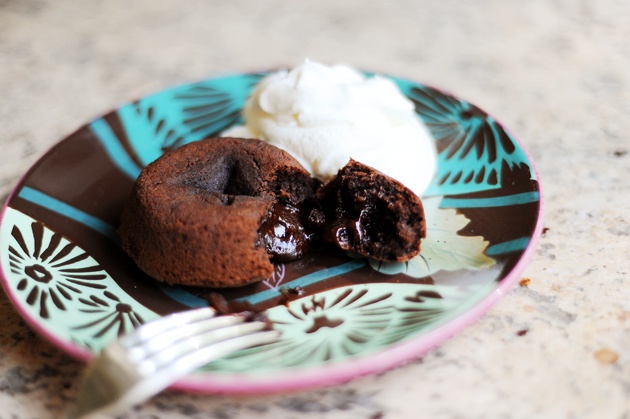 {image from The Pioneer Woman}
Anyone else doing Valentine's Day on a budget?  Or are you a hopeless romantic that is willing to pay the big bucks and fight the crowds?…hey, I'm not one to judge; to each her own. 😉