I was able to make a quick trip to California last week to get some wedding planning done and to snag a few much needed hugs and kisses from my nephew Zachary. I was also able to sneak in a day with my besties Jenna and Cara. Our day was filled with an awesome hike, some champagne sipping, and a delicious lunch prepared by Chef Jenna, which included this recipe I am sharing with you today. This is truly some of the yummiest grilled chicken I've ever had.  I was worried I wouldn't be able to recreate the juiciness that Jenna achieved, but I did! And I even did the grilling on my own, which was a first…it was a proud moment. Haha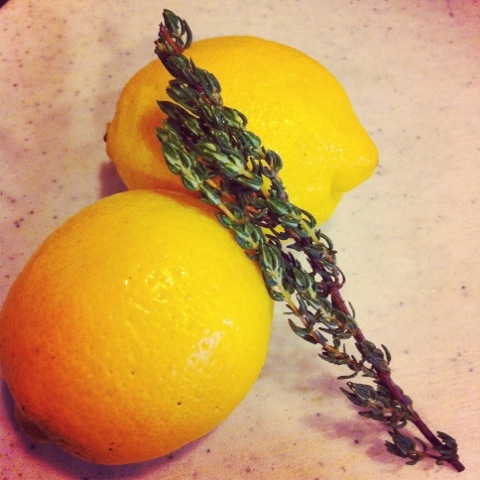 The trick is in the marinade for this one and I let it marinate for almost 24 hours. I got the "recipe" from Jenna, which was not very specific, so I'll just break down what I did.
Marinade Ingredients:
the juice of 3 small lemons
1 small lemon, sliced
4 tablespoons extra virgin olive oil
2 cloves garlic (diced or pressed with garlic press)
salt
lemon pepper
3 sprigs fresh thyme
I threw all the ingredients along with three boneless, skinless chicken breasts into a gallon ziplock bag and tossed it in the fridge.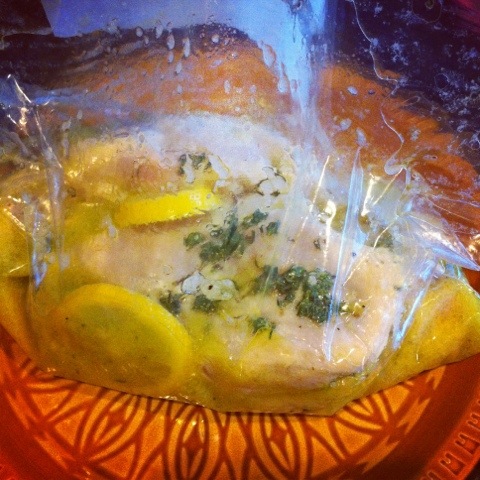 The next evening, about 45 minutes before I wanted to grill the chicken, I took it out of the fridge to warm up to room temperature.
Then I grilled the chicken for 7 minutes on each side over medium high heat.  This was the first time grilling here in Virginia and my first time doing everything on my own…it's a big deal, people. 😉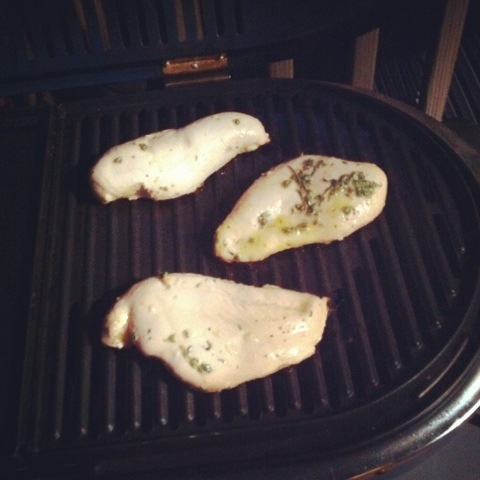 Once it was grilled to perfection, I used a thermometer to be sure that the internal temp was at 165 degrees.  I'm a little neurotic like that.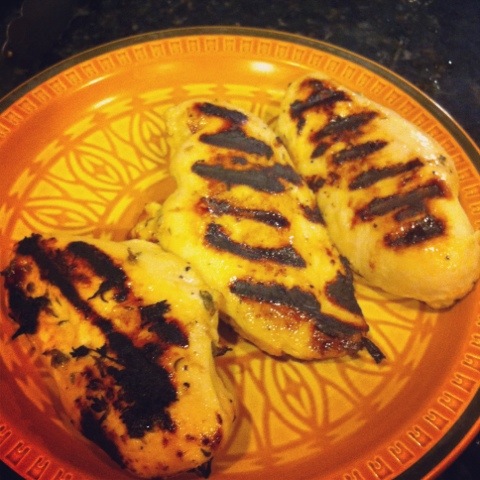 I bought this container of amazingness at Costco the other day after trying it a few weeks ago at our friends' house.  This chicken can be served all kinds of ways, but since I had this tzatziki just waiting in my fridge for something special, I decided to take this meal onto the Mediterranean side.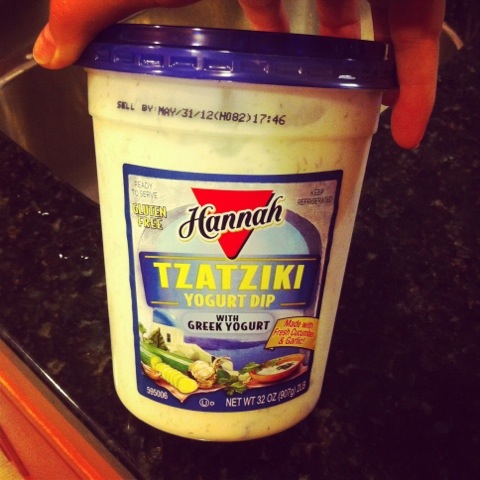 Along with some warmed up store bough naan bread, this meal was super delicious.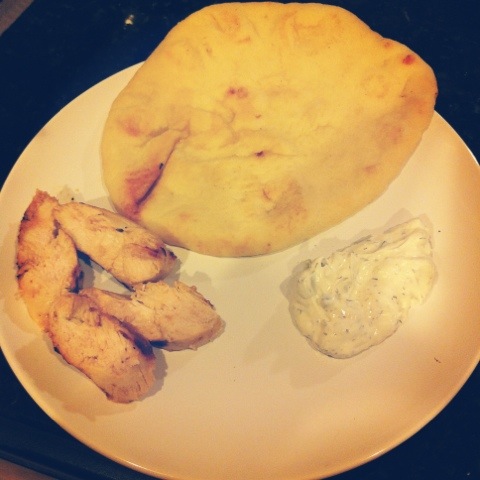 Oh, and we also had green beans on the side just to add some color, but I forgot to put it on the plate for the photo.  Gotta eat your veggies!  I had also purchased bell peppers and onions at the store and planned on sauteing them to put on top, but I got lazy.  Believe me, there's plenty of flavor already.  I think this was one of my favorite meals I've made in a long time.  Thanks for the recipe, Jenna!