About a year ago, I was chatting with my bestie, Jenna, and we were talking about new recipes to try.  She told me that her husband's favorite thing that she makes is Ina Garten's Roast Chicken.  It's called "Engagement Chicken" because it will make your man want to get down on a knee and propose after one bite. 

  Now, I can't say for sure that this is why Dane proposed, but he sure loved it and that's why I decided to make it for him this Valentine's Day.
Prior to when I made this a year ago, I had never roasted a chicken.  I assumed it would be a lot of work (having made a turkey before), but this honestly isn't that bad.  The hardest part for me is getting over the whole having to clean a whole chicken thing.  I prefer to have my meat look nothing like the actual animal…haha.  But, since I love Dane, I put on my big girl pants and stopped whining and went ahead and made this for us. 

When I made this for Valentine's Day, I googled "Ina Garten Roast Chicken" and came up with this recipe, which is the one that I made a year ago and the one that I made the other night.  In preparation of writing this post, looked up "Ina's Engagement Chicken" and came up with a different recipe…similar, but not the same.  The second is actually called Engagement Roast Chicken, whereas the first is Perfect Roast Chicken.  I'm sure both are amazing and since I even ended up slightly modifying the recipe, this post is really just going to be on how to roast a chicken in general.  (If you were wondering, the Engagement Chicken adds a sauce whereas the first is just the roast chicken.)
To make this, you'll need:
one whole roasting chicken (4-5 lbs)
one bag of baby carrots
one large sweet onion (or white onion)
one lemon, halved
one head of garlic, cut in half
bunch of fresh thyme
2 tablespoons butter, melted
salt and pepper
olive oil
kitchen string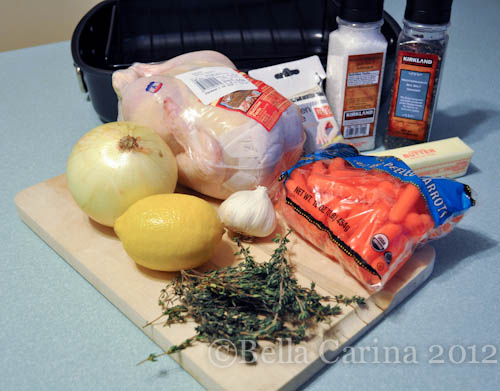 Kitchen string (or twine) is one of those things that you never think to buy until you need it…and then you can't find it.  Last year when I made this, I skipped the string and it came out fine.  You can usually find it pretty easily around Thanksgiving, so if you happen to see some at the store, I'd pick it up.  It's pretty useful for things like roasting chickens and tying up fresh herbs…and apparently asparagus according to the picture.  Hmmm…I can't think of why I would ever tie up asparagus.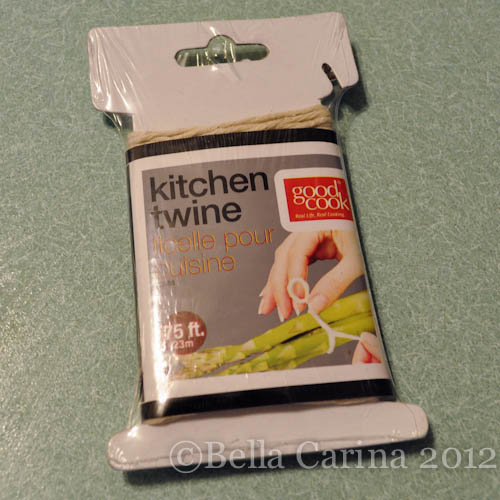 A huge roasting pan like I have is not necessary to make this, in fact, I ended up burning most of my onions and some of my carrots because they weren't covered by the bird.  Epic fail on my part (because I LOVE the roasted onions and carrots from this dish), but I didn't think about that at the time and was excited to make use of my roasting pan that I've only used one other time.  I would suggest using any pan that fits the chicken, but isn't too much larger than it…does that make sense?  You'll want it to be deep enough to fit all the veggies, too.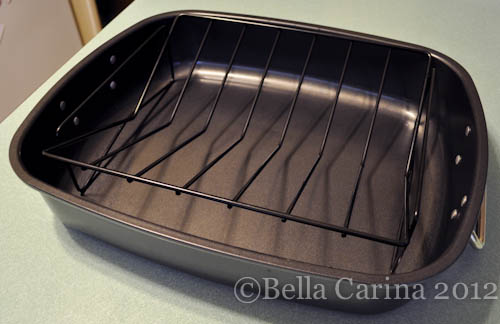 The onions and carrots act as a sort of rack in when you bake your chicken in a smaller pan and plop it on top of the veggies.  Live and learn, right?
Anyway, back to the recipe.  Preheat your oven to 425 degrees.  Then, get to chopping.  I sliced the onion and halved the lemon and garlic head.  Depending on the size of your bird and your lemon, you may want to quarter the lemon.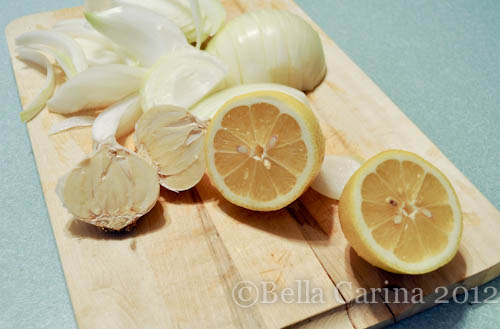 If you use whole carrots instead of baby carrots, just make sure you chop them to a consistent size.  In your roasting pan, toss the onions and carrots with some olive oil (a couple tablespoons), salt and pepper, and thyme.  If you are using fresh thyme, pinch the stem of thyme at one end.  Then pull it through your pinched fingers to remove the leafy part.  Toss the stems in the trash.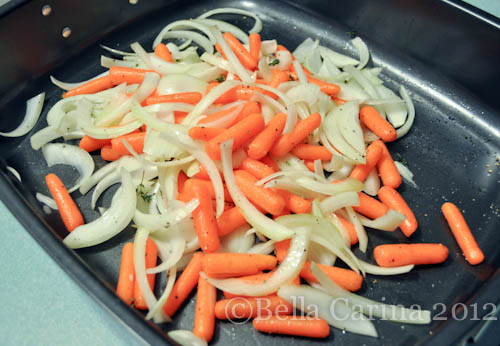 Ina suggests also adding chopped fennel to this little party, but I'm not really a fan.  You can also get creative here and add some other veggies to the mix.  If you plan on adding a heartier veggie like potatoes that may take slightly longer to cook, I would suggest roasting them in a separate dish.
Now for my favorite part (can you hear the sarcasm through the computer?)…rinsing the bird.  Unwrap the chicken and remove the bag of giblets from the neck cavity.  I'm sure my mom would keep these and cook something with them, but it grosses me out so I throw them in the trash.  Now, rinse the whole chicken and be sure to fill up both cavities and dump the water out.  Use paper towels to pat the bird dry.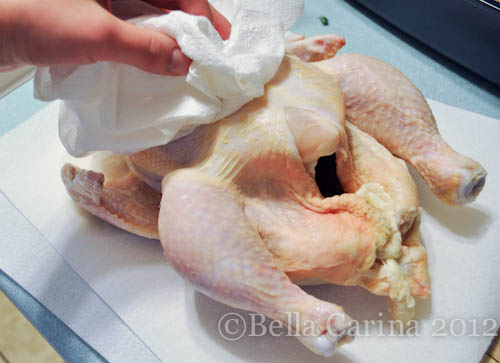 To season the chicken, I grind a bunch of salt and pepper from my grinders into a bowl so I don't contaminate my bottles of salt and pepper by switching back and forth from handling the raw chicken to grinding the spices.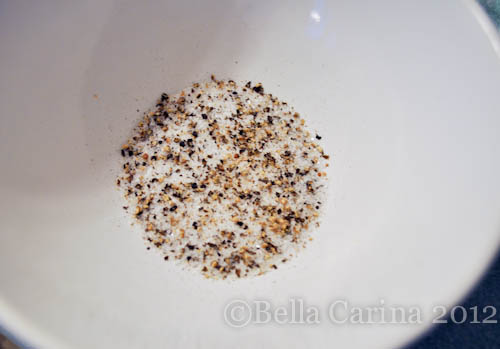 Then, I use my hands to rub the mix of salt and pepper on the inside and outside of the chicken.  Next, it's time to stuff 'er.  You'll want to fit a bunch of thyme, the two halves of garlic, and all the lemon inside.  It's going to be a little tight…just do your best.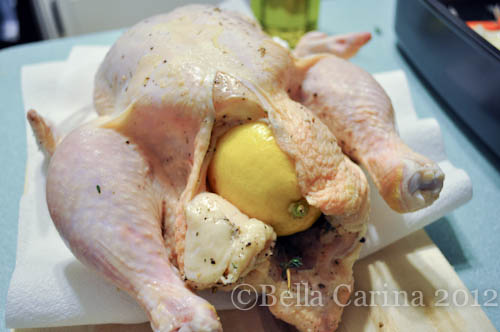 Once it's stuffed, use your kitchen string to tie the legs closed.  I just use a kind of figure eight type deal and then knot it…be creative. 😉
Place the bird in the roasting pan breast side down and tuck the wing tips underneath the body.  Then, melt the butter in the microwave for about 15 seconds or so.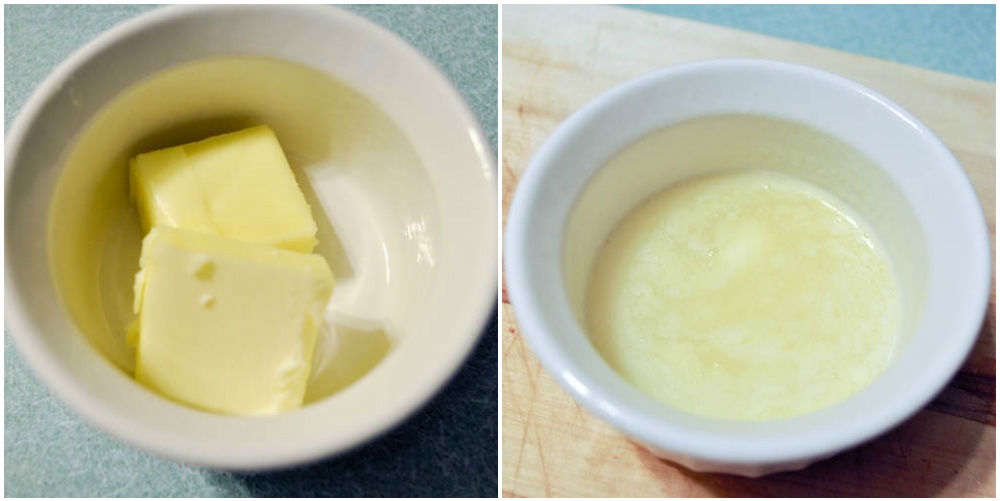 Use a brush to brush the butter all over the top of the chicken.  This is what gives the roasted chicken a nice golden brown color and makes the skin crisp.  Sprinkle more salt and pepper all over the top.  You can also rub it in a little if you want.  This angle shows you a little bit of how I tied the kitchen string.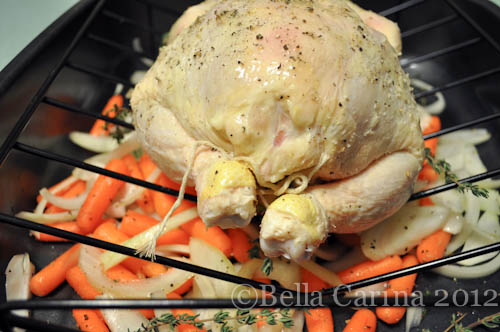 Pop this bad boy in the oven for about an hour and a half.  Ina tells you to cook until "the juices run clean when you cut between the leg and the thigh."  I'm a little more anal than that, so I use my insta-read thermometer and check it in a good meaty section until it gets to 165 degrees.  (Here's a handy guide to all safe cooking temps from the FDA.)
Once it's done, take it out and cover it with a piece of foil.  The chicken needs to rest for about 20 minutes.  Can you see my fried onions and carrots along the edges?  Scorched black…so sad.  Let's have a moment of silence for the slayed veggies, shall we?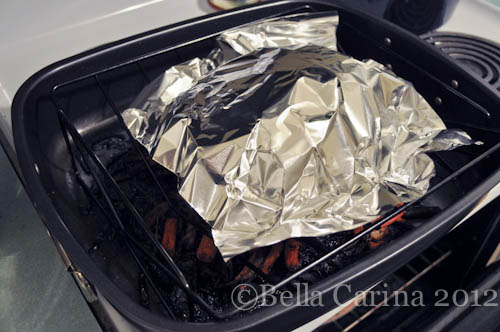 If I had a cool serving platter (which I don't) then I would have transferred it to that, but I just used one of our plates.  I added some fresh thyme to the top as a garnish.  I used a pair of kitchen shears to snip the string.  I thought it came out looking pretty nice!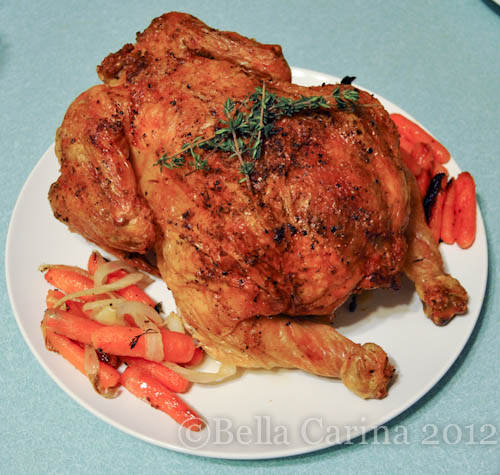 It's actually easier to carve the chicken by turning it on its back, so you can easily access the breast.  Dane and I are good chicken sharers because he loves the dark meat and I love the white.  Match made it heaven, I tell ya.  Collective "awe" from the audience… 

I also cut up some zucchini and just popped it into a covered bowl in the microwave with a little water for about 5 minutes to add some color to the plate.  You can pull out the garlic and lemon from the chicken, too.  You can eat the garlic (which is now roasted) and it's quite tasty…just be sure both of you eat it otherwise kissing could be a little awkward later. 😉  I like to squeeze some of the lemon over the top of my chicken to give it a little more lemon flavor, but honestly, this chicken is super tasty and juicy on its own.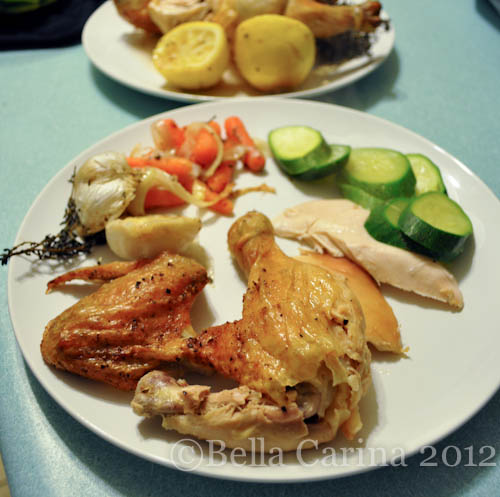 This dish is something that really doesn't take too much time to prepare (although you have to plan ahead for the long cooking time) and really can be a one dish meal especially if you add some more veggies to the pan.  AND, you'll really impress your sweetheart!  This also makes for some good leftover chicken sandwiches the next day.
If you are having a group of people over, this is a very inexpensive and delicious way to feed them.  This roasting chicken was less than $6 at Trader Joe's.  I would say this would serve between 4 and 5 people.  Especially if you add a good loaf of crusty bread and a salad to the meal.
After we gorged ourselves on chicken, veggies, bread, and a bottle of Bordeaux, we topped off the night with Molten Chocolate Cake and ice cream.  I'll be back soon to share that with you!
Did you have a nice home cooked meal for Valentine's Day?  Or did you have a romantic dinner for two at a restaurant?  Maybe a fun singles party with you friends?