I'm the kinda girl that enjoys the simple things in life.  I'm also a California girl through and through which basically automatically means I LOVE avocado.  Let me tell you, a good avocado is not easy to come by in Ohio!  We recently made a trip to Costco (yes, the closest one is an hour away…welcome to the Midwest) and they had avocados there for less than $2 an avocado.  My friends and family in California are gasping right about now at the thought of having to spend that much money for something they eat on such a regular basis.  To put this in perspective for those of you not from Cali, I grew up with an avocado tree in my backyard.  We made avocado toast, guacamole, ate the avocado plain with a little bit of salt…you get the picture.  So anyway, back to my reality in Ohio, we found this bag of avocados at Costco and bought them.  And low and behold, when I cracked one open, it was ripe!  And not brown and yucky inside! (Another Ohio avocado phenomenon.  You purchase the avocado at approximately the same price as gold only to discover that it is inedible.  Sad face.)  So, after I cut the avocado in half I had one of those light bulb moments…I thought to myself, "this would be awesome in a tortilla with that roasted red pepper hummus I have in my fridge!"  So, without further ado, here is one of the easiest, most delicious lunches I have ever made (that may be a slight exaggeration).
Ingredients:
Hummus of choice (I used Tribe brand roasted red pepper)
Wrap of choice (I used Mission Tortilla Wraps)
One lovely, ripe avocado
Salt
You may also add other spices such as red pepper flakes (Dane's a fan, but I like to keep it simple when it comes to avocado)
First, choose your wrap of choice.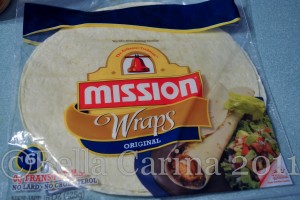 Next, spread hummus down the center of the tortilla.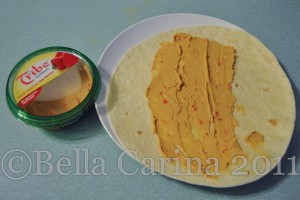 Then, slice open your avocado.  Delish….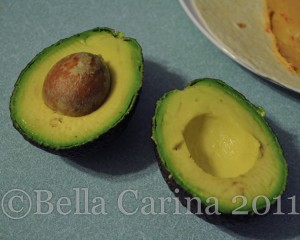 Spread the avocado on top of the hummus.  I only used one half of the avocado and then ate the rest straight out of the skin with a little bit of salt, but I wouldn't judge you for using the whole avocado in your wrap. 😉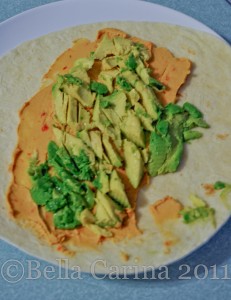 Next, I used my sea salt grinder (also from Costco and I highly recommend) to sprinkle some salt on the avocado.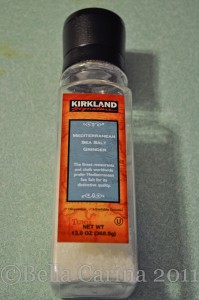 Lastly, wrap, slice, and enjoy!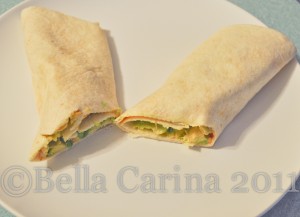 Do you have any super easy, simple, yet amazingly delicious recipes to share?