Sometimes when I mess around with a recipe just enough, magic happens.  That's what happened this past Saturday when I made cupcakes for my friend Crystal's birthday.  I think I've said this before on the blog, but maybe not…I'm horrible at baking cake from scratch.  I think it's mostly because I don't do it very often (cake isn't my most favorite dessert…I'd much rather eat ice cream) and I've been told that I've tried the more difficult recipes like red velvet.  Anyway, I heart box cake and it always comes out perfect, but when it comes to the frosting, I'm homemade all the way.  It's really simple to make and you won't be sorry that you did!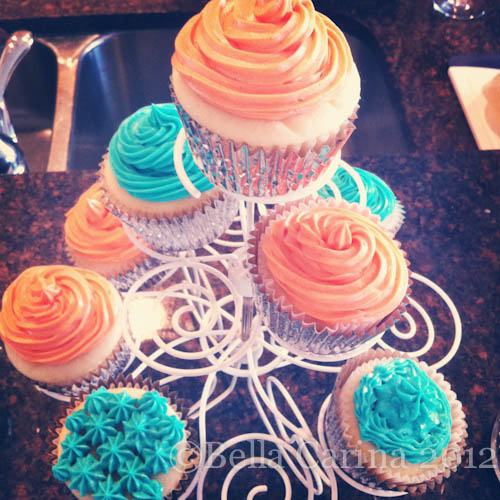 Ingredients:
1 stick of salted butter, softened
1 pound powdered sugar (it usually comes in a box)
1 tablespoon vanilla extract
3-4 tablespoons whole milk
This originated from a generic recipe for buttercream frosting that my mom has used for forever and a day.  The big change is the amount of vanilla.  My mom's recipe calls for 1 teaspoon…to that I say, Nay!  More vanilla is always better.

  Also, I usually only have skim milk in the house, so I bought a small container of whole just for this and as Dane would say, "it was the right thing to do."
I didn't take any pictures when I was making the frosting, but I'll talk you through it real quick…it's an easy one.  First put all the sugar and the stick of butter in a mixing bowl.  Next, add the vanilla and a couple tablespoons of milk.  Use a hand mixer to beat the frosting.  Add more milk as needed until desired consistency is reached.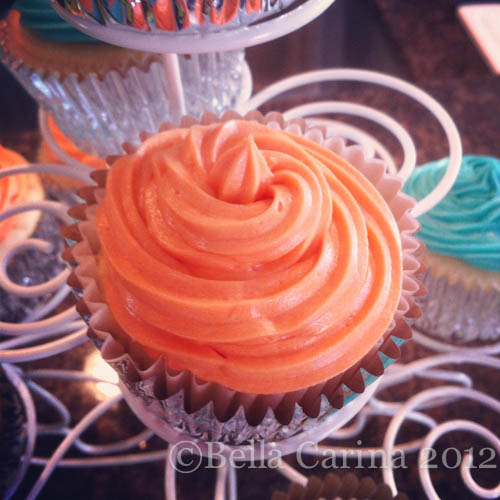 I bet you're wondering how I got the awesome colors, huh?  I thought so.  If you want vivid frosting colors, the only way to go is Wiltons.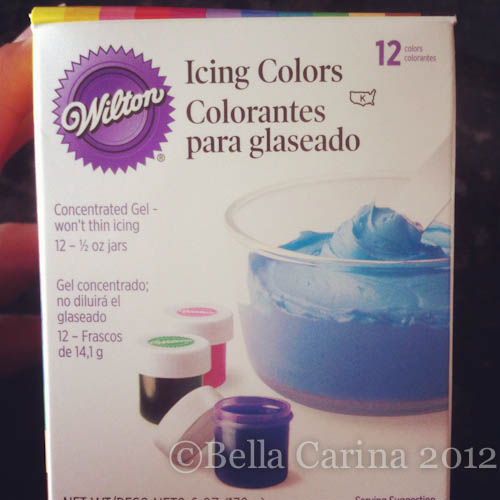 I bought this at Michael's using a 40% off coupon (on my smart phone, of course!).  I think it was around $14 dollars before the discount, which seems really expensive for food coloring, but I swear this will probably last me for years…I'm talking all of my unborn children's birthday cakes until their 18…I might have to get a little creative towards the end with colors… 😉  They sell individual colors in larger containers as well, but this had most of the essentials that I wanted.  My plan was to make orange and teal cupcakes (Crystal's wedding colors).  This pack came with the teal, but no orange.  I referred back to my first grade education and got creative.  Here's what I used.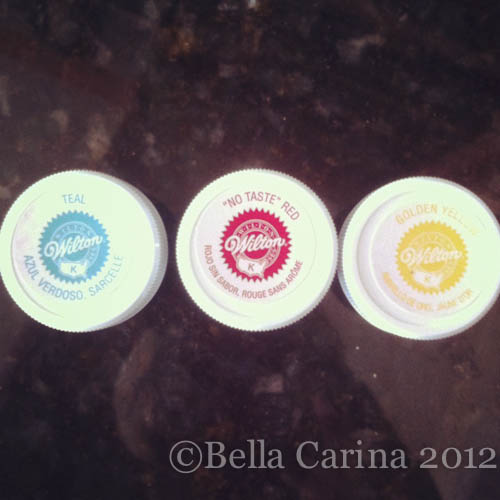 I split the frosting in half into two bowls.  In one, I mixed a little bit of red and a little bit of golden yellow (alternating) until I got the color orange that I wanted.  At one point it was looking dangerously pinky…more yellow fixed it right up.  For the teal, all it took was one toothpick dipped in the color to reach the shade that I wanted…ONE toothpick!  This stuff is potent!  And it's great that it doesn't thin the frosting since it's a gel.  Here's a side view of the teal to give you an idea of how small these guys are.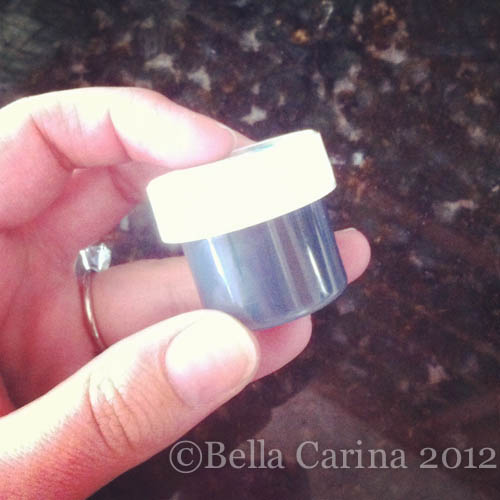 Then I used these awesome disposable decorating bags with reusable tips to frost the cupcakes with lots of fun designs.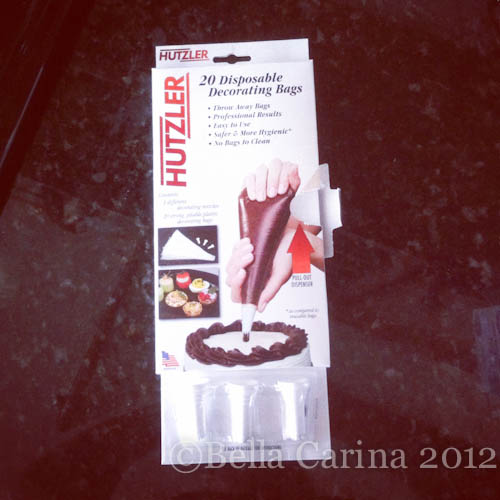 I am by no means an expert cake decorator, but it was fun and easy and I think it gave the cupcakes a little something more than what my butter knife could have done, dontcha think?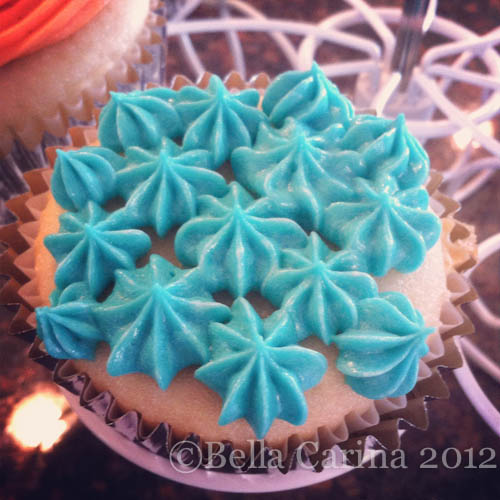 It was a little warm on Saturday, so after I was done decorating, I popped the cupcakes in the fridge to let the icing set up a little.  I was quite impressed and so were the fellow party goers. 

I was able to frost all the cupcakes (24) with one batch of frosting, but just barely.  So, don't get too crazy with your designs or you'll run out.  Or, just make a double batch and have extra…this frosting is delicious on graham crackers. 

Enjoy!