I think I'd be embarrassed to actually call this a recipe, but this is seriously the yummiest, not all that bad for you, dessert and so I had to share it!  I'm not even a pumpkin or a spice kinda girl (chocolate all the way, baby), but this was super yummy.
I know that this recipe is all over the internet and I think it would be almost impossible to pin point the original source for this little gem.  My original source is my friend, Erin, who brought this to girls' night a couple weeks ago.  I also heard that this was a Weight Watchers recipe, so maybe that's where it's originally from.  (Here's a link I found from a quick google search just to keep my conscience clear.)
Anywho, here's the ingredients…are you ready?…
15 oz can of pumpkin
1 box spice cake
1 cup water
That's it!  And it comes out ooey gooey and delicious!
When I got my first job that actually paid me a salary, one of the things I had on my "must buy" list was a kitchen aid mixer.  Specifically one with a crank handle.  My mom still has the same one she got for her wedding and it's still going strong.  I did a little research and knew the exact one I wanted.  Hey, some people are into cars, I'm into baking supplies, what can I say?  I mean, how else am I supposed to make a batch of chocolate chip cookie dough every week?  One day while perusing at Costco, I found her.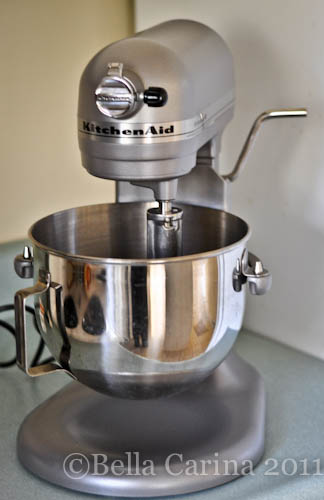 Isn't she pretty?  I am in love.  It's been about 2 years and we're still going strong.  😉  Here's a link to the one I have from Costco if you're interested.
So, back to the recipe.  Preheat your oven to 350 degrees.  Spray a 9×13 pan with non-stick cooking spray and set aside.
Pour the can of pumpkin into the mixer.  I had to use a spatula to get it out of the can.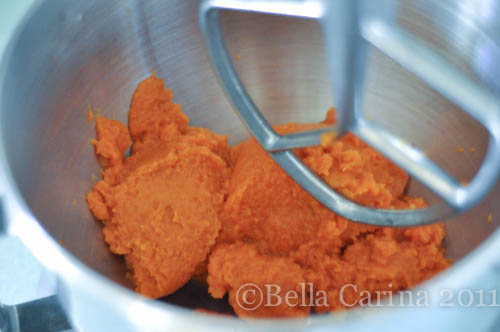 Next, open the cake mix and pour it into the mixer along with the cup of water.  Are you still following me?  I know, it's complicated.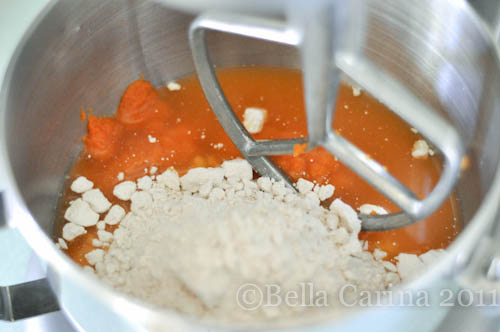 Then crank up the bowl and mix on the lowest setting for about 15 seconds.  This is just so you don't get a puff of powdery cake mix all up in yo face.  Scrape down the sides with a spatula.  Next, mix on high 2 minutes.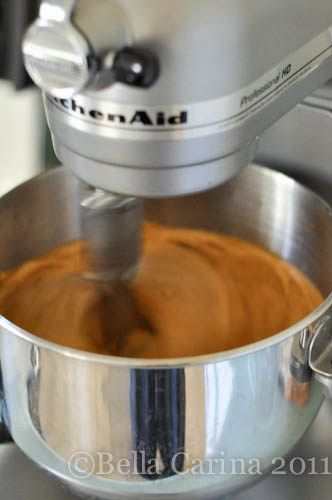 Once it's all mixed together, it should look a little something like this.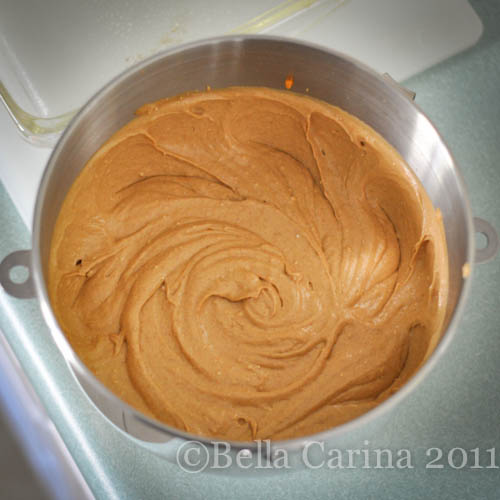 Spread it evenly into your pan.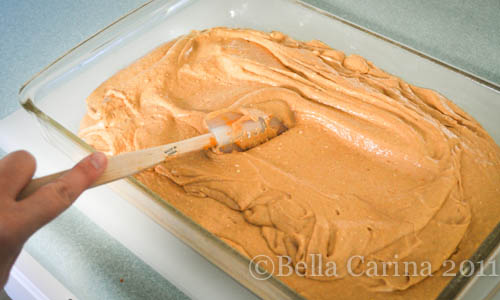 So pretty…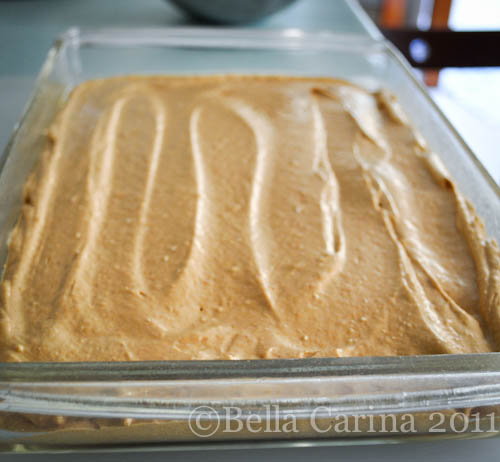 Bake for 32 to 35 minutes.  Check for doneness by inserting a toothpick in the center and seeing if it comes out clean.  My cake also pulled away from the sides which is another indicator.
Let your cake cool.  Now, from my experience with Erin's cake, I knew that this was really gooey and kind of tricky to cut.  My tip is to use a knife and run it under hot water from the sink before each cut you make.  This seemed to keep it from grabbing the knife too much.  Also, instead of dragging the knife through the cake, do more of an up and down chopping motion.  I hope that makes sense…someone forgot to take pictures of that part.  I won't name names. 

Serve each piece with a dollop of whipped cream.  (If you are watching calories, you can use cool whip as the Weight Watchers recipe suggests.  I like the good ol' reddi wip style whipped cream (you know the one where you can spray it directly into your mouth?) and the calories are also less outrageous than making your own whipped cream, but real homemade whipped cream would be a-maze-ing with this!)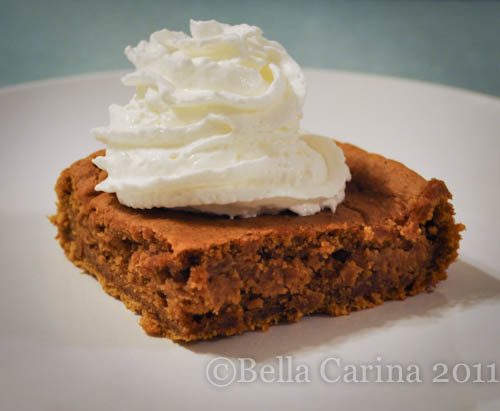 So, before the holidays are over and canned pumpkin is nowhere to be found, try this cake.  Then, let me know what you think!
Oh, and for all you Weight Watchers peeps out there.  This is 2 points per serving with the cool whip.  I don't do WW, but from what I know, that's not too bad!